West Liberty-Salem Athletic Department hosted their Senior Signing Reception for seven athletes committed to continuing their athletic career at the collegiate level. Athletes included Megan Adams, who will run cross country and track at Lee University, Division II, with an undecided major. Megan lettered four years in both cross country and track at West Liberty-Salem. Isaac Brown will play soccer at Capital University, Division III, majoring in Criminology. Isaac was a four-year varsity letterman. Allyson Gaver will play volleyball at Muskingum University, Division III, majoring in Pre-Med. Allyson letter three years at West Liberty-Salem. Emily Hollar will play soccer at Bowling Green State University, Division I, and major in Communications Sciences and Disorders. Emily earned four varsity letters while at West Liberty-Salem. Michele Smith will continue her volleyball career at Clark State University, Division II, majoring in Ag Science and will transfer for her bachelor's degree in Agribusiness. Michele lettered three years at West Liberty-Salem. Gabby Williams will play volleyball at Bluffton University, Division III, and major in Dietetics. Gabby letter four years. Finally, Tate Yoder will run cross country and track at Wilmington College, Division III, and major in Ag Business with a minor in Coaching. Tate also earned varsity letters all four years.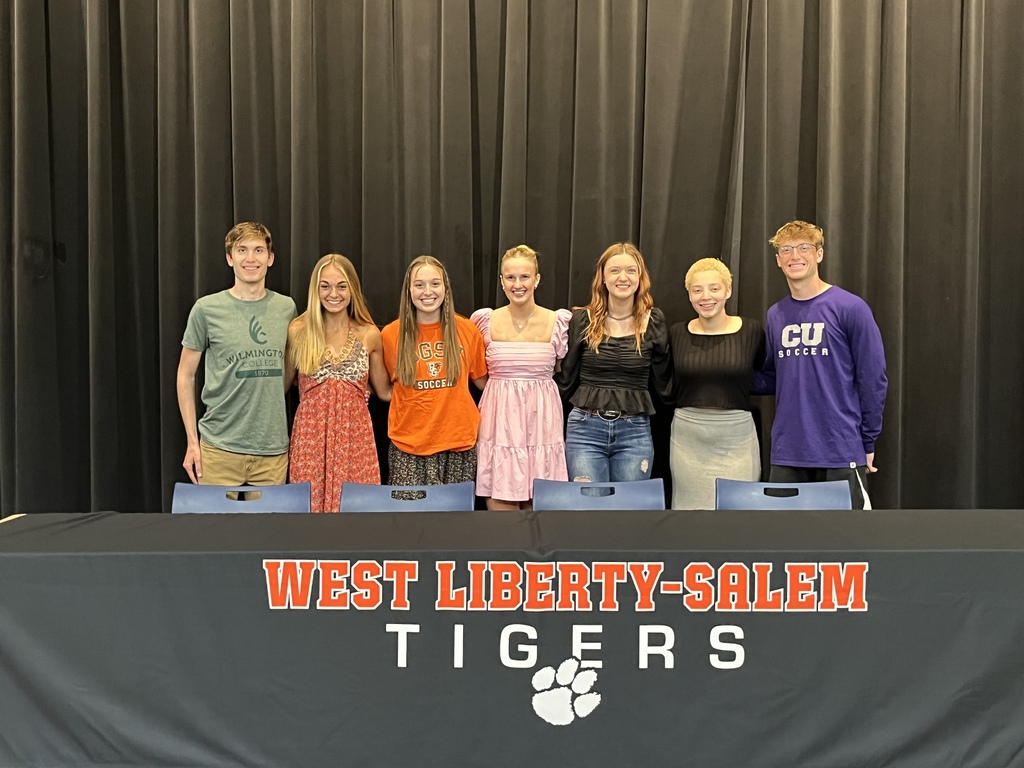 Today is National School Nurse Day and we would like to thank our school nurses Jennifer Douthwaite, CNP and Beth Wing, LPN. Thank you for all you do to keep our students, their families, and our staff healthy! Because of our partnership with Community Health & Wellness Partners they are able to provide on the spot care for illness, treat those with chronic health issues and treat injuries during the school day! We are thankful for you!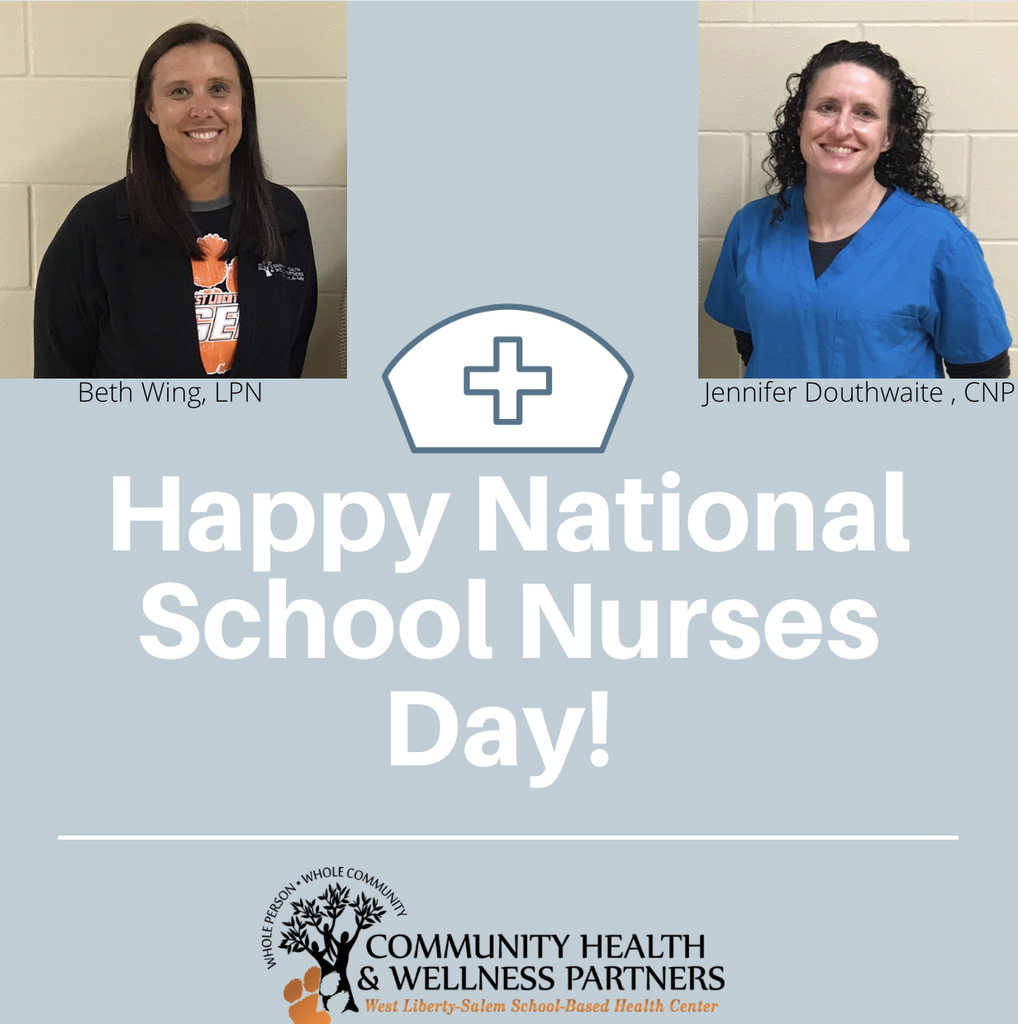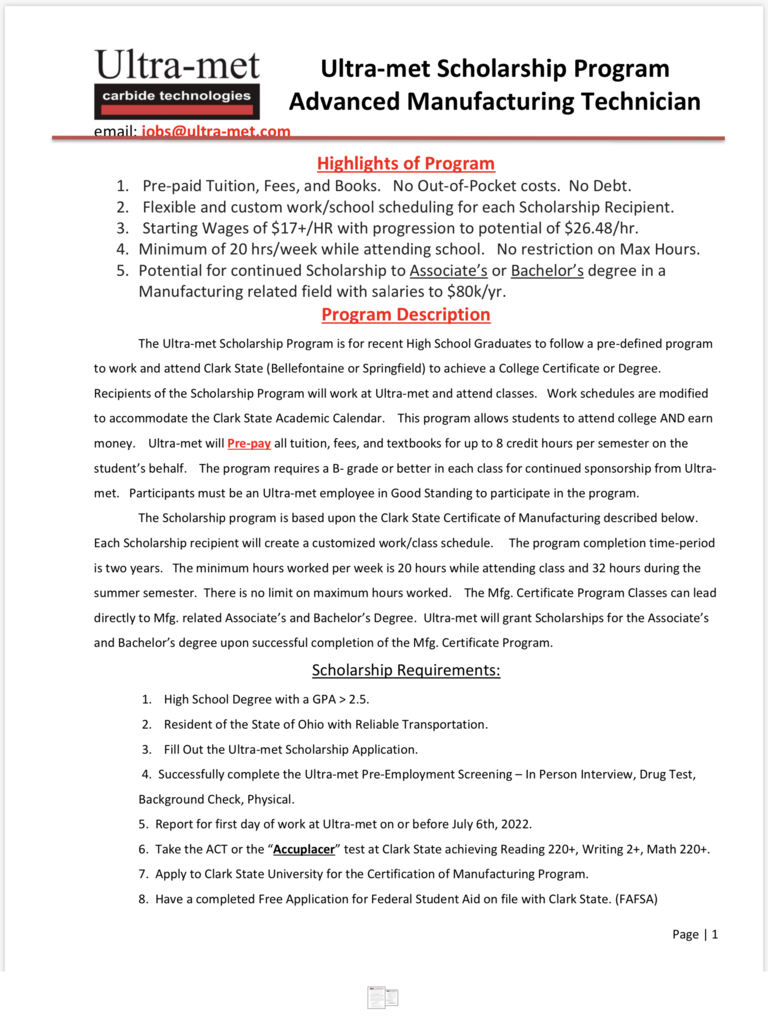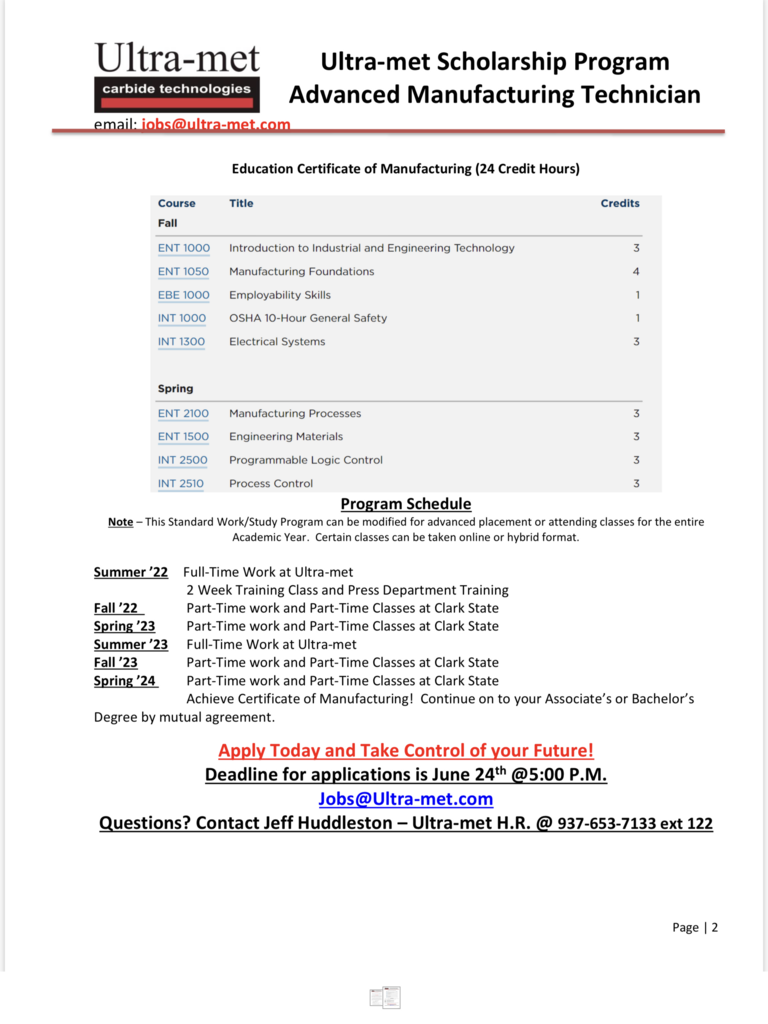 The West Liberty-Salem girls track and field team took and early lead in day one of the Ohio Heritage Conference North Championships Monday at Northeastern. Team Scores: WLS 32, Fairbanks 29, Triad 26, Mechanicsburg 25, West Jefferson 6, Northeastern 5 The 4x800 relay team of Mallory Bostick, Ashley Yoder, Teagan Boyd and Megan Adams took first place in 10:01.9 In pole vault, Tina Douthwaite placed second (8'6") and Lena Kauffman placed third (8'0"). Mandilyn Weaver placed fourth in high jump (4'6") and Lilly Weaver placed fifth in high jump (4'6"). Kenzie Bahan chipped in a sixth place finish in discus (75'5). Tiger freshman, Delaney Jones set a new school record in the 100 meter dash (12.49) finishing first and qualifying for finals. The previous record was set by Morgan Freyhof in 2015. Jones also qualified for the finals of the 200 meter dash (26.68). Also qualifying for Thursday's finals were Claire Longshore 100 meter dash (13.97), Mallory Bostick 400 meter dash (1:03.82) and 200 meter dash (27.24), and Teagan Boyd in the 400 meter dash (1:07.36). Thursday's finals begin at 5:00 p.m. with field events and running events starting at 6:00 p.m. Pictured: Delaney Jones Photo Credit: John Coffman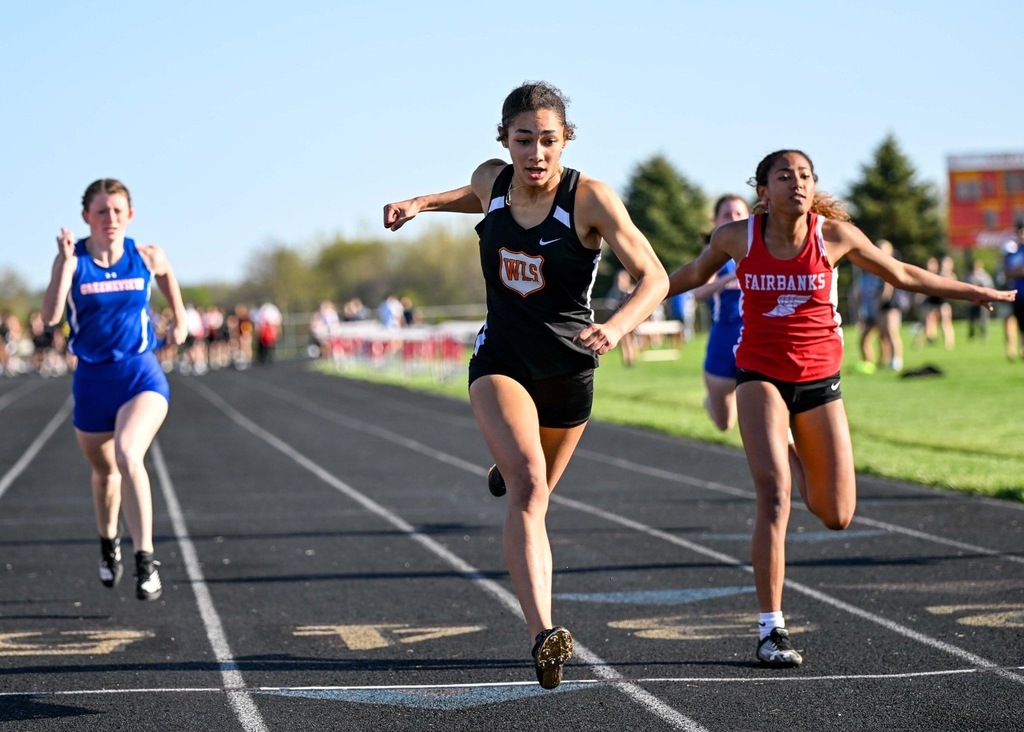 Hello Families, this is Kraig Hissong, Superintendent, with a reminder that FREE sport physicals will be offered by Community Health and Wellness Partners for the 2022-23 school year. If you have a child that is currently in grades 6-11 and plans to participate in one or more WL-S sports next year, this is an excellent opportunity and a free way to meet this requirement. The physicals will be offered in the mornings beginning May 16 through May 25. Sports Physical packets can be picked up in the nurse's office or in the main office. Paperwork/parent signature should be completed prior to appointment time. To sign up use the link below
https://signup.com/go/YABWkUg

Check out this week's line up of events! Go Tigers!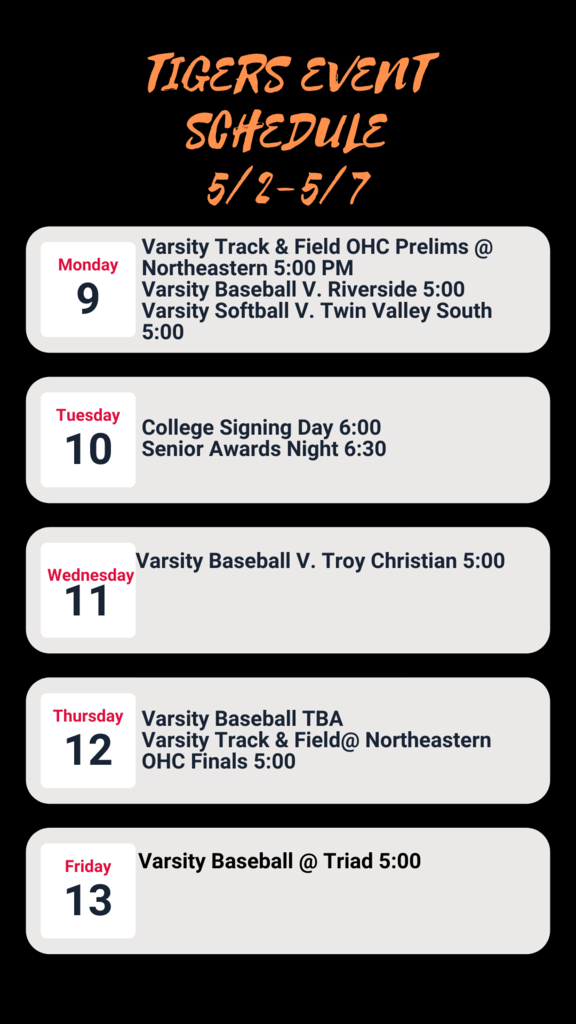 Congratulations to West Liberty-Salem prom royalty! Prom Queen Mandilyn Weaver Prom King Brandon LaRoche Not pictured: Prince Eli Shafer Princess Isabelle Wilson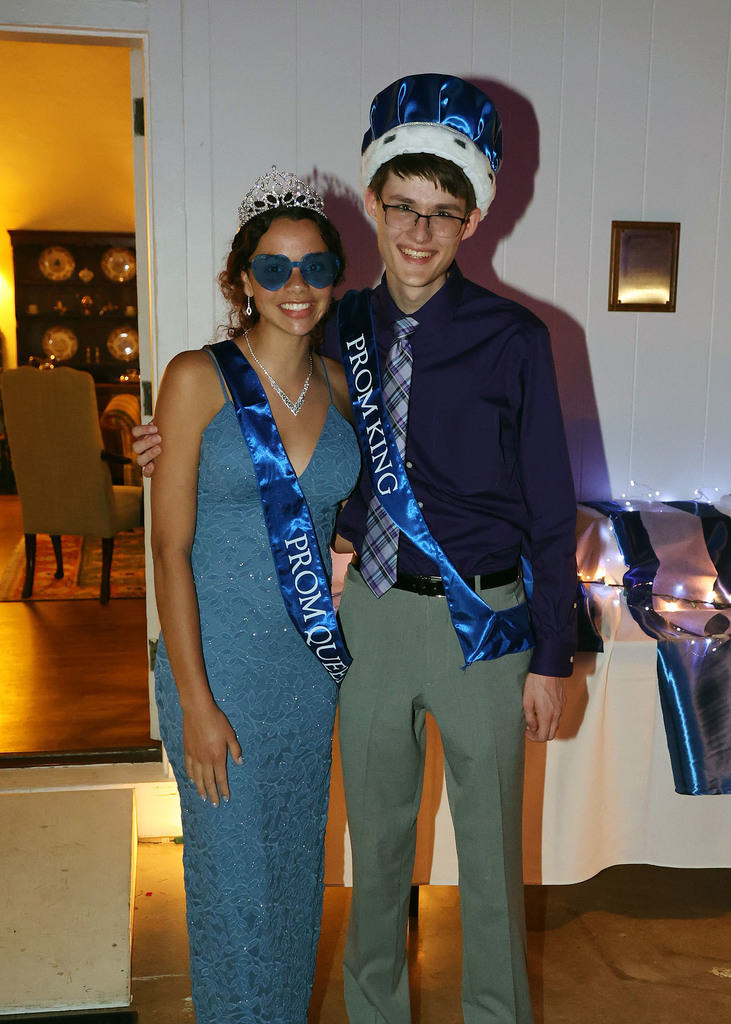 On Saturday, the West Liberty-Salem Middle School track team competed in the OHC Championship meet at Greenview. The boys won the North Division with 162 points! Runner Up was Mechanicsburg with 132 followed by Fairbanks, West Jefferson, South Vienna, and Triad. Congratulations on a great season! Scoring for the Tigers: 1st Place: 110Hurdles – Taryn Bradley 18.71 4x100 Relay – Zander Gluckle, Alex Boyer, Terrence Hayes, Tanner Myers 54.84 1600m – Brevin Louden 5:10.64 400m – Brevin Louden 59.80 4x200 Relay – Casey Boyer, Alex Boyer, Wyatt Longaberger, Zander Gluckle 2:00.27 200 Hurdles – Taryn Bradley 30.32 800m – Dylan King 2:20.44 200m – Brevin Louden 25.99 Pole Vault – Taryn Bradley 8-6 2nd Place: 4x800 Relay – Casey Boyer, Alex Boyer, Zachary Carter, Wyatt Longaberger 11:53.61 100m – Tanner Myers 13.60 4x400 Relay – Caleb Larson, Wyatt Longaberger, Jacob Lauck, Dylan King 4:24.65 Long Jump – Jake Lauck 14-0 ½ 3rd Place: 1600m – Caleb Larson 5:13.06 800m – Caleb Larson 2:26.28 Long Jump – Terrence Hayes 12-3 ½ 4th Place: 100m – Zander Gluckle 13.71 400m – Jake Lauck 1:06.51 High Jump – Dylan King 4-8 5th Place: 110 Hurdles – Kamden Hissong 21.33 200 Hurdles – Kamden Hissong 36.03 High Jump – Casey Boyer 4-6 Pole Vault – Kamden Hissong 5-0 6th Place: 200m – Tanner Myers 28.00 Discus – Maverick Reames 63-4 The girls won the North Division with 163 points! Runner Up was Fairbanks with 111 followed by Mechanicsburg, West Jefferson, South Vienna, and Triad. Congratulations on a great season! Scoring for the Tigers: 1st Place: 4x800 Relay – Gwen McCullough, Mariska Smith, Malia Miller, Breece Gullett 11:27.45 100 Hurdles – Hattie Jacobs 17.83 4x100 Relay – Tori Douthwaite, Elise Longshore, Chloe Griffith, Gwen McCullough 55:56 4x200 Relay – Hattie Jacobs, Lexi Hausler, Ashlee VonDeylen, Raylea Henry 2:09.74 200 Hurdles – Elise Longshore 31.75 800m – Gwen MCullough 2:41.26 Shot Put- Lyndee Harrison 32-4 ¾ Discus – Lyndee Harrison 71-9 Pole Vault – Elise Longshore 8-4 2nd Place: Long Jump – Chloe Griffith 12-5 ½ Pole Vault – Tori Douthwaite 7-0 3rd Place: 100 Hurdles – Geneva Estep 20.09 400m – Breece Gullett 1:10.44 200m – Chloe Griffith 29.25 4x400 Relay – Breece Gullett, Hattie Jacobs, Raylea Henry, Malia Miller 4:58.18 Shot Put – Addie Hutton 26-4 Discus – Addie Hutton 62-9 4th Place: 100m Tori Douthwaite 14.36 1600m – Mylee Dooley 6:17.46 200 Hurdles – Geneva Estep 37.30 5th Place: 1600m – Mariska Smith 6:21.59 800m – Abbie Thoman 2:54.27 High Jump – Geneva Estep 3-8 Long Jump – Savannah Gluckle 11-10 6th Place: 400m – Emma Smith 1:13.85

Fourth graders are hard at work on their wax museum research projects! The wax museum is a fourth grade tradition where students research and present everything they learned about a famous person in history! They will dress up as that person, and present their research to friends and family at the Wax Museum Showcase later this month.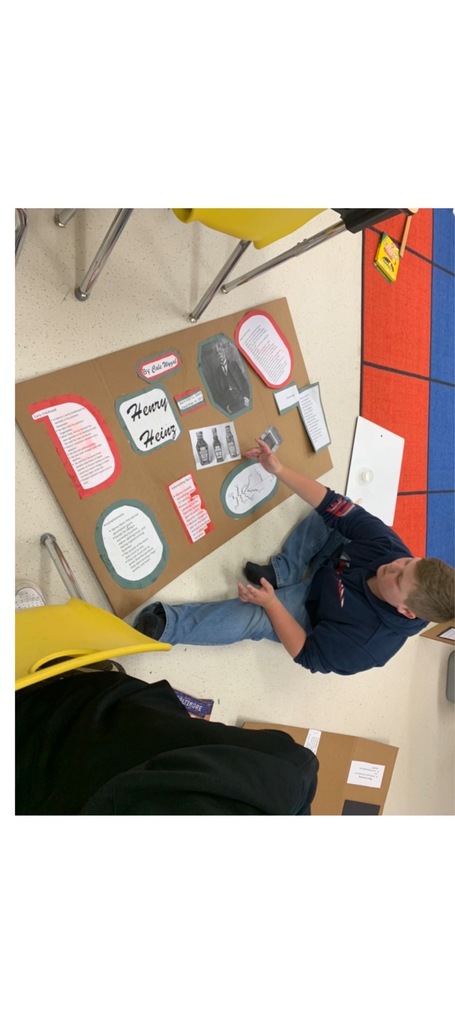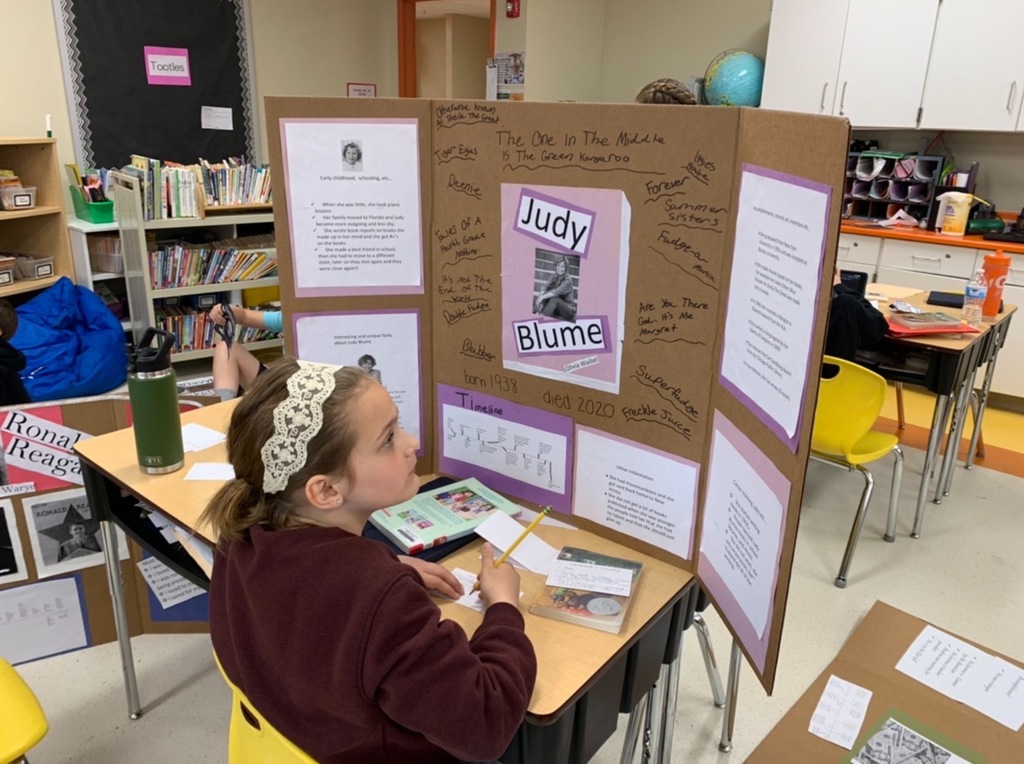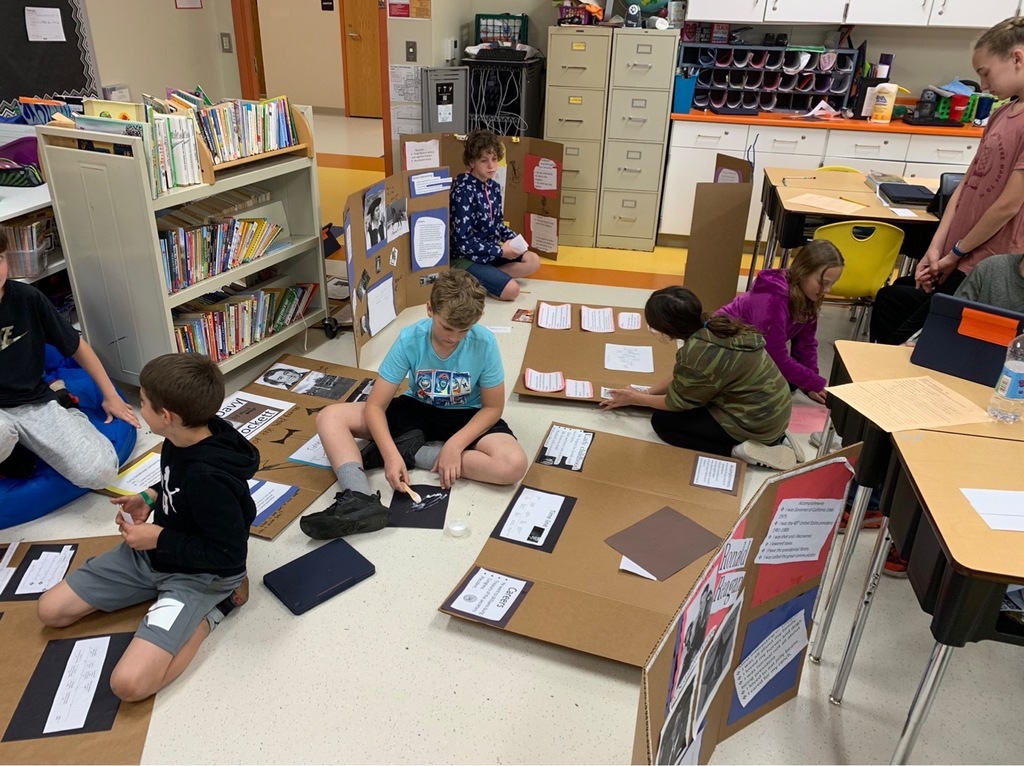 First grade classes had fun making landform cookies to wrap up their lesson on maps and landforms! What a sweet way to make the lesson memorable! A big thank you to Mrs. McGuire for donating cookies to our classes!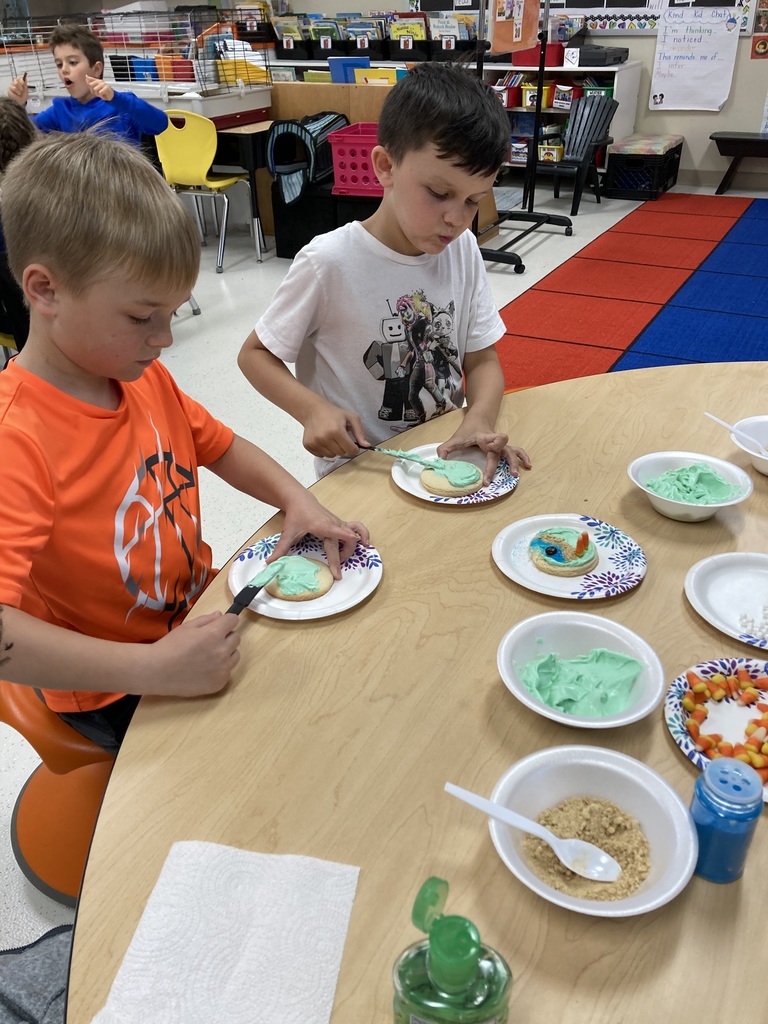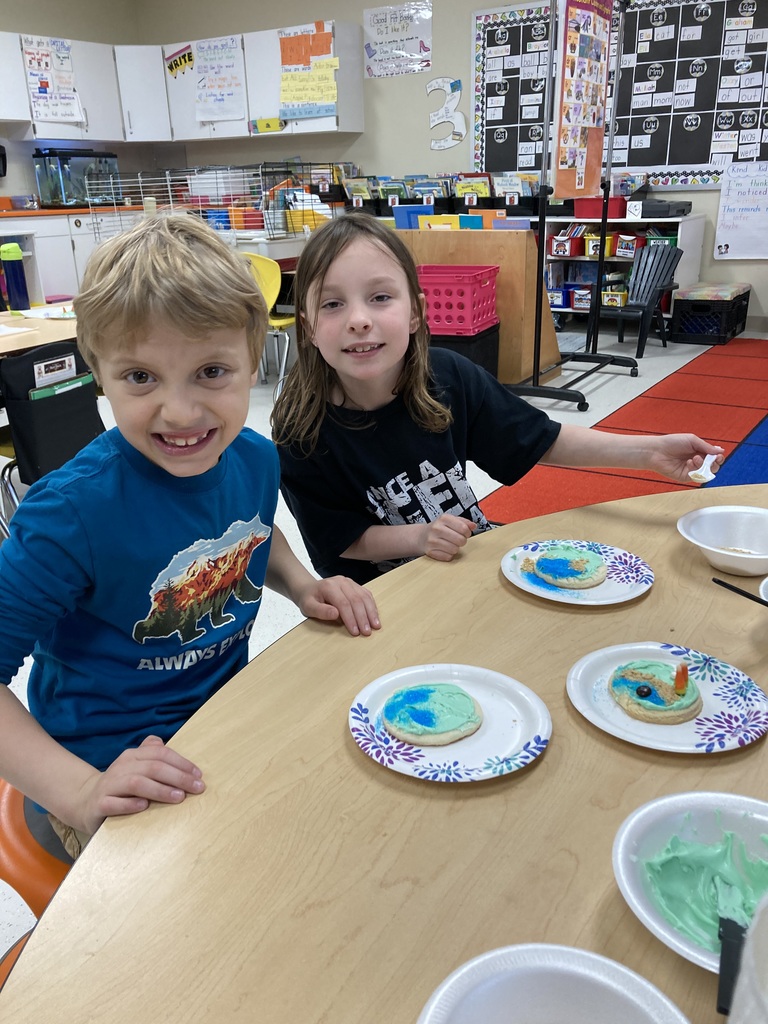 Reminder! The middle school band meeting is tonight at 6 PM. Any student interested in joining the middle school band should have a parent attend. See you there!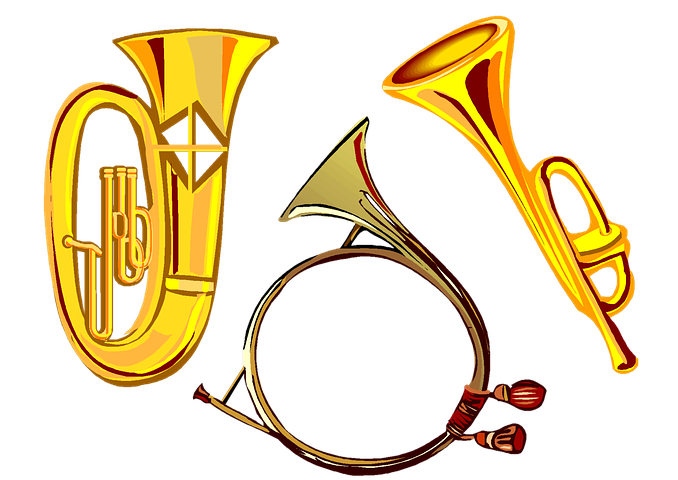 Please use the attached QR code to pay for admission to tonight's softball game hosted at home against Twin Valley South at 5:00 PM. Go Tigers!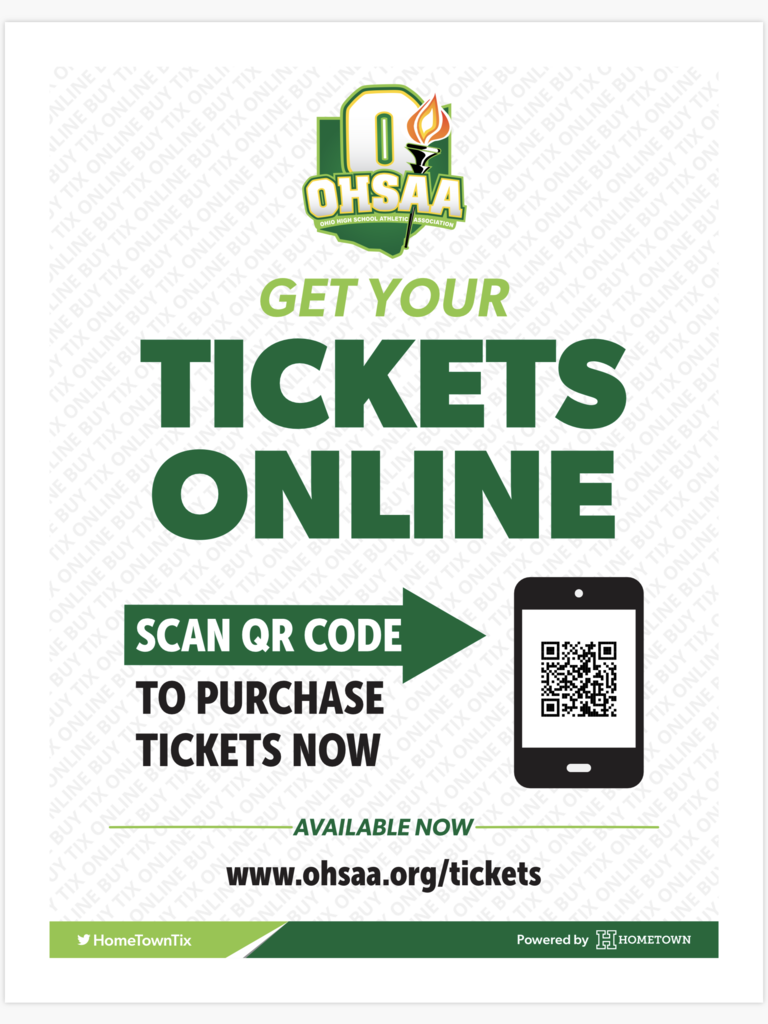 Mrs. Stayrook's class is having a lot of fun lately! Here is what they were up to today! From Mrs. Stayrook: Our class began the strategy of determining importance. What better way to do that than by making pizza? We had to decide which ingredients were important and which were extra. The catch was, we could only choose 3! After discussion, we decided that we had to have crust, sauce and cheese. All the other things were extra. We then celebrated by making pizzas of our own inside the classroom. The kids loved it and it helped the strategy "stick."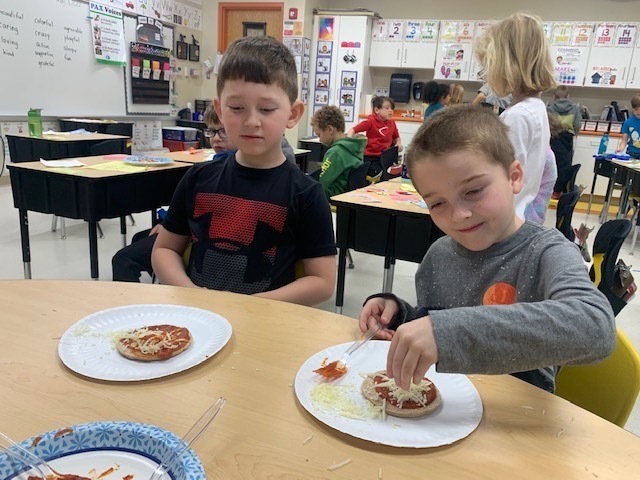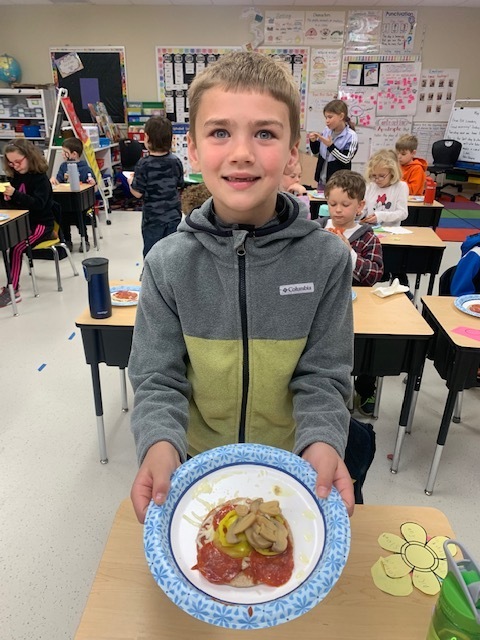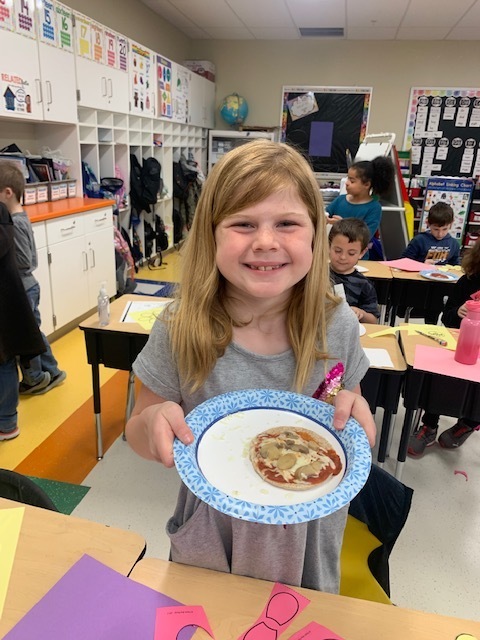 We are pleased to announce the renewal of the district's 1% Income Tax Levy! West Liberty-Salem continues to thrive as a school of excellence due, in large part, to the support of our community, families, alumni, teachers, staff, administrators and local business owners who helped promote and ultimately, renew the levy. Thank you for your continued support of our district, students, and their future!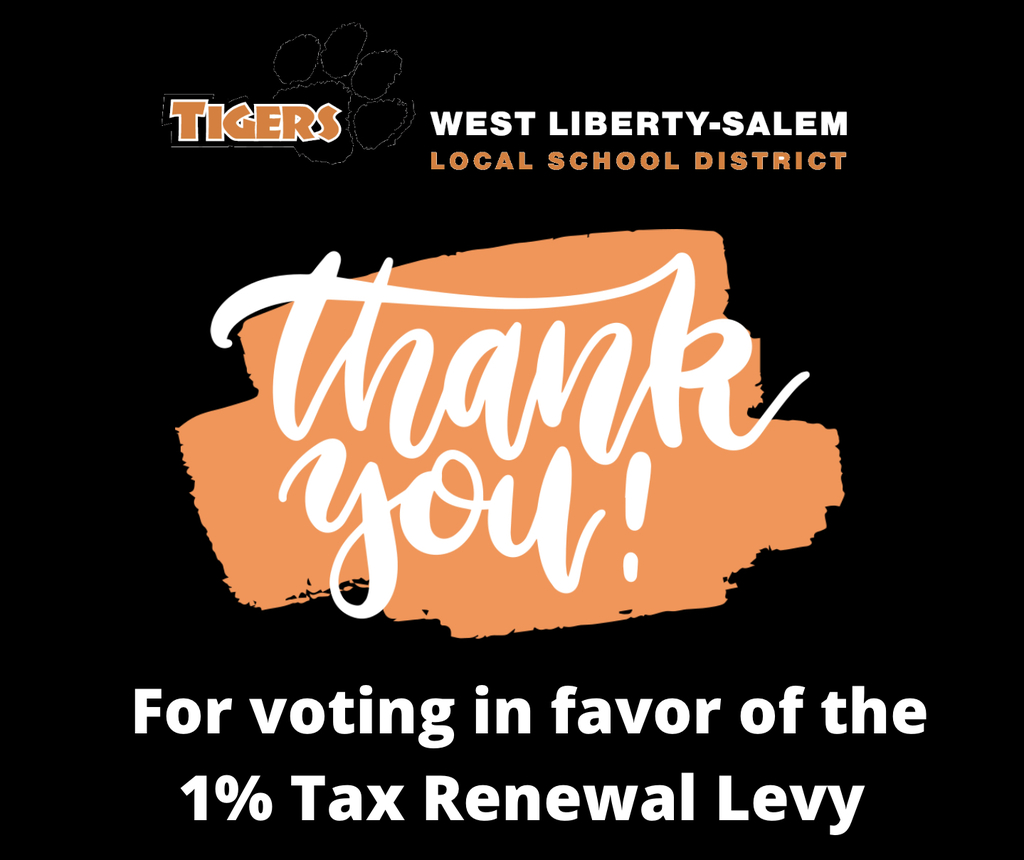 There are several opportunities to support the Tigers this week!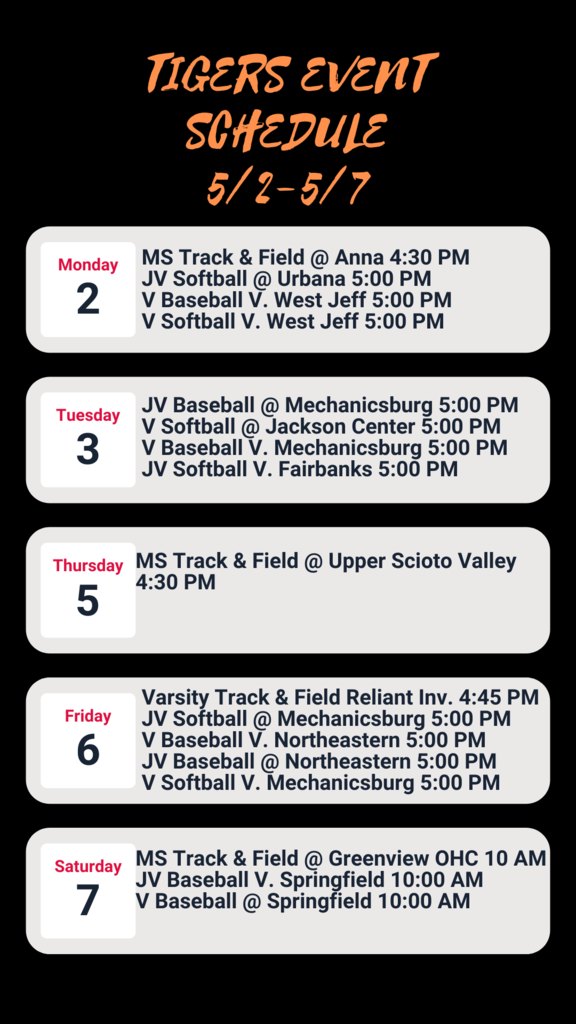 Hello, this is Kraig Hissong Superintendent of the West Liberty-Salem Local School District calling all WLS families and reminding you to remember to vote tomorrow on the Renewal of the 1% Income Tax. Remember, this is not a new tax and will not increase your current taxes. The renewal of the 1% income tax will maintain the funding that the school district has received since 1992. The income tax has been renewed by voters on 10 different occasions for the last 30 years. This funding is important for the day-to-day operations of the school district and costs the average family about 97 cents per day. With school funding from the state remaining about the same, local tax dollars are more important than ever to help provide high quality educational programs and staff. Thank you very much for your continued support of our school district and please remember to vote tomorrow on the Renewal of the 1% Income Tax. Thank you!

On Thursday, April 28th, students in Pages and Ms. Haney's Creative Writing Class went to the Wexner Center for the Arts to attend the end of year Pages Open Mic. Students toured the most recent exhibition, ate lunch with other participating Pages' schools and met newly published poet Aline Resende Mello. Many WL-S students then participated in their first open mic, MCed by Ohio Poet Laureate Kari Gunter-Seymour. Students recently submitted their own pieces of art and writing to be published in this year's Pages book.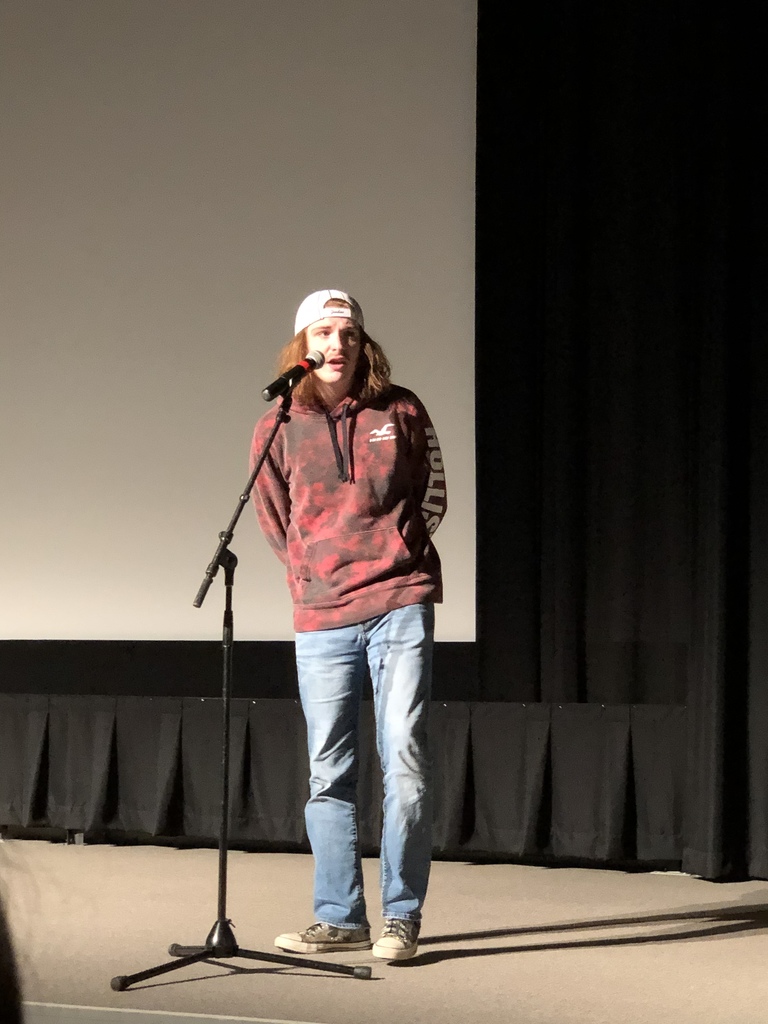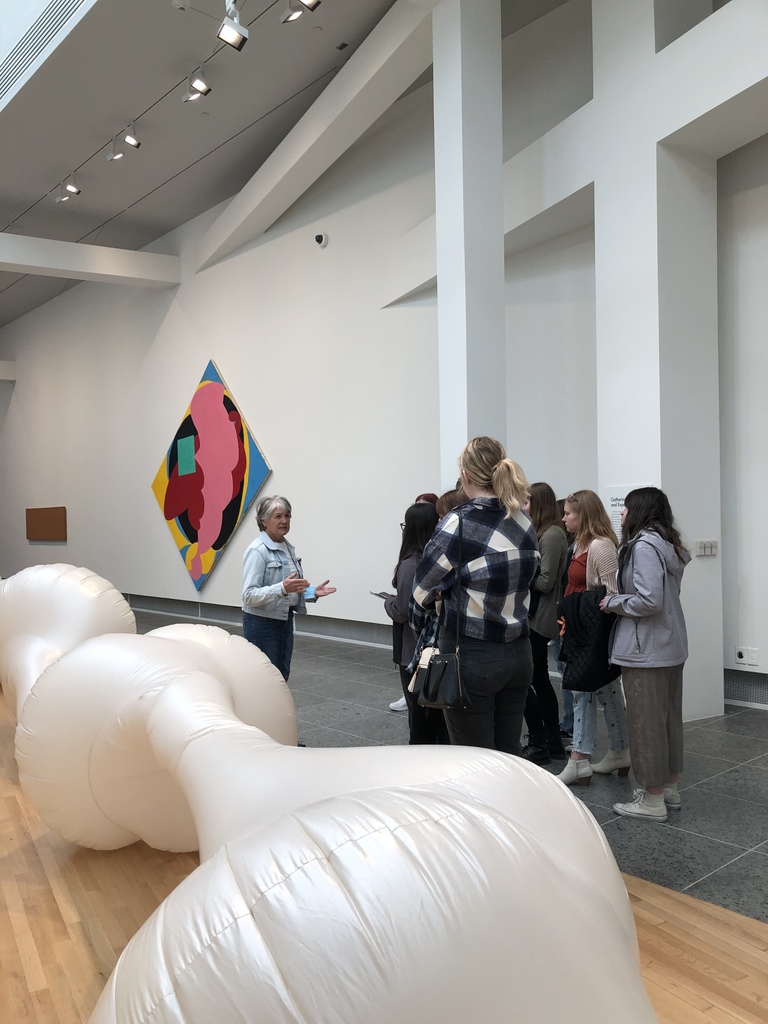 This week is teacher appreciation week, and we are blessed with the best at West Liberty-Salem! Please help us thank our teachers for all they do to ensure our students are getting the best education, support and love all year!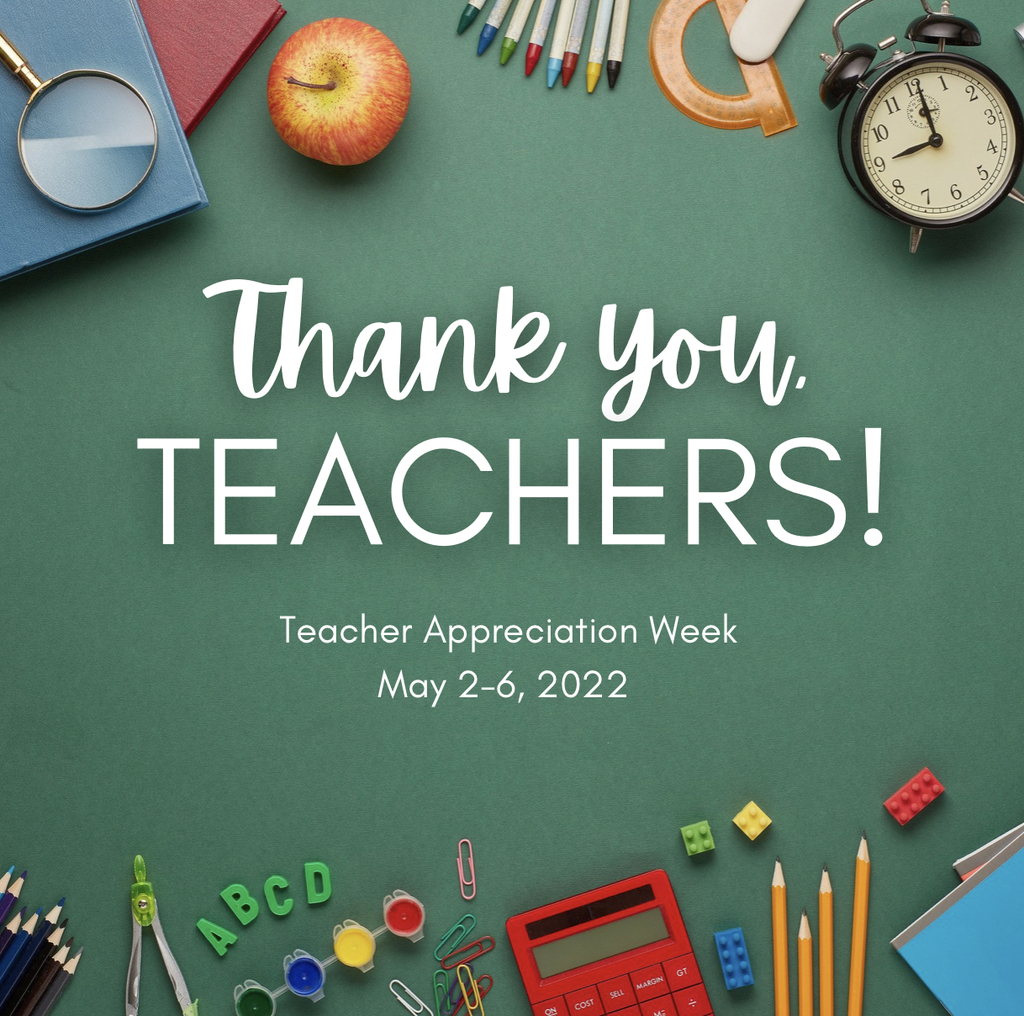 Mrs. Stayrook's class celebrated the end of their poetry unit at their very own "Poetry Coffee House". The coffee house was complete with donuts, juice and milk and a poetry reading! Each student selected their favorite poem that they wrote during the unit and read them aloud to their friends! They did a great job!!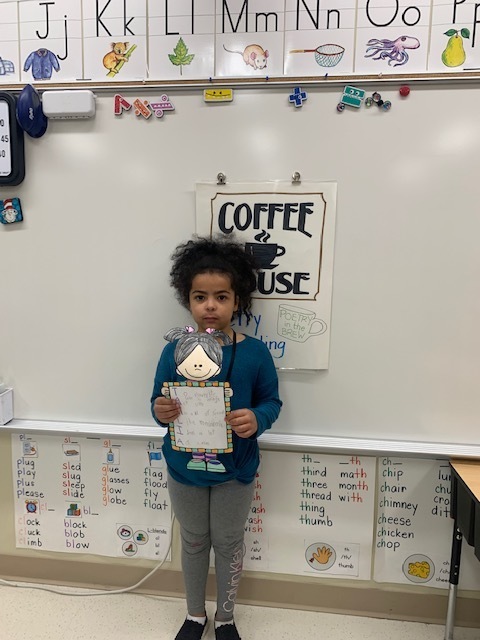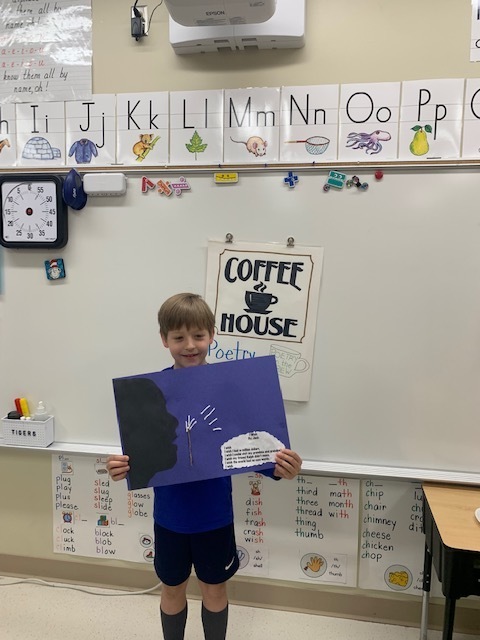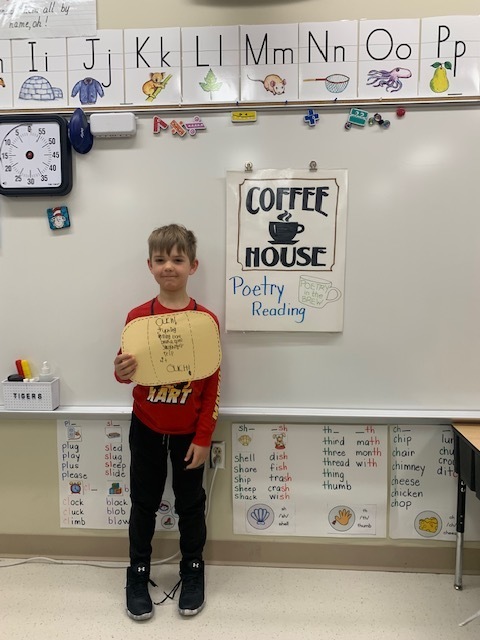 Mr. McGill, Middle School Principal, took a few of our 8th grade WEB leaders to Vancrest this morning to serve residents and do some activities with them! WEB, Where Everyone Belongs, is a volunteer group of 8th graders who host 6th grade orientation and other activities to create a sense of inclusion and welcoming.