Recently West Liberty-Salem High School hosted their annual Winter Athletic Awards Ceremonies. Among the many athletes honored, there were many outstanding accomplishments. In Bowling, 4 year participation and letter awards went to Nate Aldo, Andrew McCall, Bobby Rollins, Katie Rollins and Adam Watkins. Andrew received scholar athlete and high average.Katie received sportsmanship and high average. Natalie Hacker received scholar athlete and varsity hustle. Skylor Mueller got varsity hustle. Holden Shafer received sportsmanship. Blair Boyd and Eli Ullery were most improved. In Girls Basketball, four year participation and letter awards went to Sophie Cole, Grace Estes and Selena Weaver. Sophie was most valuable defense and OHC honorable mention. Grace was most improved and OHC 2nd team. Selena was scholar athlete and most valuable offense and OHC player of the year. Madeline Hutton also received a 4year participation. Emily Hollar received varsity hustle and Caitlyn King was named reserve hustle. In Boys Basketball, four year participation and letter awards went to Nick Burden, Drew Hardwick, Tanner Levan, and Cam Strapp. Nick was scholar athlete and most valuable player. Strapp was named most improved and 'Glue Guy'. Isaac Brown received varsity hustle and Hayden King received reserve hustle. In Cheerleading, Kaylee Levan 4year participation and letter, varsity hustle and scholar athlete. Abbie Long got reserve hustle. Whitney Strapp and Julia Wilson received dedication award. In Wrestling, Ian Maurice received a four year participation, letter award and most valuable. Logan Instine received the Bob Griffith Impact. Slayde Merriman got the hustle award.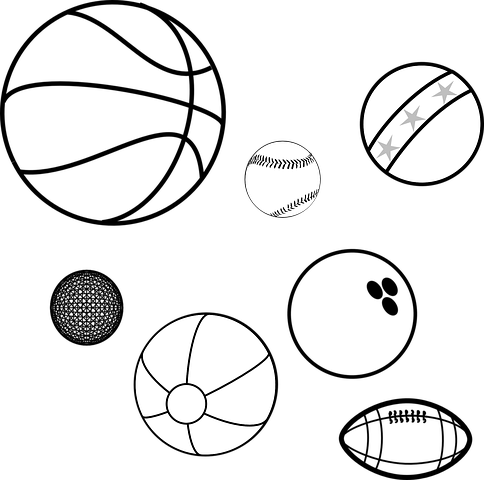 It's time for senior shout outs! Today, we are congratulating Brynn Cooper, Morgan Damron, Lilian Davis, and James Dillon! Help us wish them well as their last weeks quickly wrap up!

Registration is now open for this summer's Big Orange Elementary Running Club! The run club is free and open to all student athletes grades PreK-6th grade. All participants will receive a Big Orange Running Club t-shirt. The club's mission is to encourage a healthy lifestyle, while developing participants' strength, speed, endurance and especially confidence as an athlete through fun and challenging activities. For more information visit the following link.
https://www.bornandracedinwestliberty.com/big-orange-elementary-running-club.html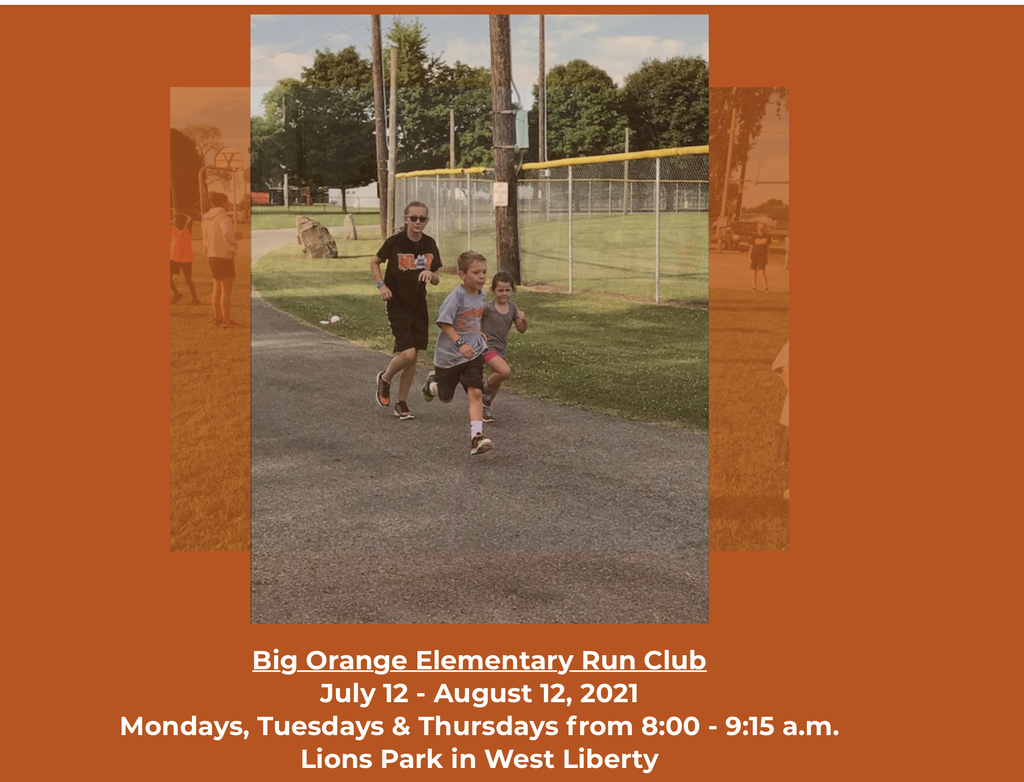 Mrs. Seymour's Advanced Art and Art students were commissioned to paint large plywood boards with flowers, produce and more for the Champaign County Farmer's Market. The work will be displayed throughout the Market that is held on Market Street, behind the Urbana Police Department, on Saturday mornings from 9-12. The Champaign County Farmer's Market will kick off their season this Saturday, May 1st. There is a great selection of produce, eggs, fresh garlic and other handmade items, so come out, shop and see the beautiful artwork our students provided!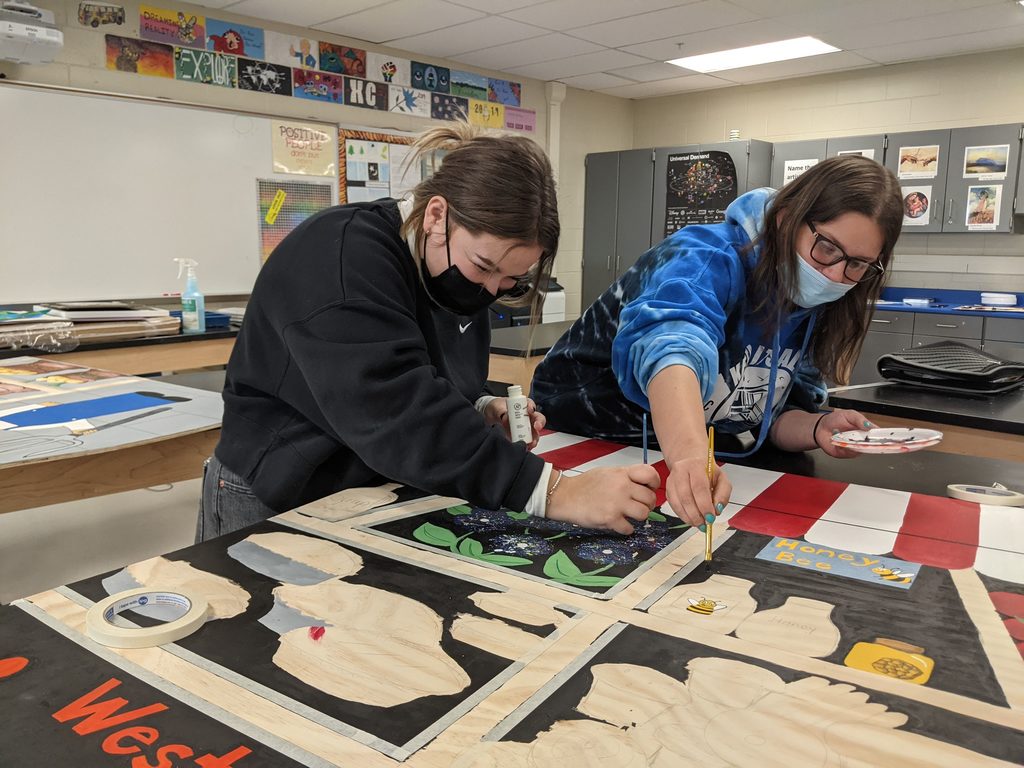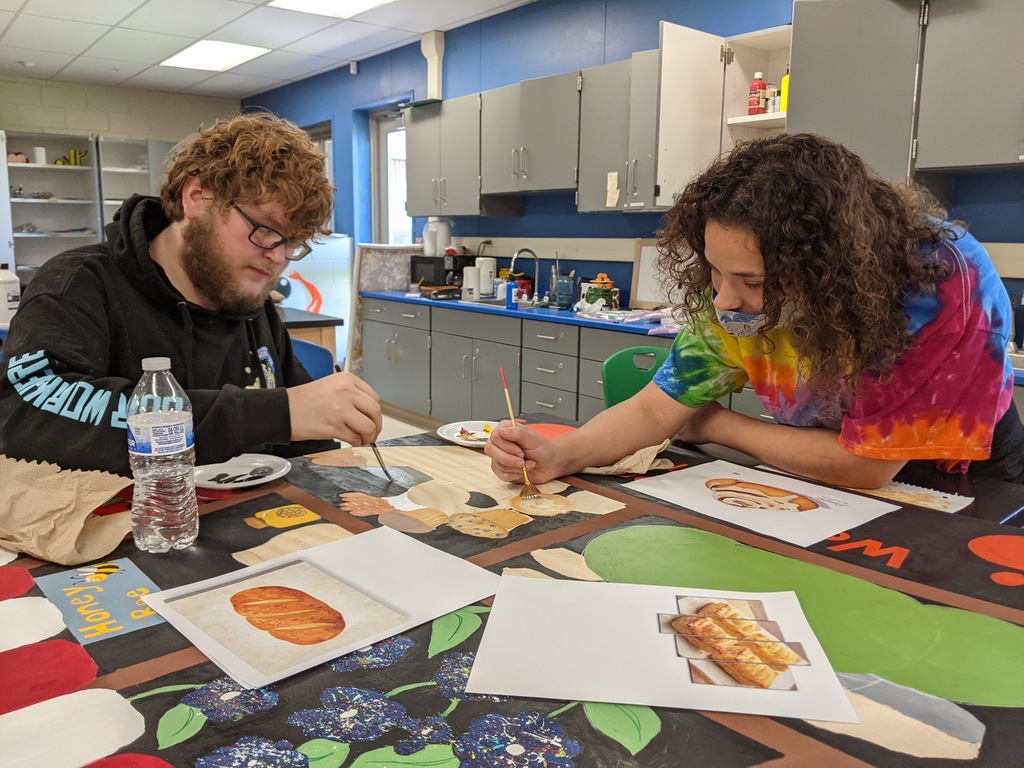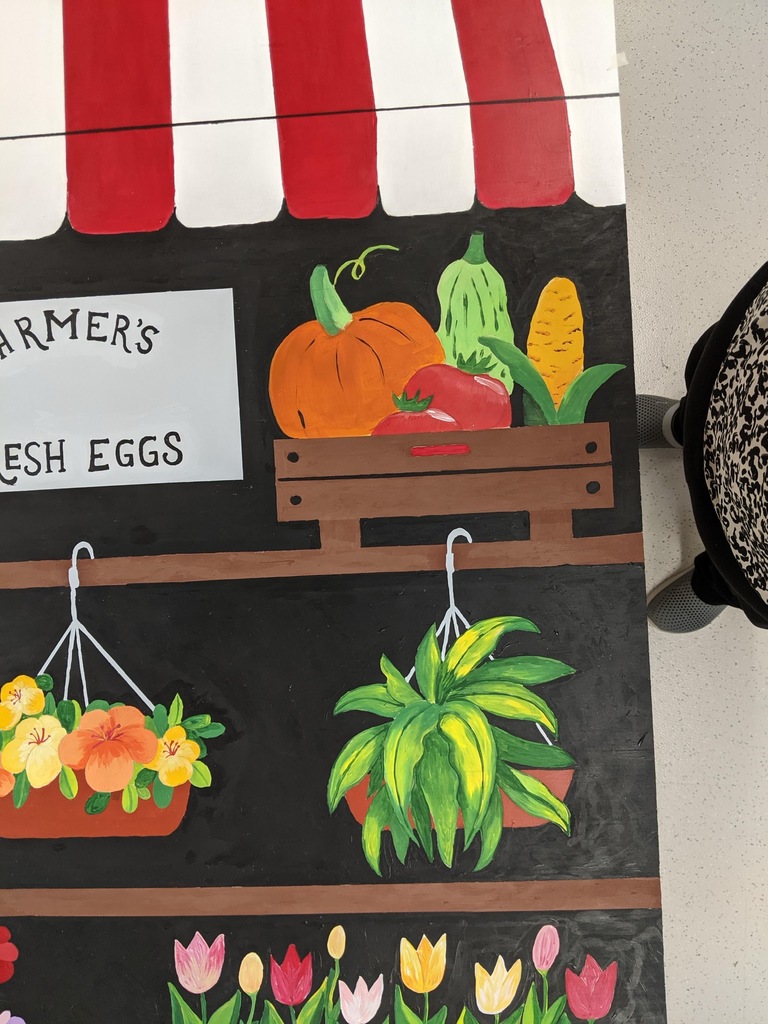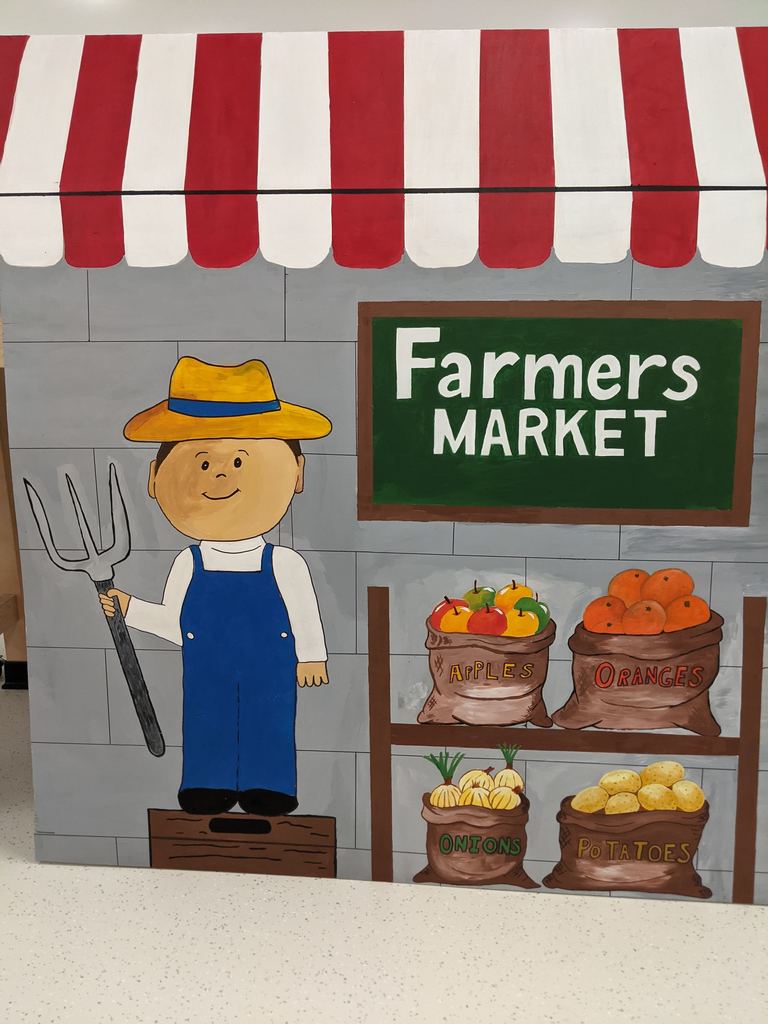 Mrs. Fullenkamp and Mrs. Harman took their 8th grade science students outside to play "What seismic wave am I?" The game was a fun preparation for state tests that begin next week and a great way to enjoy the beautiful spring day!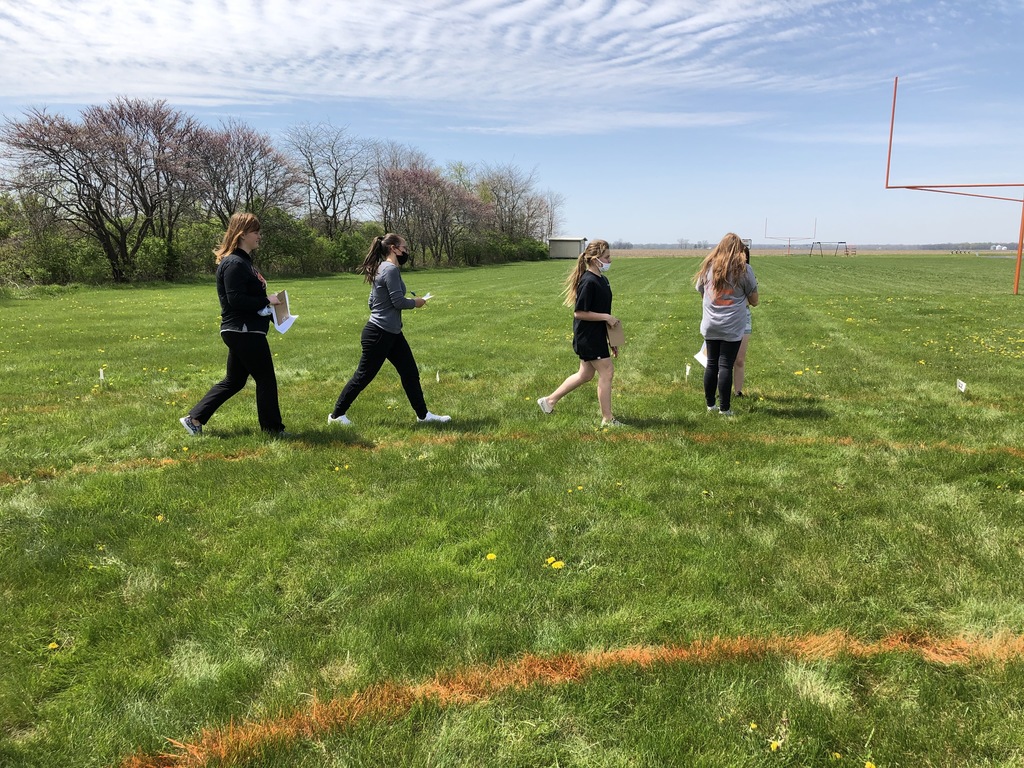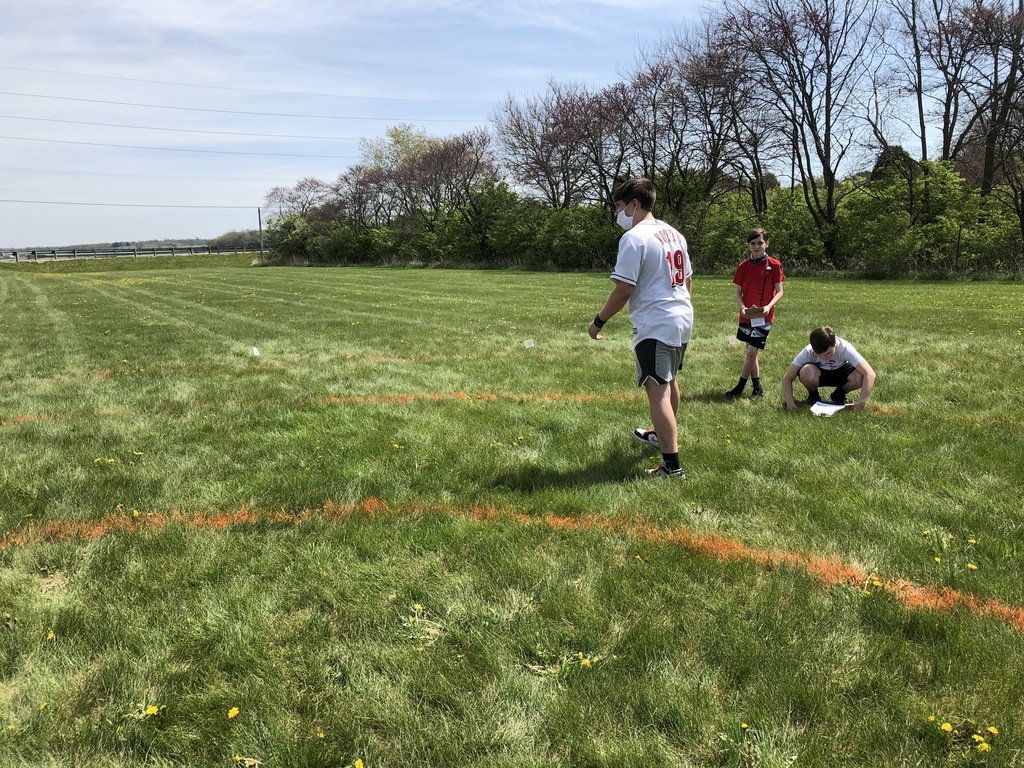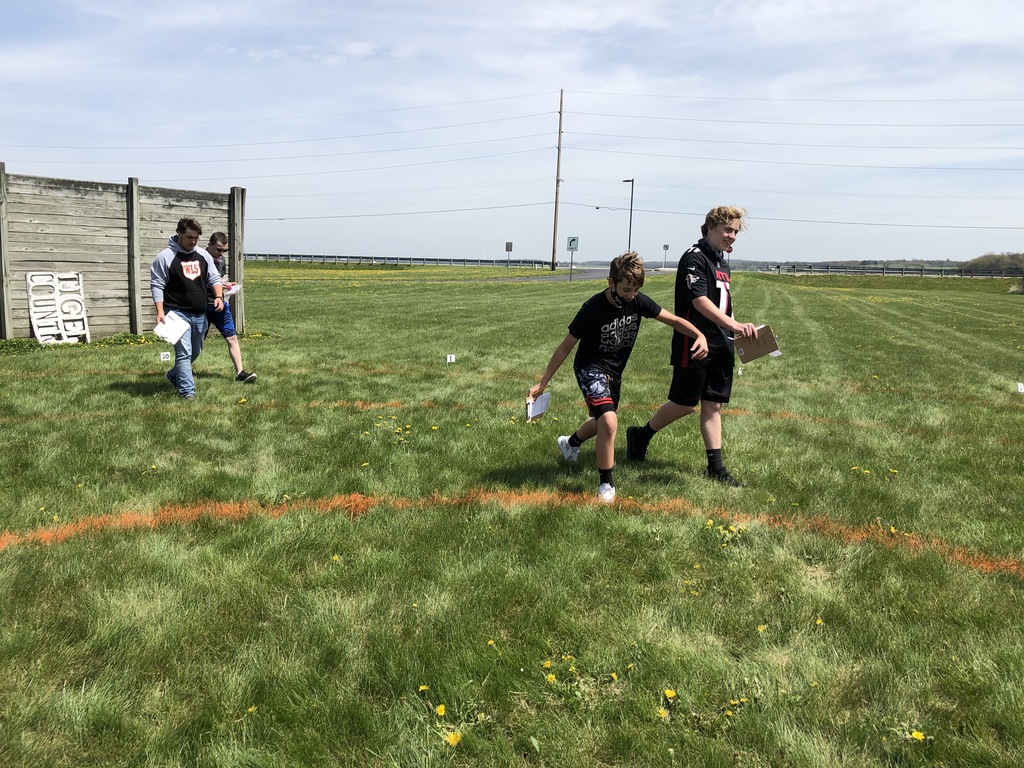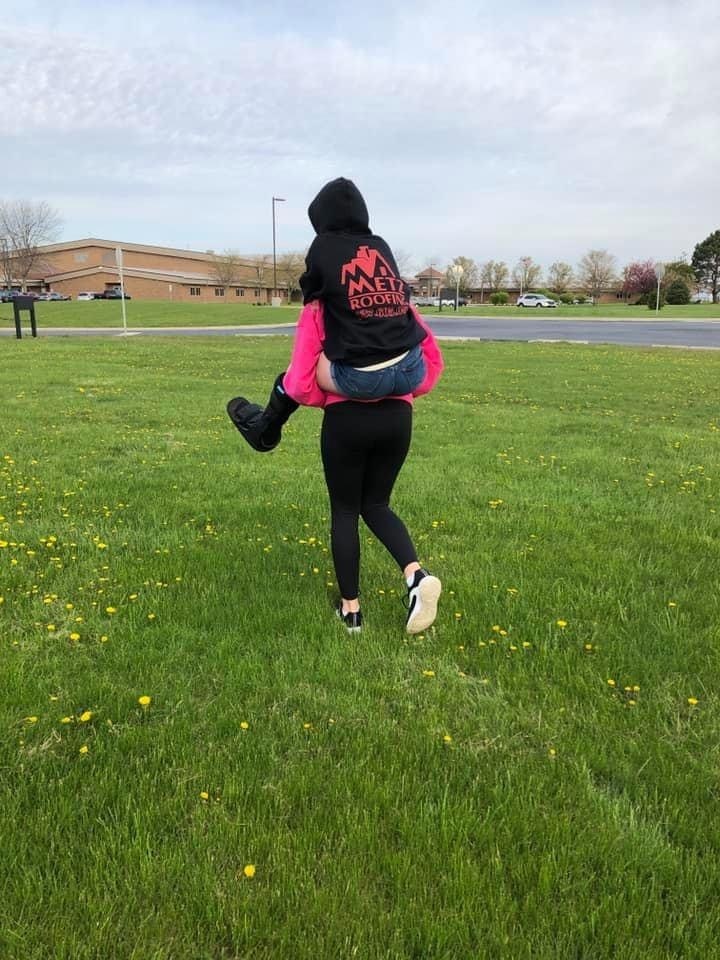 WL-S elementary students are invited to an after school soccer camp May 17, 18, and 20th. Come out and join Coach Andy Cottrell and HS soccer players learn drills, dribbling and playing some fun games! The cost is $10 per day or $25 for all 3 days of camp! Flyers are attached but will come home with your student this week! See you there!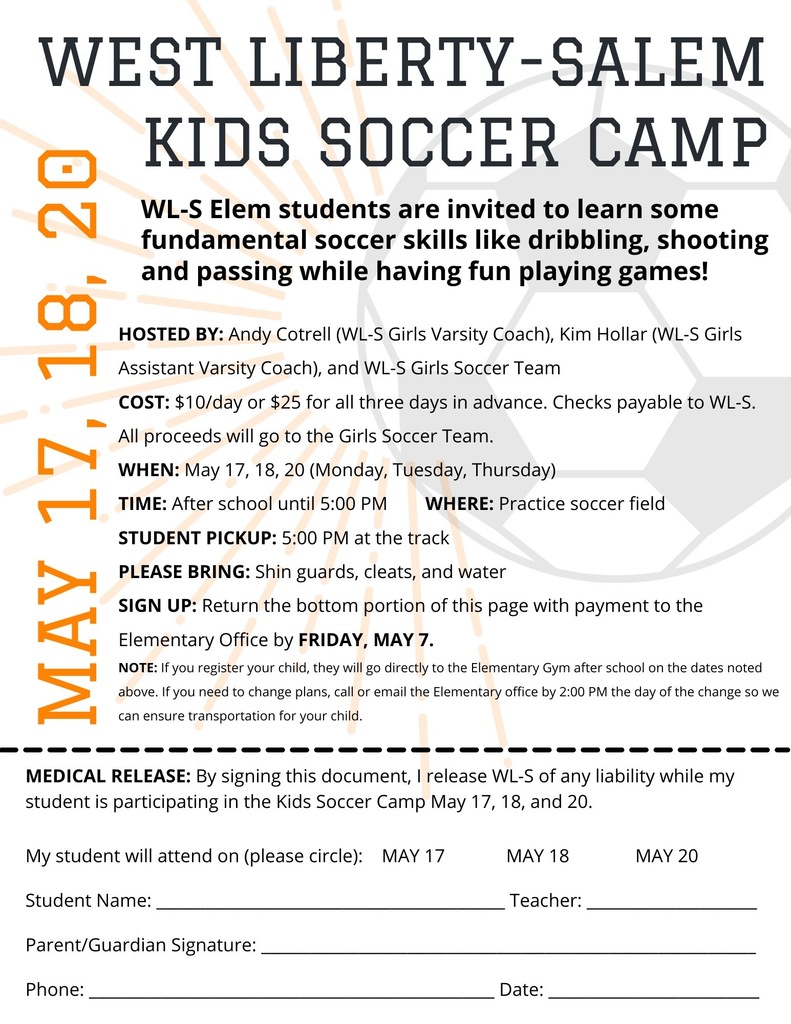 If you have an athlete who needs to update their sports physical for next school year, our WL-S Health Clinic is offering a sports physical clinic on May 12th! Students will need to obtain physical forms from the Athletic Department. You can sign up for a spot at
https://signup.com/go/oXQVUSX
. There is one spot for male appointments and another for female appointments, so make sure to sign up correctly at the link provided. Thanks!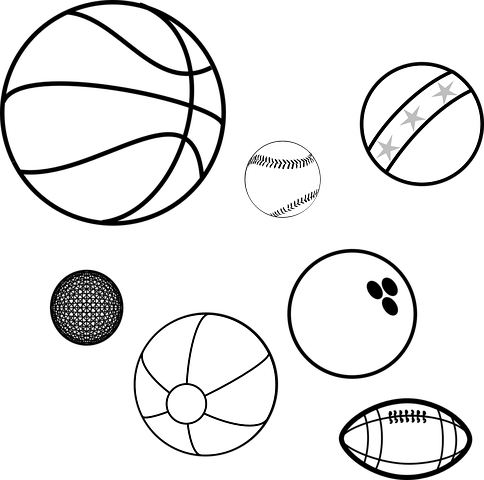 The West Liberty-Salem girls track and field team placed first at the Champaign County Meet hosted by Mechanicsburg Monday night. Team Scores: 1st WLS 159, 2nd Mechanicsburg 66, 3rd Graham 57, 4th Urbana 52, 5th Triad 16 First place finishers for the Tigers included Kaylee LeVan Long Jump15'4.75", Addison McAuley 1600 meter run 5:30.92, Emily Hollar 400 meter dash 59.48, Claire Longshore 300 meter hurdles 50.18, Megan Adams 800 meter run 2:22.21, Katelyn Stapleton 200 meter dash 26.82, 4x800 Relay-Taylor Kennedy, Lily Smith, Maggie Davis, Maria Henderson 11:44.56, 4x100 Relay-LeVan, Stapleton, Lilly Weaver, Grace Estes 51.95, and the 4x400 relay-Mallory Bostick, Mandilyn Weaver, Sophia Hardwick, Longshore 4:25.45. Placing second were Selena Weaver in discus 98'04" and shot put 32'7", Taylor Kennedy 1600 meter run 5:58.36, Madison Bahan 400 meter dash 1:00.74, Ashley Yoder 800 meter run 2:25.93, Maria Henderson 3200 meter run 14:43.53, Mandilyn Weaver high jump 4'10", Tina Douthwaite pole vault 7'06" and the 4x200 relay team of Hannah Bowman, Kerrigan Burgel, Megan Hollar and Ashley Good 1:59.43. Finishing in third place were Sophia Hardwick in the 100 meter hurdles 18.29 and 300 meter hurdles 52.70, Lilly Weaver in the 100 meter dash 14.34 and long jump 14'11.25", Claire Longshore high jump 4'04" and Lena Kauffman pole vault 7'06". Chipping in fourth place finishes were Lily Smith 1600 meter run 6:32.72, Mallory Bostick 400 meter dash 1:05.92, Mandilyn Weaver 300 meter hurdles 56.16, Hannah Bowman 200 meter dash 29.67, and placing fifth was Kenzie Bahan in the shot put 27'01". WLS will be competing at the Wayne Invitational and the New Bremen Invitational over the weekend.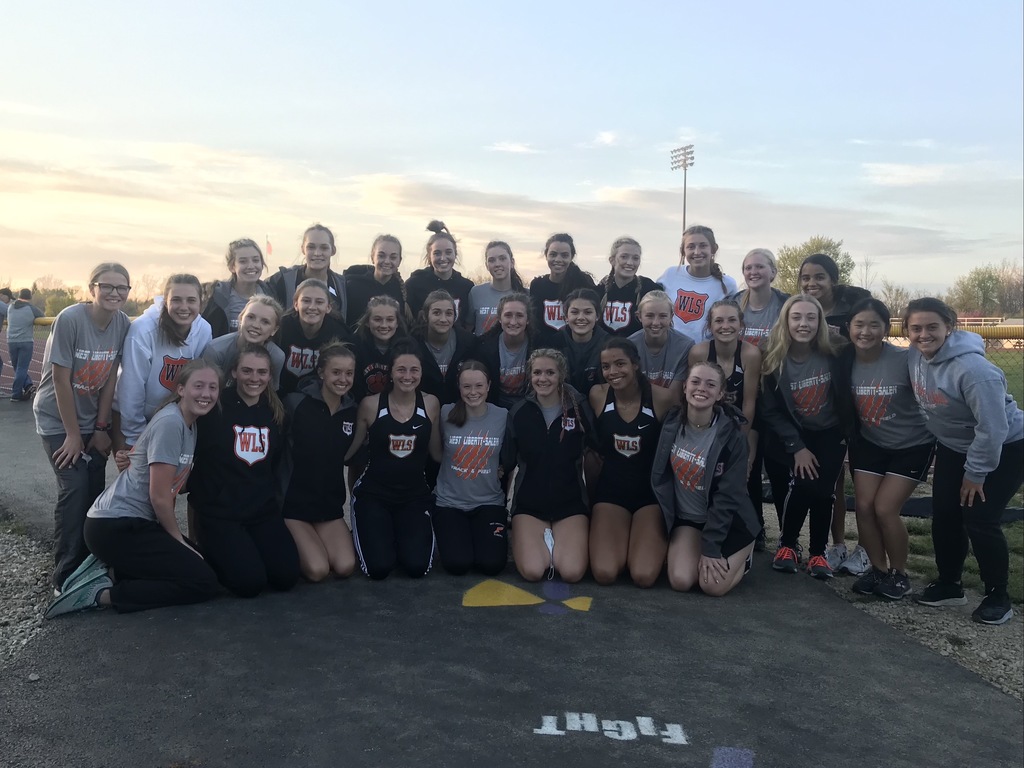 The West Liberty-Salem FFA Chapter hosted their 60th Annual FFA Banquet on Saturday evening. Cooper Havens, President, offered opening greetings and Maddox Havens, historian, offered the Invocation. Students were recognized for their accomplishments in academics, fruit sales, scholarships, Chapter Degrees and more! New officers were inducted in their new positions, and Seniors were recognized for their years of service with a slideshow and keepsakes. It was a great evening with tasty dessert, compliments of The Airport Cafe! Congratulations to the many award and scholarship recipients and new officers!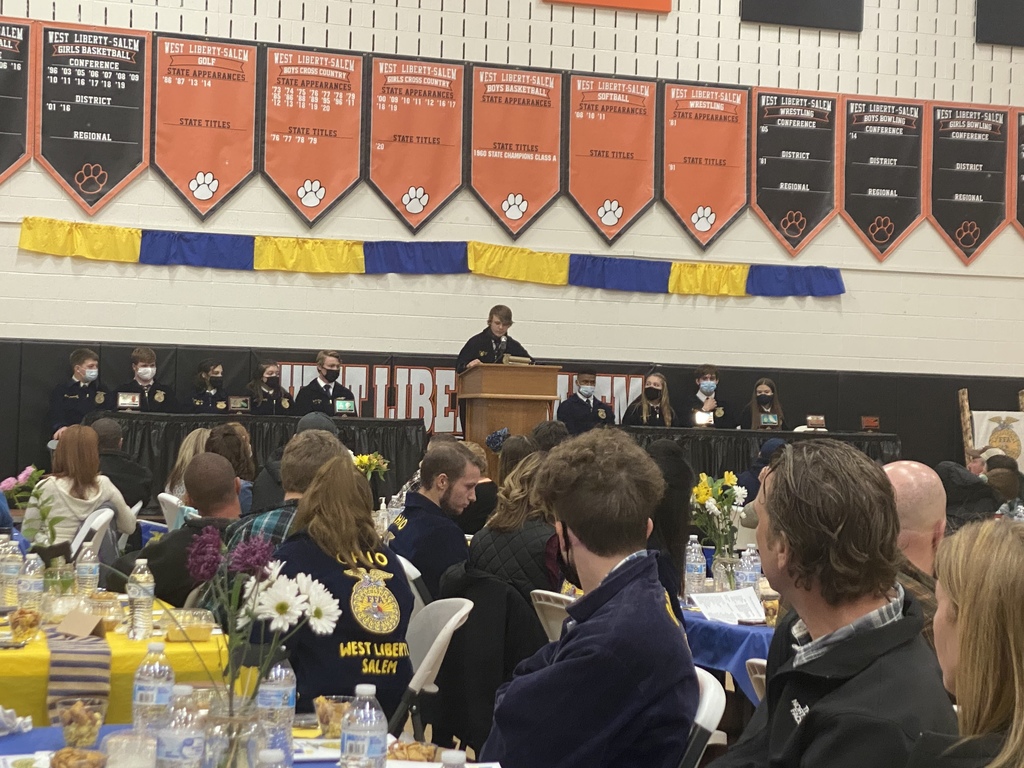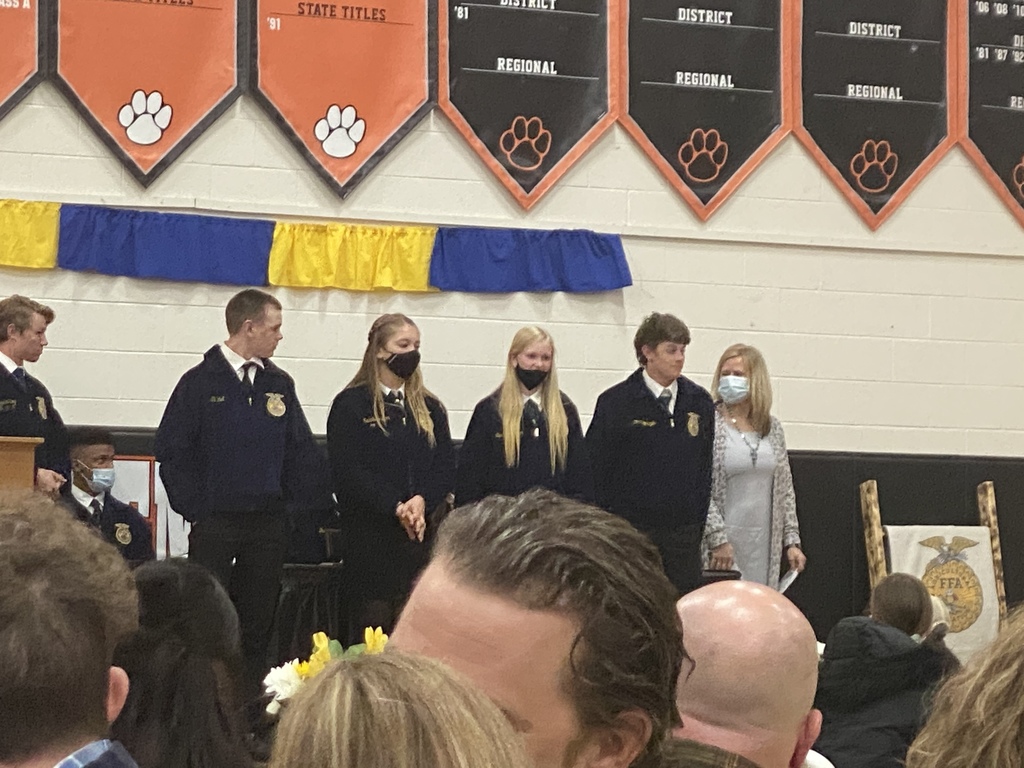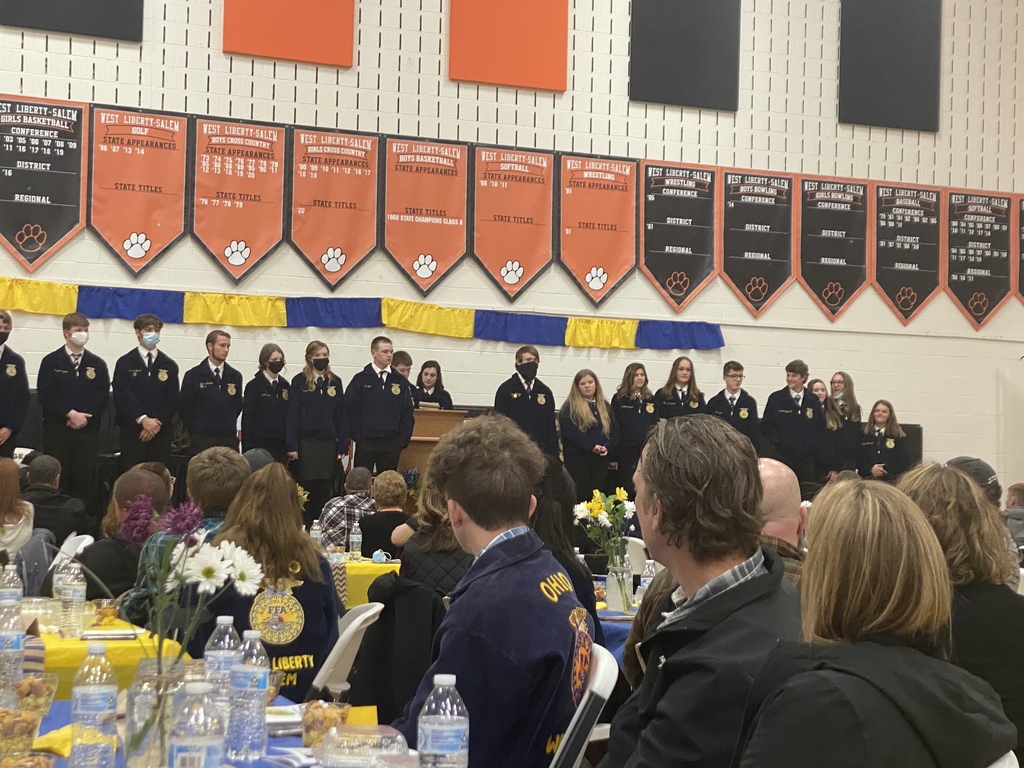 Attention students looking for summer employment: SUMMER STUDENT MAINTENANCE POSITIONS ARE AVAILABLE West Liberty-Salem is seeking High School Students to work in the maintenance department June-August of 2021. Anyone interested can pick up an application in the WL-S Central Office from 8 am - 4 pm, Monday-Friday. Completed applications are due by Friday, May 7. Hourly wage: $8.80/hr.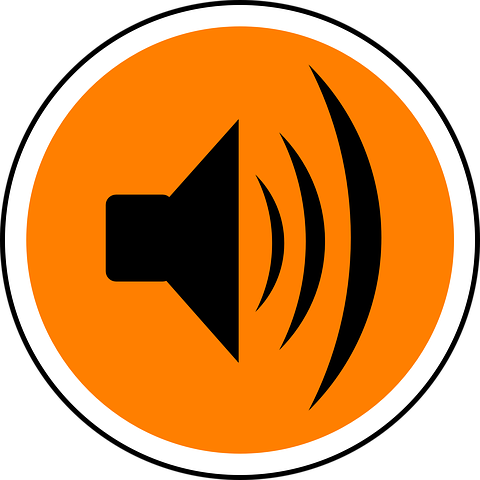 Community Health & Wellness Partners will be offering free sports physicals at West Liberty-Salem Schools on Wednesday, May 12 from 3:00-5:00 pm. Appointments will be scheduled every 5 minutes, but the appointment itself will last about 30 minutes. There is ONE FEMALE and ONE MALE appointment available during each 5 minute increment, so please be sure to sign up for the correct spot at this link if interested:
https://signup.com/go/oXQVUSX
. Please obtain sports physical paperwork from the AD's office or stop by the nurse's office. ALL paperwork must be completed prior to appointment time.

It's another Senior Shout Out! This time we are sending our best wishes to Daemon Carter, Noah Cline, Sophia Cole and Keten Cox! Congratulations to these awesome seniors!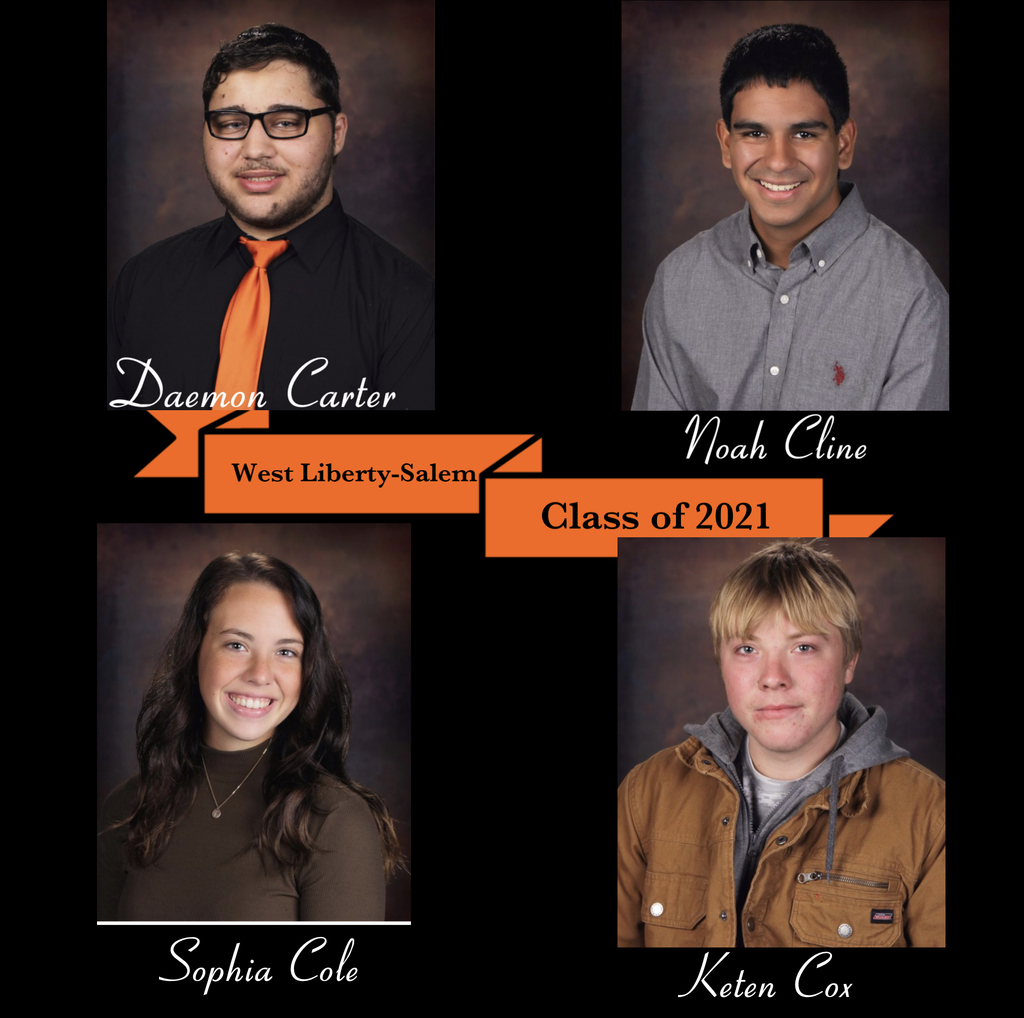 Today we recognize 4 men from the class of 2021. Let's give a Senior Shot Out to Joe Buck, Nick Burden, Logan Campbell and Mearic Campbell!! Congratulations, guys!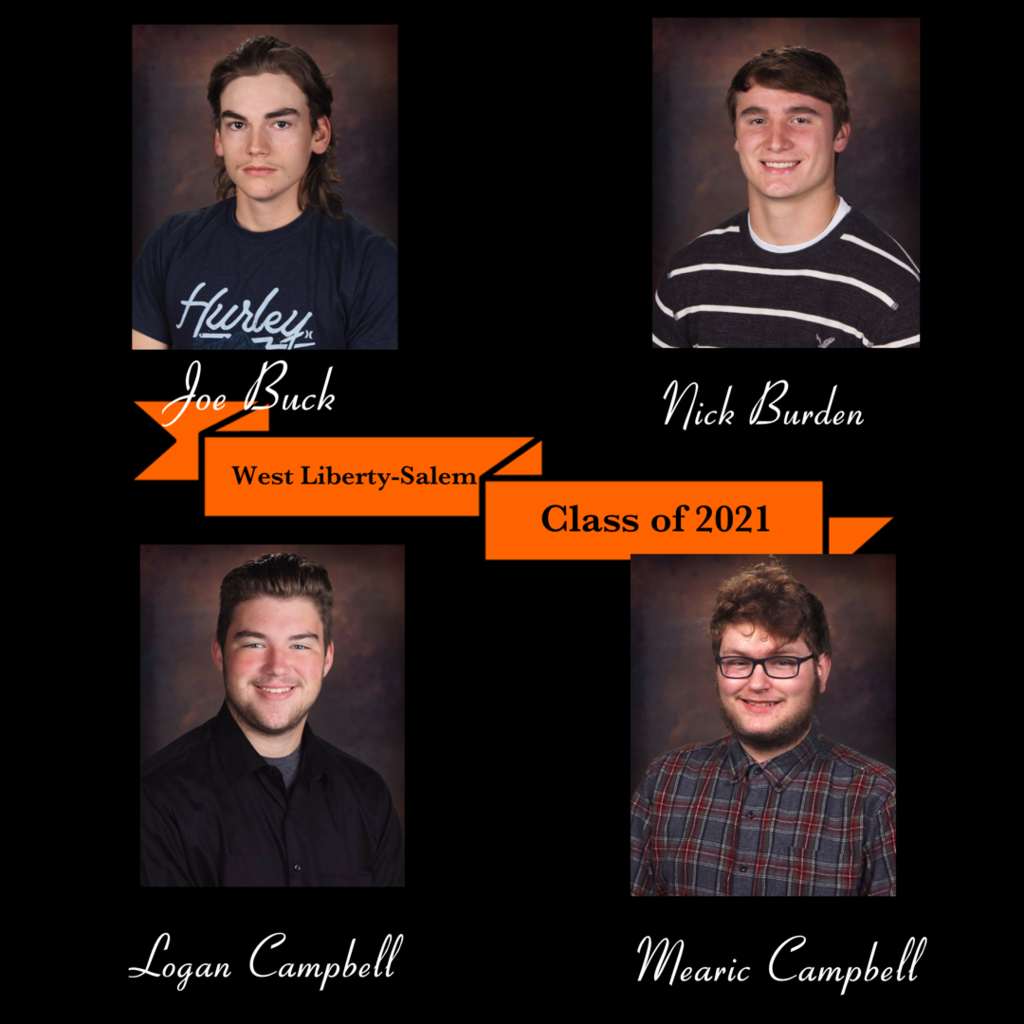 Kaylee LeVan and Luke Hudson signed their National Letters of Intent to cheer at the University of Cincinnati on Thursday April 22, 2021. The ceremony, led by Athletic Director Jake Vitt, included their families, friends, teammates, coaches, teachers, and administrators. Kaylee has cheered at WL-S for six years. While pursuing her passion for cheer she will major in Biology, with a focus in Biomedical Studies, while attending University of Cincinnati. Hudson, who has lettered in both Soccer and Track and Field at WL-S, will major in Architecture while cheering for the Bearcats! Congratulations to both Kaylee LeVan and Luke Hudson on your commitment to the University of Cincinnati Bearcats! The West Liberty-Salem Community will be cheering you on!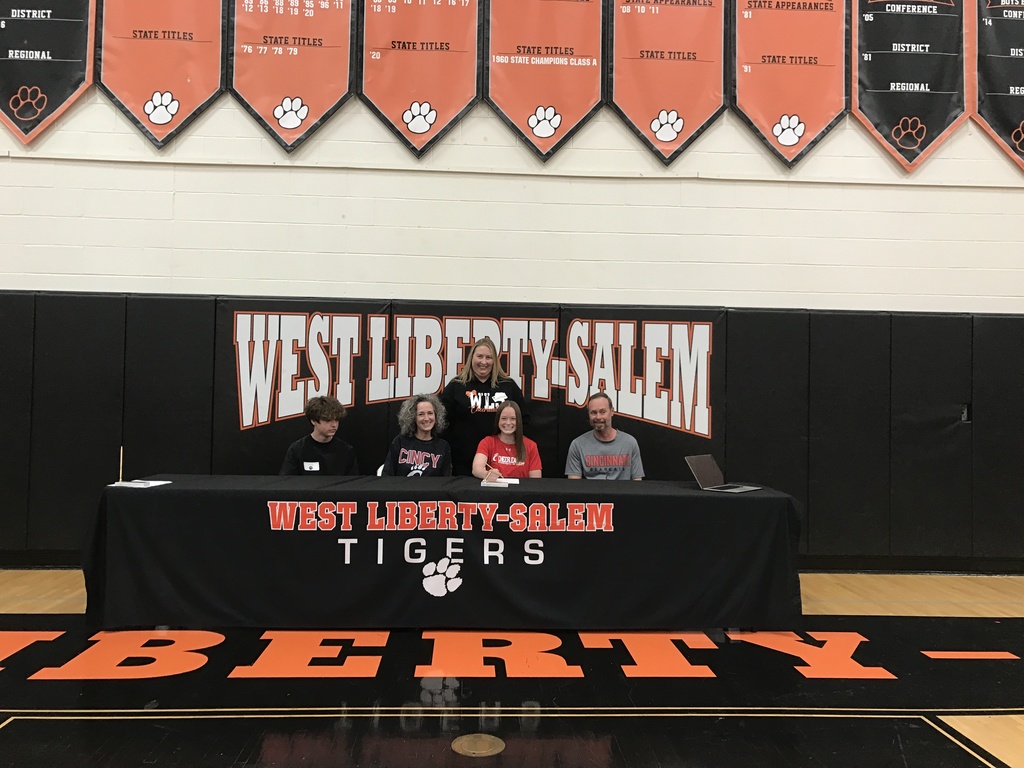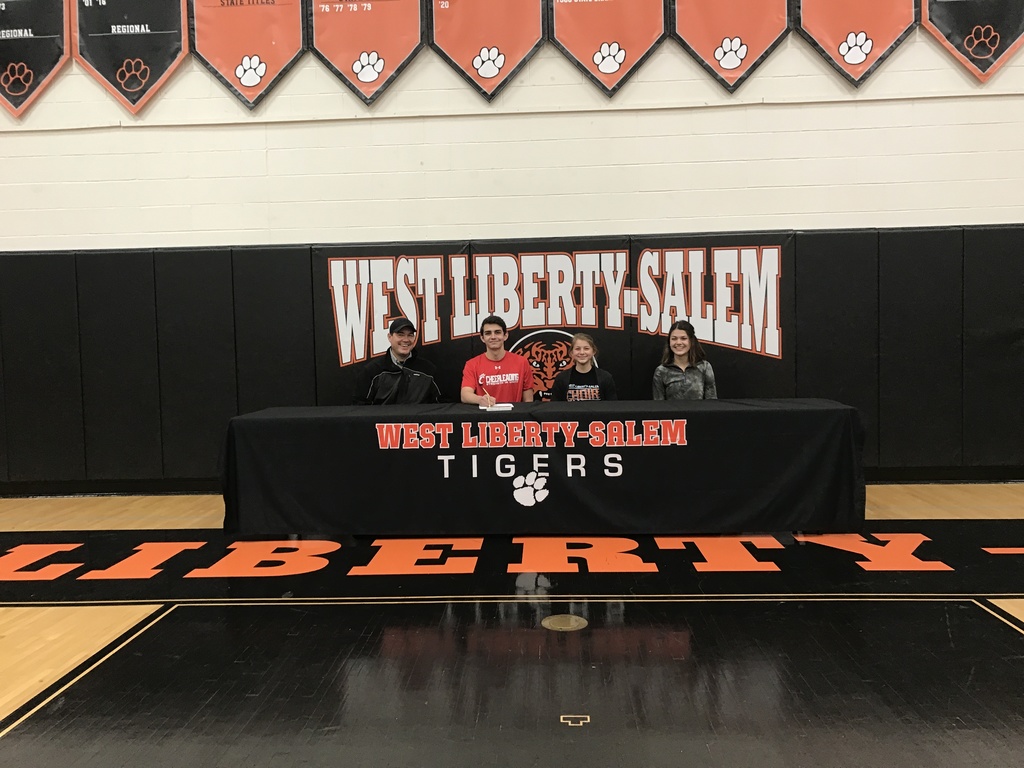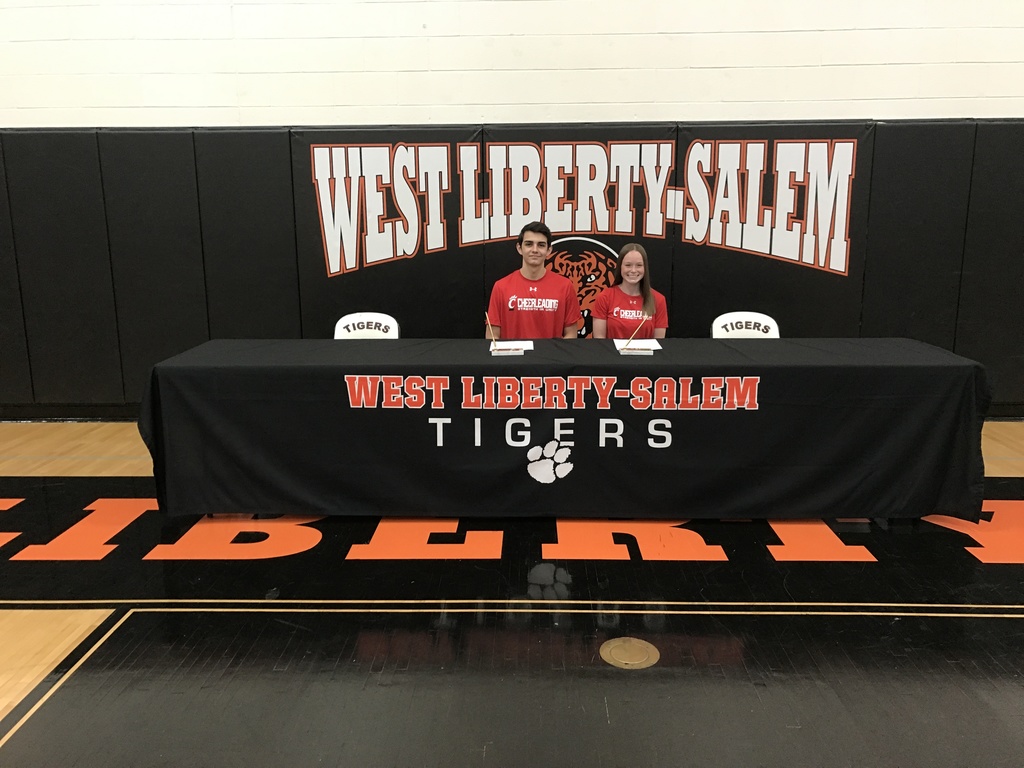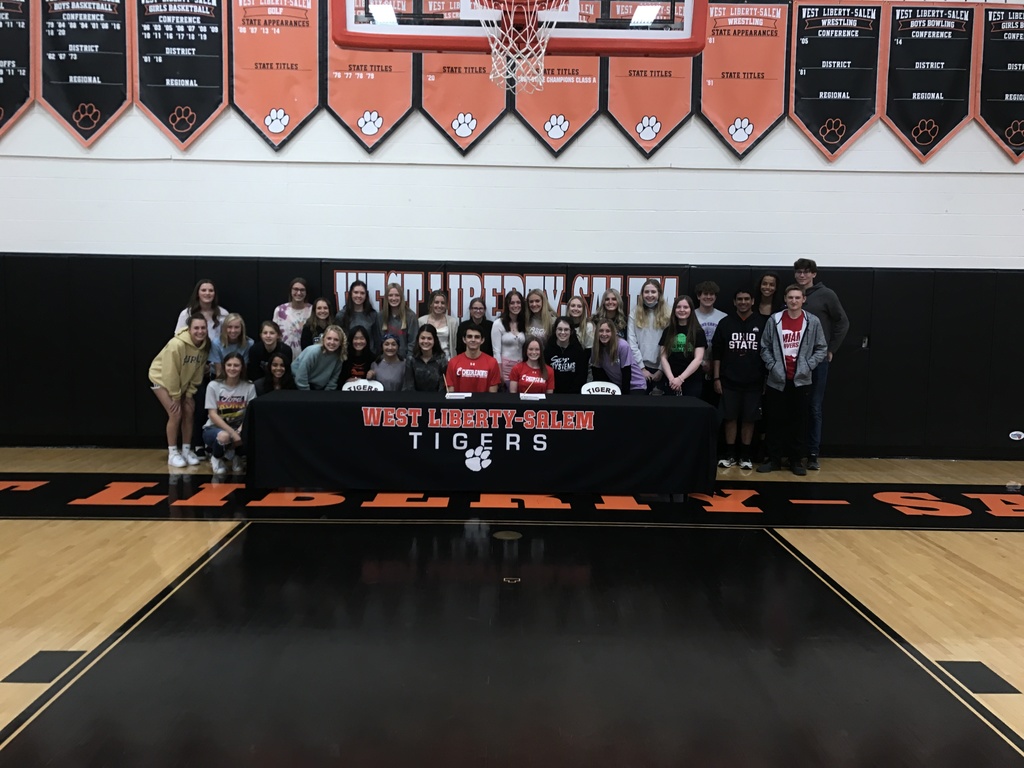 Today is Administrative Professional's Day, and we couldn't let it go by without thanking our OUTSTANDING team at West Liberty-Salem! Please help us thank them for keeping us organized, running seamlessly and going the extra mile for our families and staff each day! Alysson Cotrell, Elementary Secretary, Julie Nieman, MS/HS Secretary, Candace Watson, MS/HS Counseling Office Secretary, Liz Carter, Central Office Secretary, and Jen Wilcoxon, Attendance Office Secretary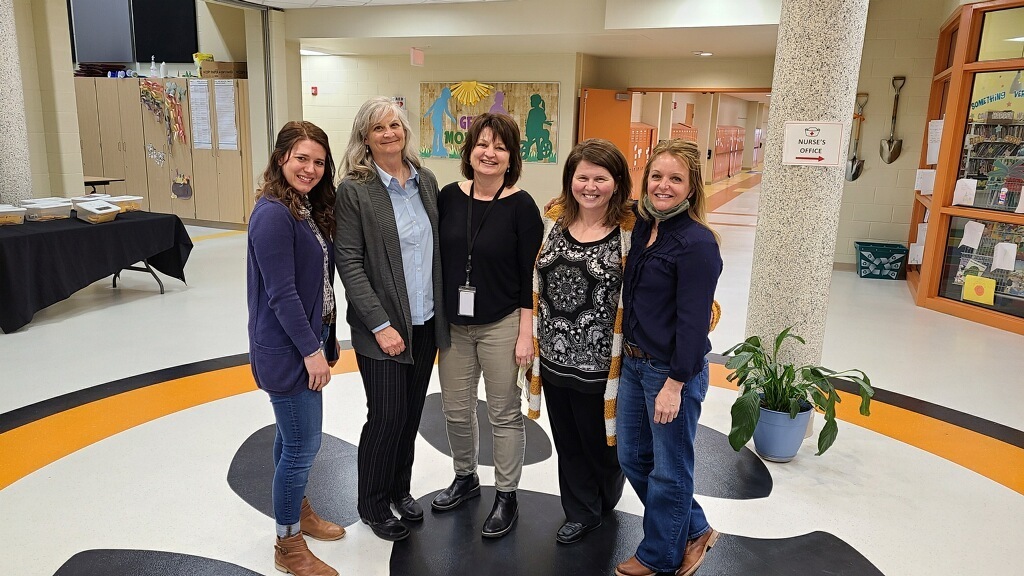 It looks like spring will make a come back this weekend, so why not kick it off with our some of our high school athletes on the playground? Friday evening, your elementary students are invited to come and play for an hour of fun. For every $5 donation they make to The Fieldhouse Project, they will receive a coupon to Stoner's Ice Cream Parlor! Come and join in the fun! Full details are attached.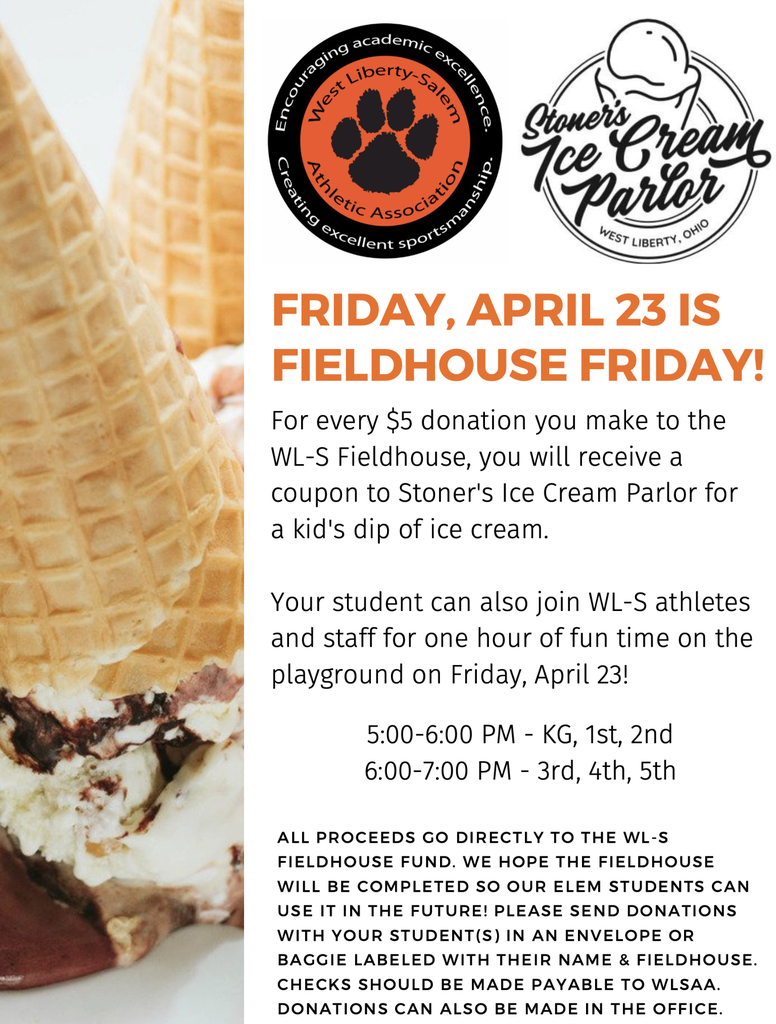 It's another Senior Shout-out! Today we recognize Leah Borst, Emily Bolton, Hannah Bowman and Regan Boyd! Congratulations and best wishes to these four young women!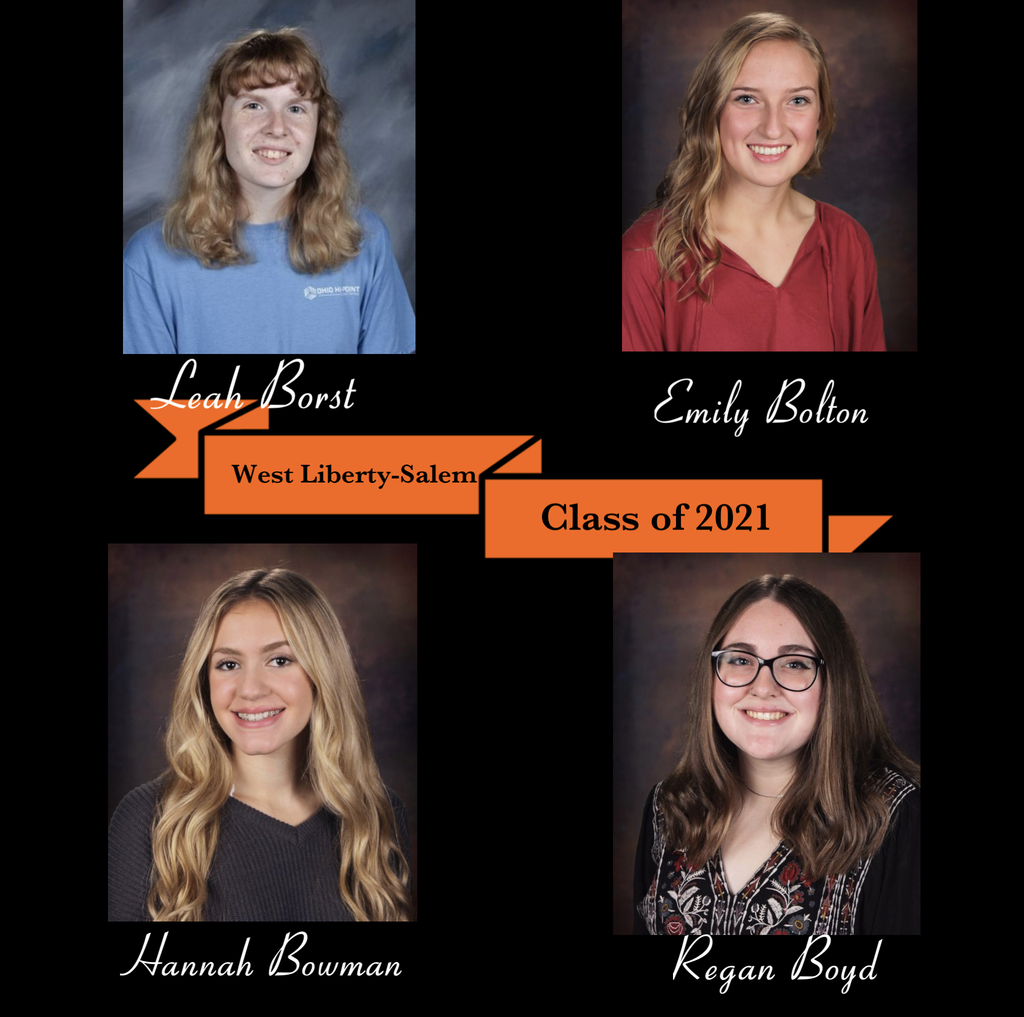 Mrs. Orahood's fifth grade science students have been studying sound waves! They wrapped up the unit with six experiments that demonstrate how different sounds are created. The labs included rubber band guitar cups, Sound Bites Tool with suckers & tinkling tines ( fork on a string), trumpet straws, tuning forks, musical water glasses, and slinky waves. Many of the supplies they used are lying around your house, so ask them to give you a demonstration. They were pretty neat, and the students had a lot of fun!