Hello families , on Friday afternoon, we received notice from MASI, our laboratory that conducts regular, ongoing scheduled tests of our drinking water that we tested positive for Total Chloroform in our drinking water. This test does not indicate what specifically the issue is, but that some sort of bacteria was detectable in the drinking water. To be proactive, we have covered all drinking fountains in the building since Friday. We have also scheduled a retest of the water and we have hypo chlorinated each domestic water well and have flushed the water through the building. We are waiting to hear from the EPA regarding the situation. The district tests our water supply monthly by an outside source and we have not had any problems with Total Chloroform prior to this event. We think the water is most likely safe to drink; however, as a precaution, the district is providing bottled water for students until we receive notification that the water is safe to drink. All water used for cooking is boiled prior to use. We hope that the water be available for drinking soon after we receive information from the EPA. The water is safe for students and staff to use to use to wash hands, etc. If you have any other questions, please feel free to contact the school. Thank you, Kraig Hissong

Week at a glance! Go Tigers!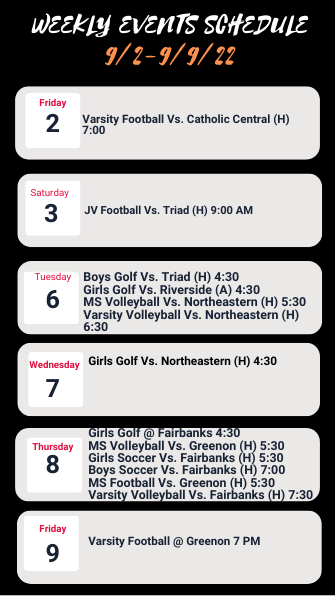 Meet your High School Teacher of the week, Kristen Hall! Kristen Hall, Family & Consumer Science Teacher Birthday: August 31st How long have you been teaching? Since 2011 and started teaching at WLS in 2016. What is your favorite candy or snack food? Swedish Fish When asked what piece of advice she would give to someone considering a career in education, she shared: "Be very careful with student loans. When possible, work to get a masters degree. During high school, you should shadow teachers in all ages and areas when possible. Finally, work for good grades and apply for scholarships!" Congratulations, Mrs. Hall, and happy belated birthday!

Let's see those back to school photos! -Share your back to school photos on social media. -Tag West Liberty-Salem's facebook page. @WestLibertySalemLocalSchool -Use the hashtag #BacktoSchoolWLS22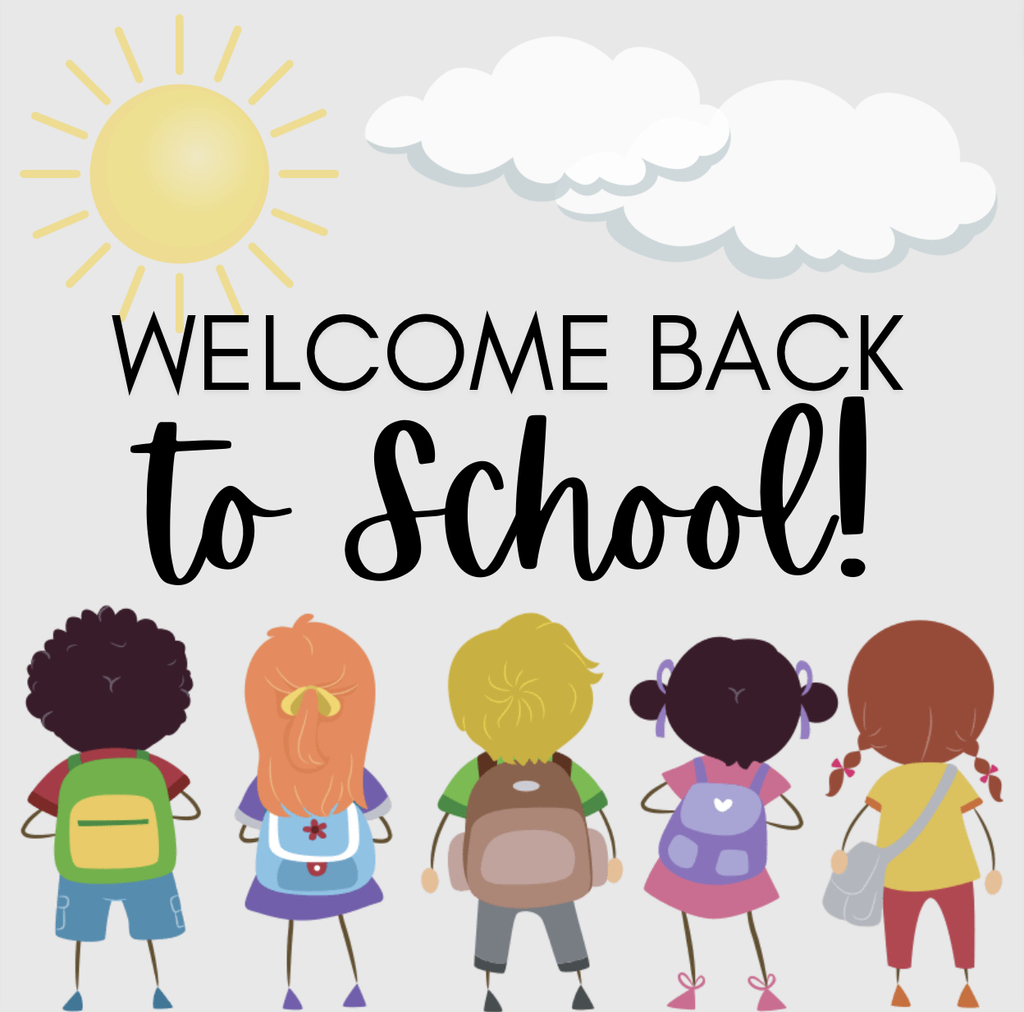 Welcome back students and families! We are excited for the new year and all the memories ahead! Today, we kicked off the school year with a new tradition, Senior Sunrise! This is the first official event for the Class of 2023! #BacktoSchoolWLS22 #HelpingStudentsReachTheirFullPotential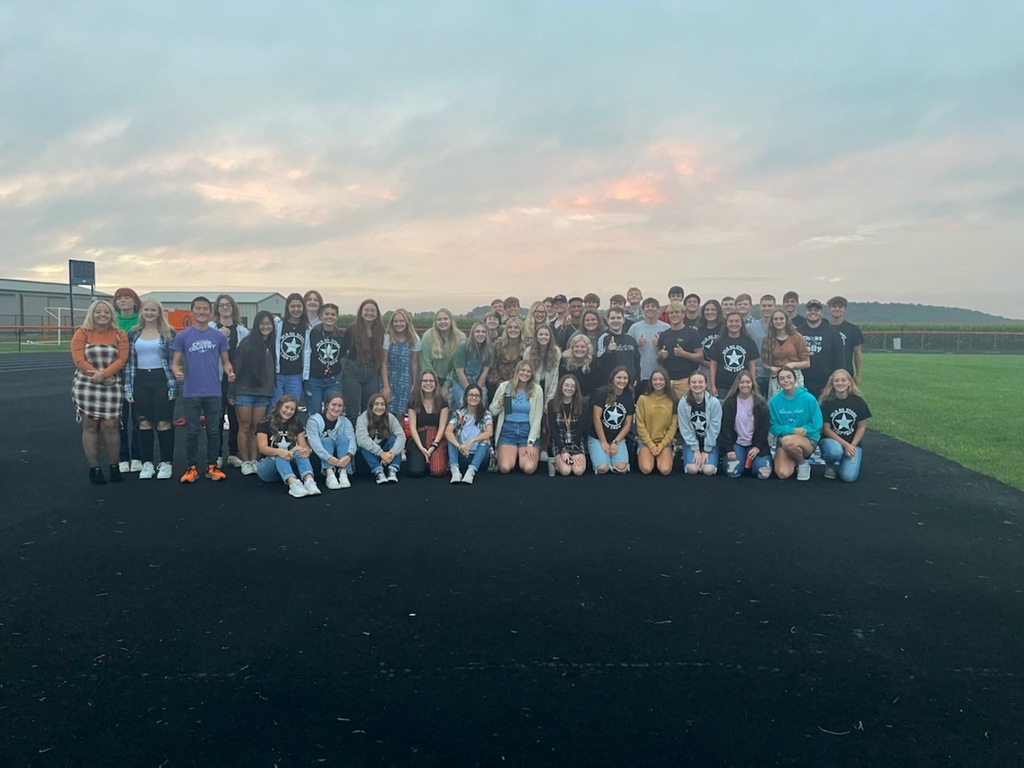 Interested in joining the elementary PTO? Our PTO provides a lot of fun with very little time committment from our members! Consider joining today!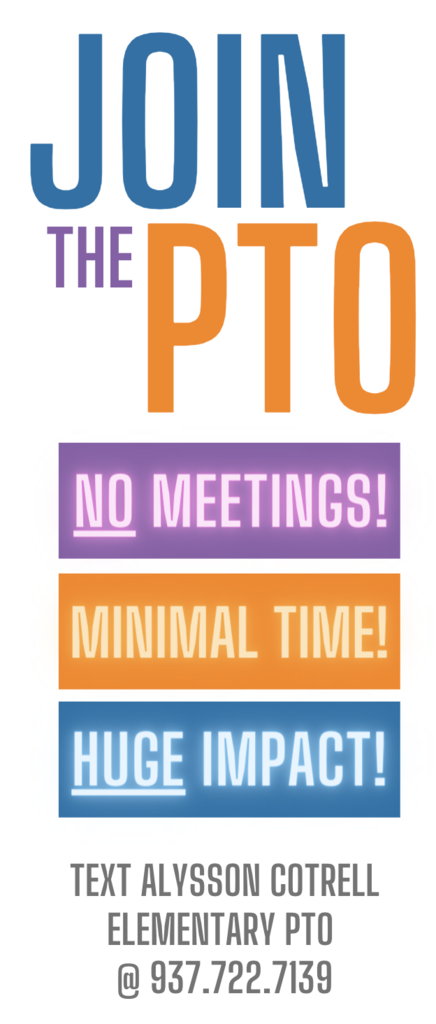 Congratulations to Owen Harrison who is the OHC Athlete of the Month! Owen runs Cross Country and recently moved up to 10th place on the schools All Time 5K list with a season opening PR of 16:34.9 at the Bob Schul Invitational. Click the link below to view the OHC announcement. Great job, Owen!
http://ohcsports.com/athletesAwards.aspx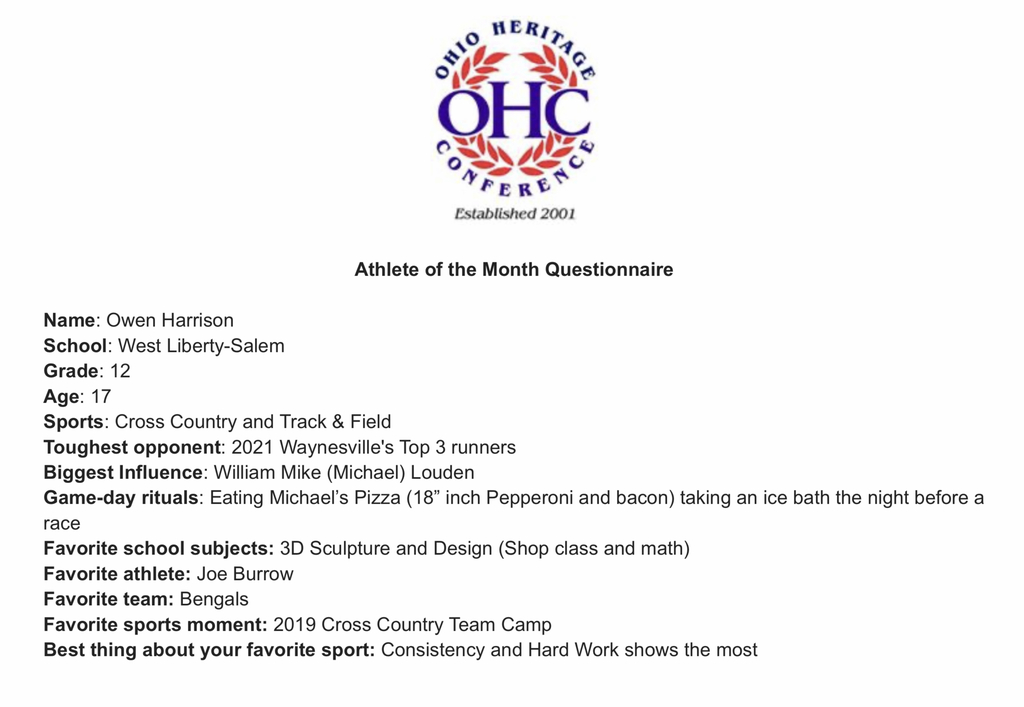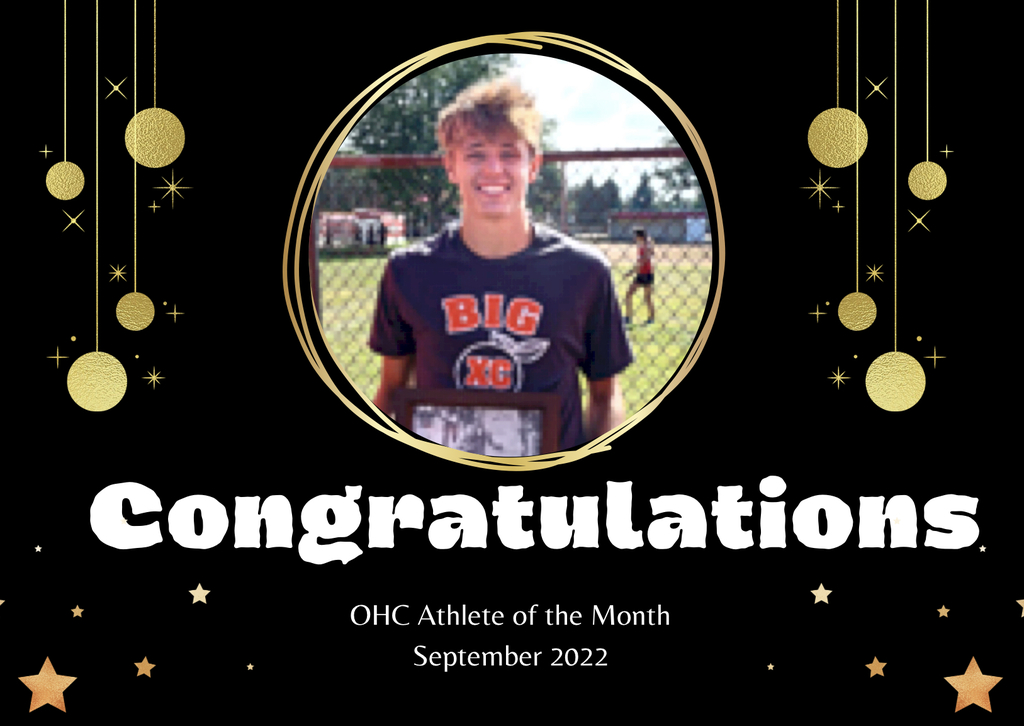 The West Liberty-Salem girls cross country team opened up the season winning the D3 race at the Bob Schul Invitational hosted by Milton Union. The Big Orange ranked #5 in the OATCCC State D3 poll held off #1 Minster and #4 Maderia for the win. Team Scores: 1st WLS 71, 2nd Maderia 77, 3rd Minster 90, 4th Botkins 105, 5th Versailles 138, 6th Ft. Recovery 172, 7th Covington 215, 8th Russa 222, 9th Brookville 242, 10th Cedarville 265, 11th Milton Union 297, 12th Arcanum 313, 13th Houston 413, 14th Franklin Monroe 414, 15th Troy Christian 451, 16th Bethel 477 Juniors Ashley Yoder and Addison McAuley led the Big Orange with top ten finishes. Yoder was 6th (20:30) and McAuley 8th (20:37). The Big Orange put six other runners in the top 30 with Breece Gullett 17th (21:04), Taylor Kennedy 19th (21:07), Malia Miller 21st (21:20) and Elise Longshore 22nd (21:29), Gwen McCullough 29th (21:46) and Lily Smith 30th (21:49). Rounding out the finishers for the Big Orange were Teagan Boyd 33rd (21;56), Mallory Bostick 50th (22:31), Claire Longshore 54th (22:40), Abriley Krabill 93rd (24:25), Chloe Griffith 96th (24:28), Mylee Dooley 103rd (24:42), Emma Smith 106th (24:49), Geneva Estep 124th (25:38) and Laney Craig 175th (30:09). "This win is definitely a reflection of the consistent training and hard work this team has put in this summer. I loved our fight and our commitment to the team," said WLS head coach, Ann Vogel. "Our race was loaded with some of the best teams and runners in the state, and I'm proud of the way, as a young team, we stuck to our race plan and maintained our composure." WLS is back in action on September 10th at Seneca East's Stars, Stripes and Lights Invitational.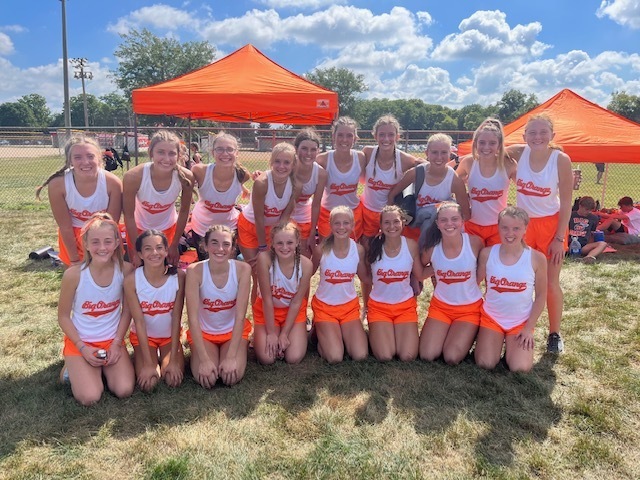 Our volleyball team took part in the United Way Day of Service by cleaning up Lions Park! Thank you for serving both on and off the court!!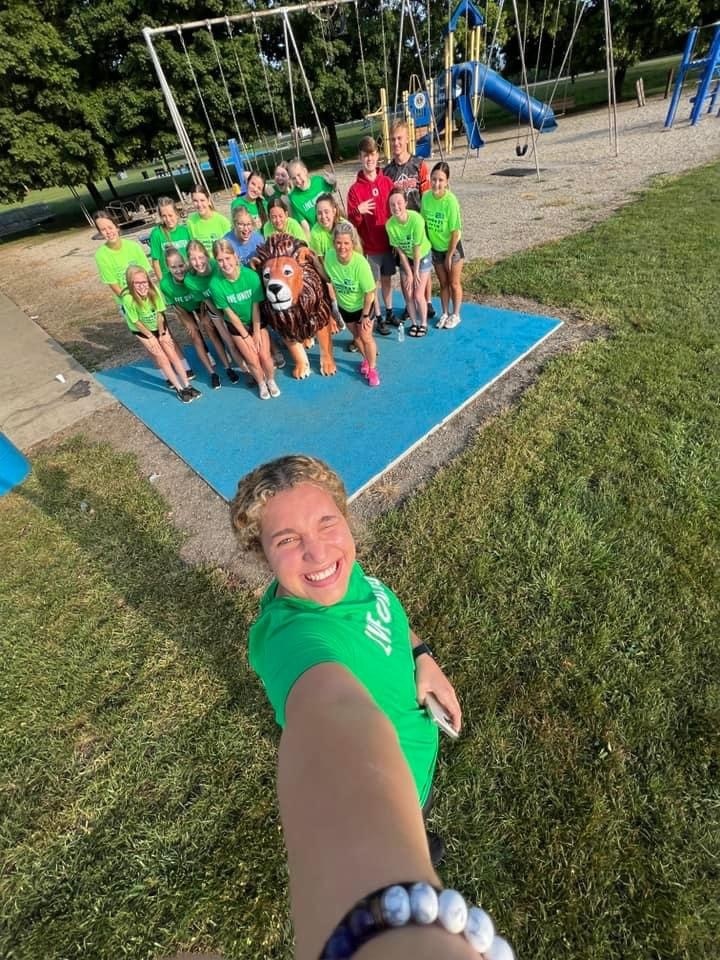 Ready for Friday night lights? The Tigers play Ben Logan at home! Kick off is at 7pm. Come enjoy the game, the cheerleaders and the Marching Band half-time show! The spirit wear store will be open with limited sizes and styles next to the home bleachers. Go Tigers!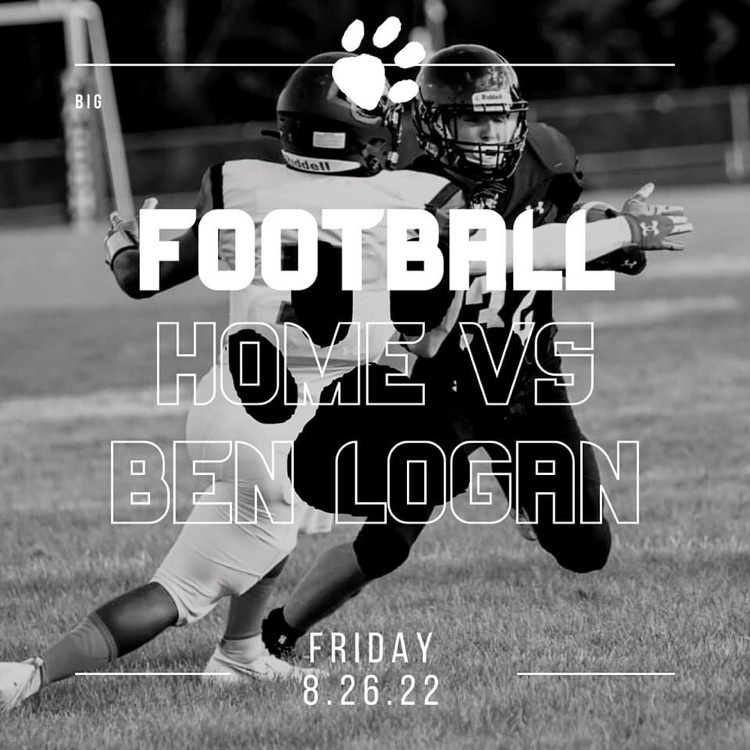 The West Liberty Labor Day Festival is right around the corner! Here are a few ways you can participate in some fun activities throughout the weekend!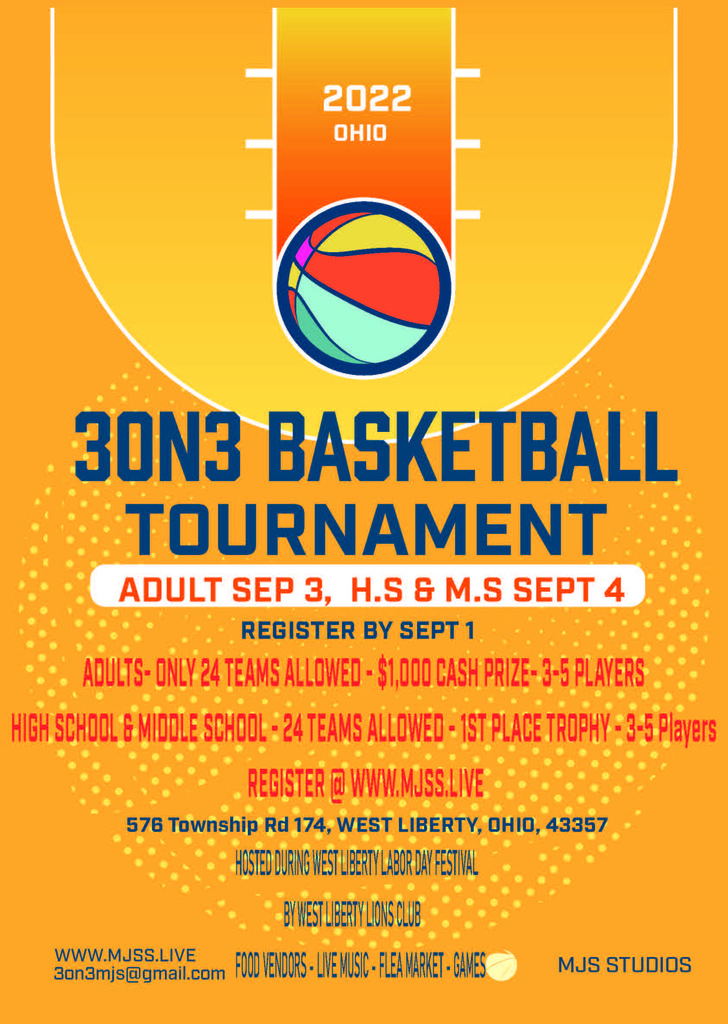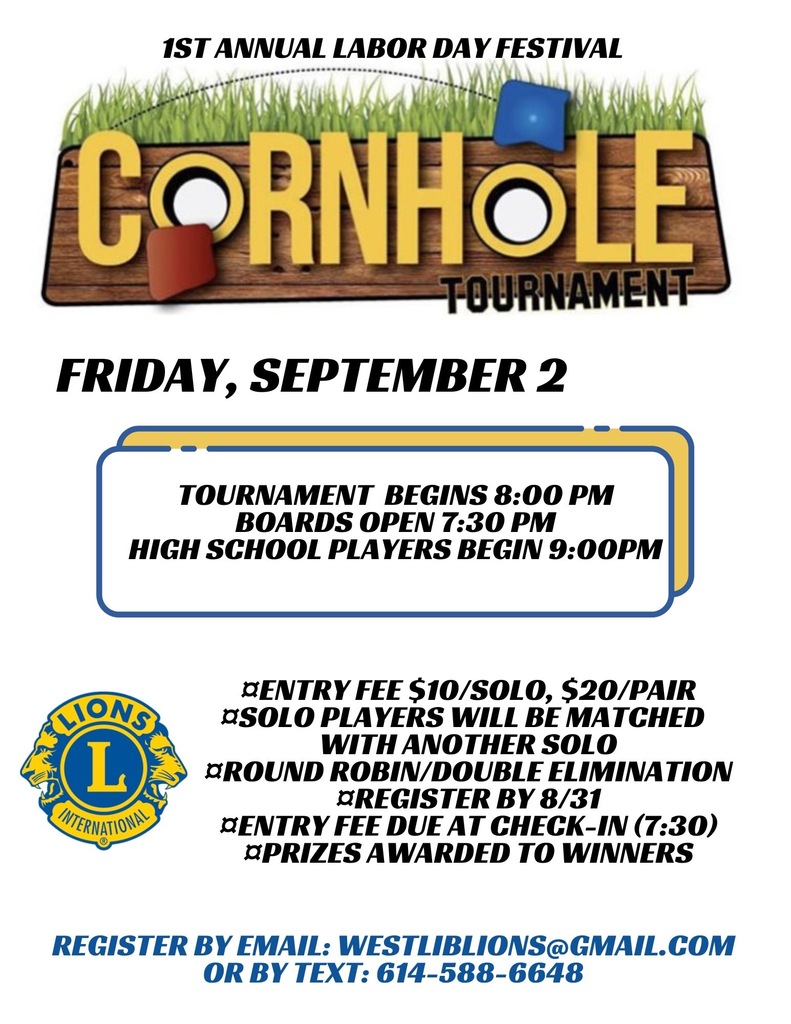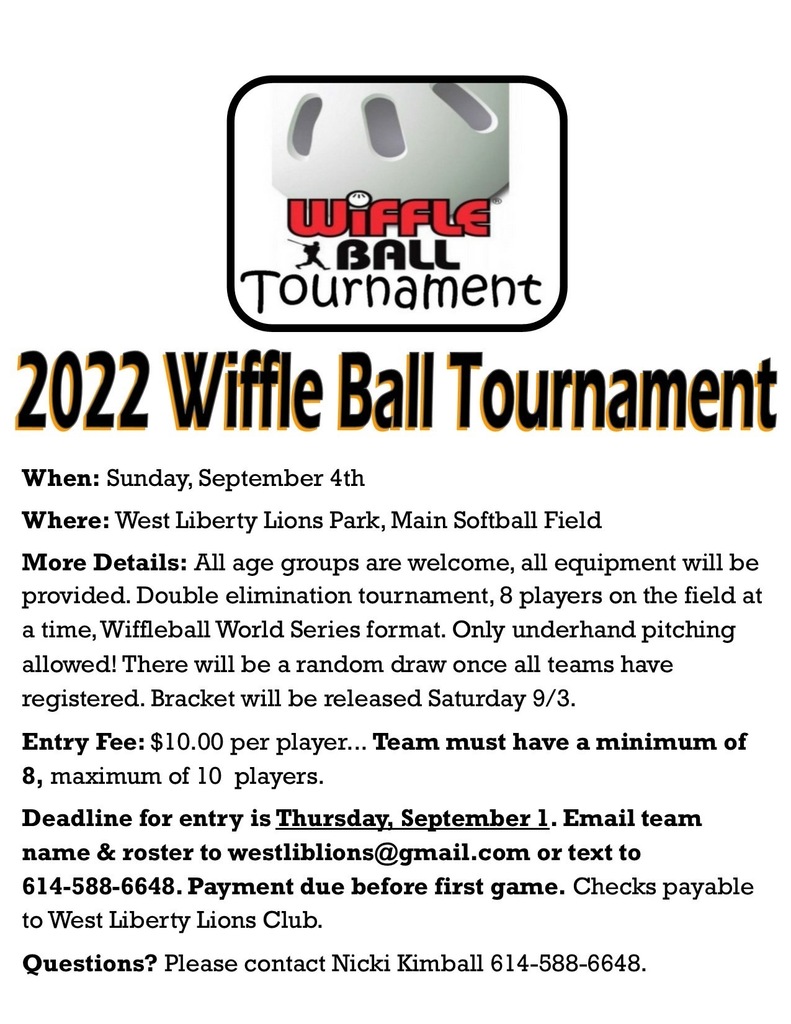 The volleyball match scheduled at Mechanicsburg this evening is CANCELLED.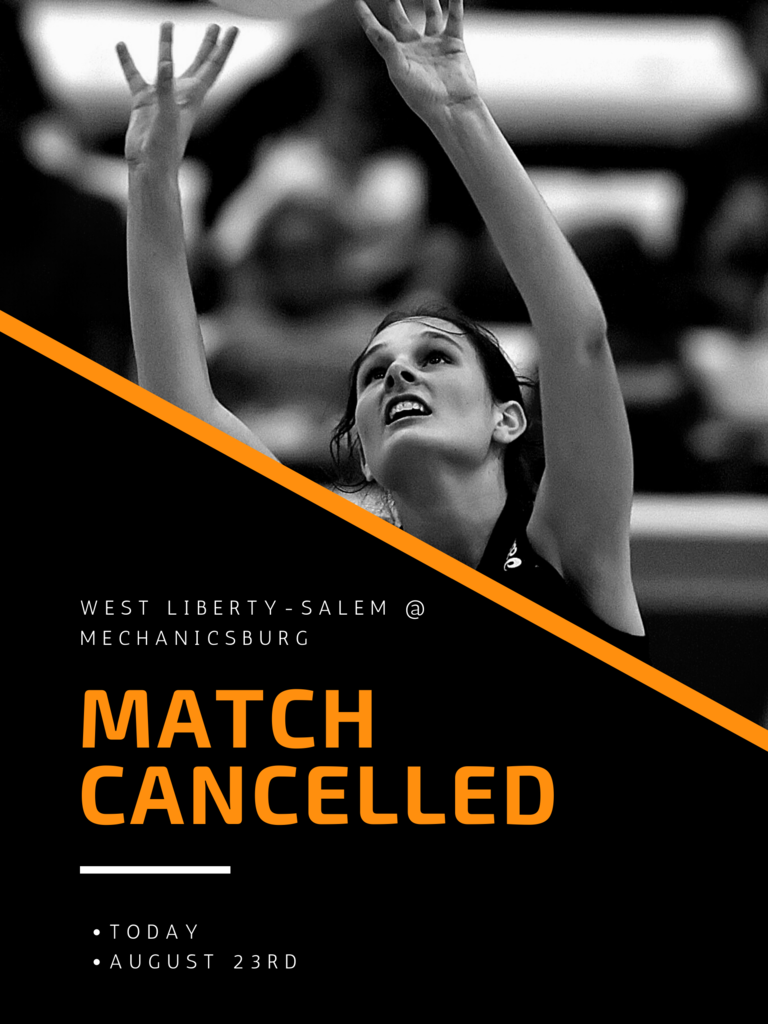 First girls golf victory in WLS history! The WL-S Girls Golf Team won their first home match on Monday against Madison Plains. Makenna Smith led the Lady Tigers with her lowest score this season. Rylie Shultz and Isabelle Wilson are finding their mid-season swing. The Tigers look to face Graham and Greenview in a tri-match at Lakeland Golf Club on Thursday.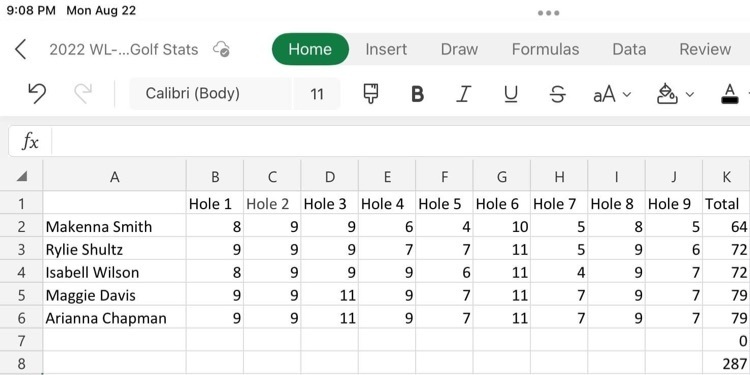 There are lots of opportunities to support the Tigers this week! Go Tigers!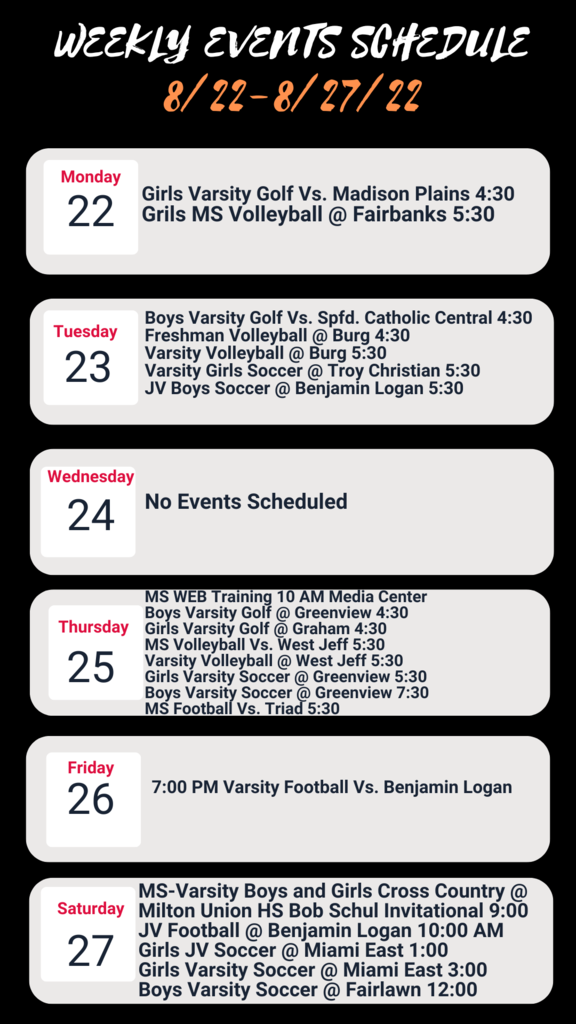 Cooper Havens, 2021 WL-S graduate, was recognized as the 2022 FFA Boy of the Year at the Champaign County Fair. Havens, who attends The Ohio State University, received a $1000 scholarship from Koenig Equipment. Congratulations, Cooper!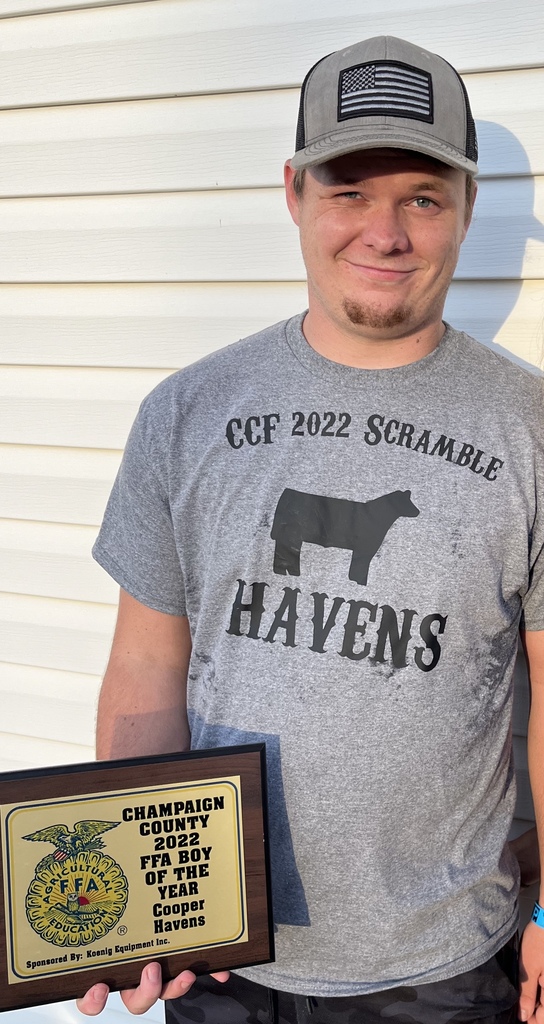 Maddox Havens was named the 2022 Senior Skillathon Winner at the Champaign County Fair! Congratulations, Maddox!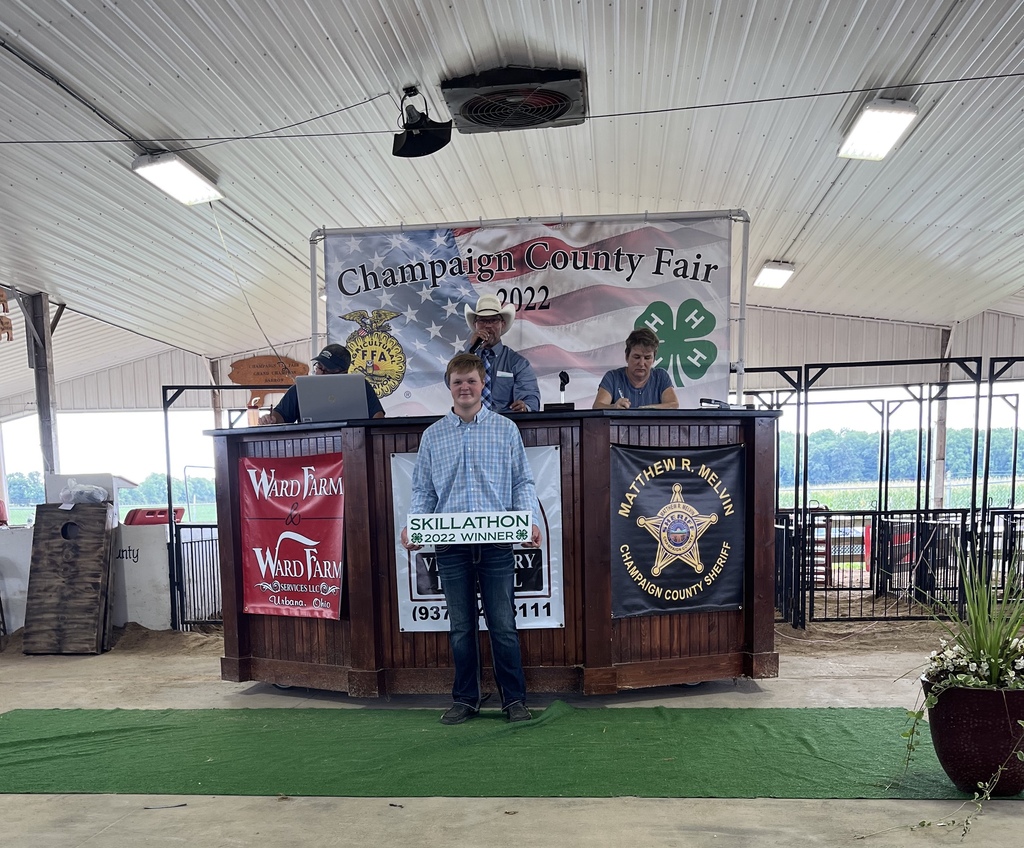 Congratulations to Cody Cushman, who won Grand Champion with his duck at the Champaign County Fair! Great job, Cody!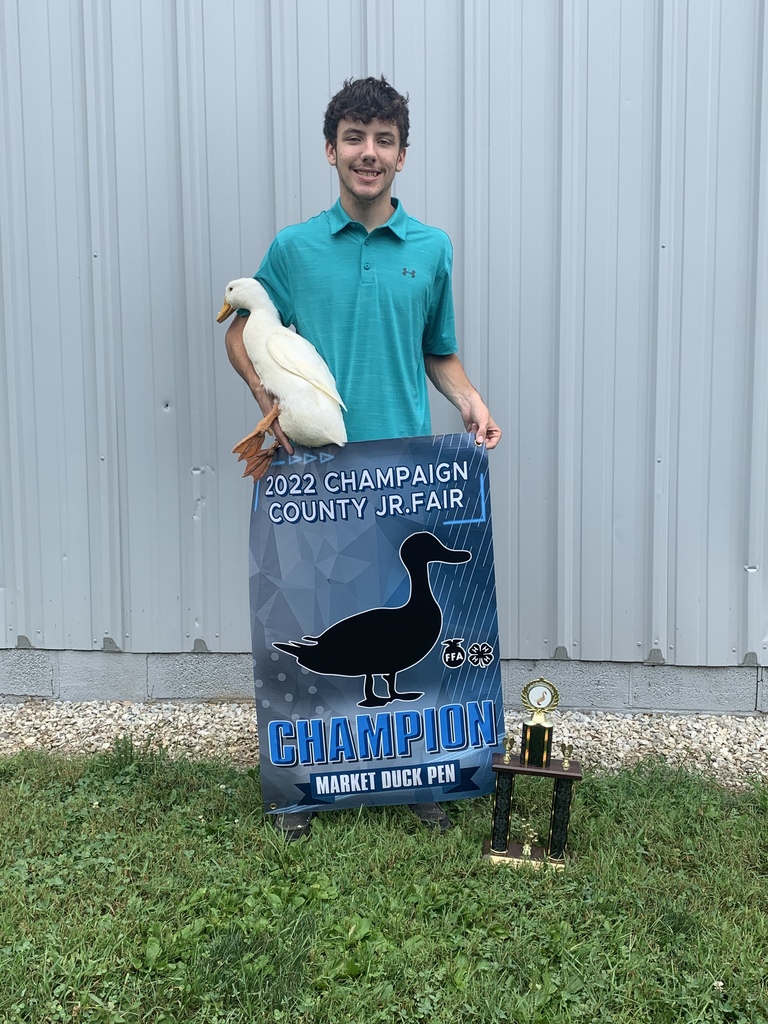 Here is another new staff WELCOME to Beth Brock, who joins our elementary intervention specialists! Mrs. Brock is looking forward to joining our fantastic elementary team and working with your students! Please help us welcome Mrs. Brock Hello! My name is Beth Brock and I am a first year Intervention Specialist. I completed a portion of my student teaching at West Liberty Salem last year (with Mrs. Warrick and Mrs. Beres) and I am so excited to be back at this wonderful school! Before becoming a teacher, I was a paraprofessional in an elementary special education program for 6 years. I grew up in Columbus, OH, but for the last 15 years I have lived in South Florida and last year I relocated back to OH. I live in Marysville with my husband and 2 boys. In my spare time I like to read, be outside and spend time with my family. I am very passionate about special education and building relationships with my students and their families. I am beyond excited to see what this year brings!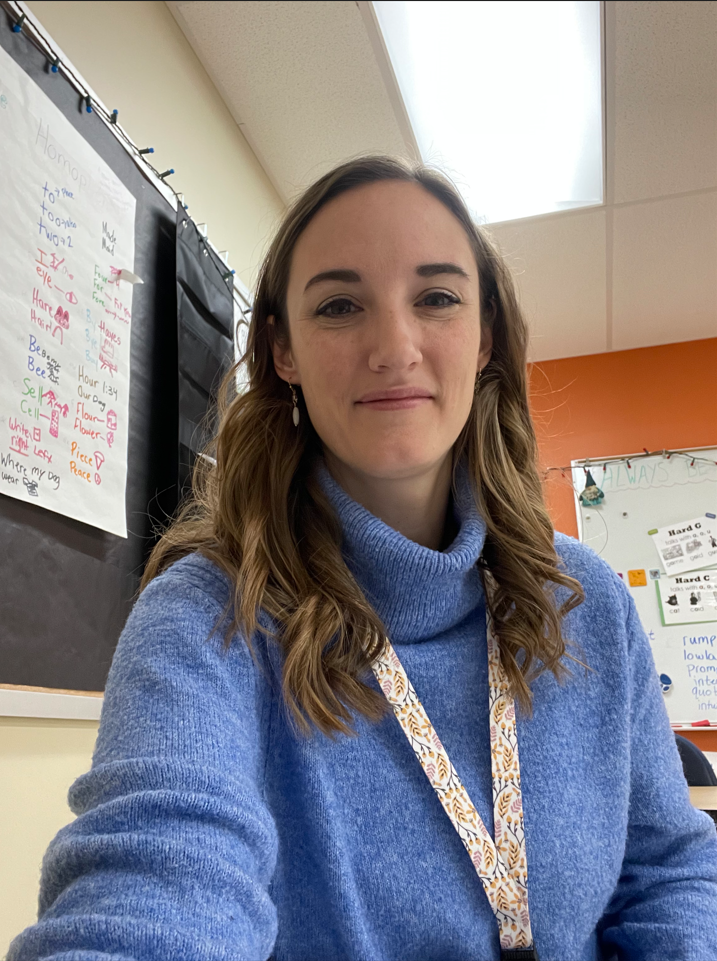 Oak Grove Mennonite Church hosted a "Back to School Night" at The Grove, located in downtown West Liberty. They provided school supplies, drawings for free backpacks, food and more! They offered opportunities to connect with our School Based Health Center, Community Health & Wellness Partners, Blessing Bags, and other resources for students and families! Help us thank The Grove for caring for our students!