Reminder! Seniors attending the NYC senior trip have their first payment due on Friday, December 2nd. Payments are due online to Prodigy (information is in your trip packet).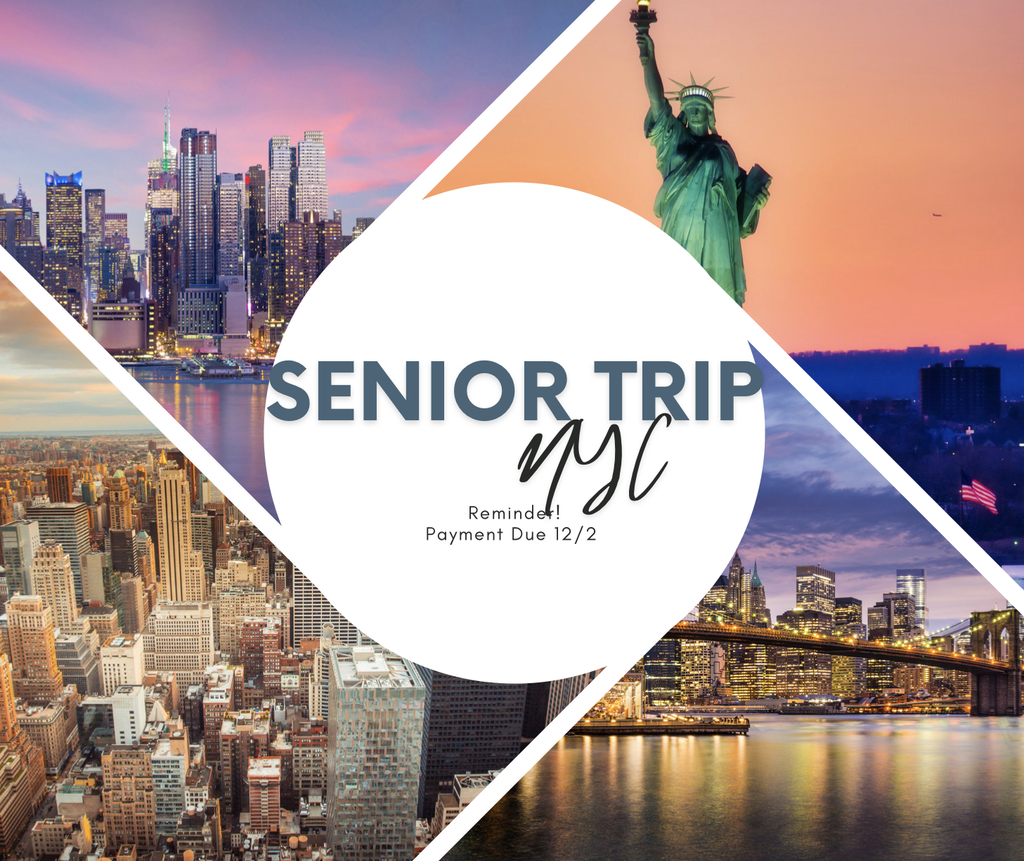 Mark your calendars for December 19th and 20th because it's time for our annual elementary Santa Shop! Students will have the opportunity to shop for carefully selected items handpicked by a group of special community elves. More information coming soon!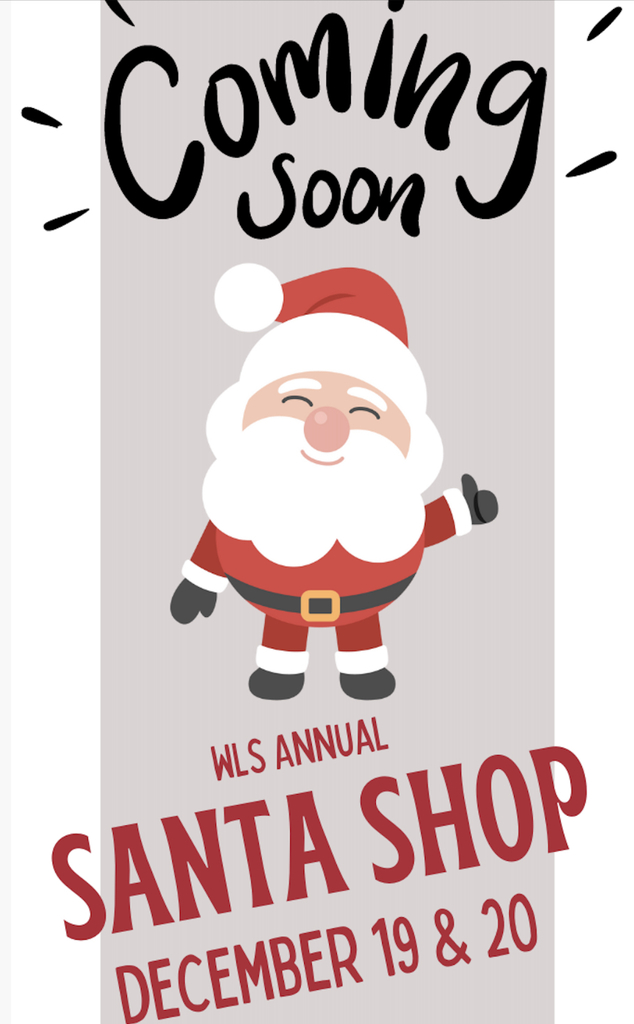 Reminder!

Tonight!! The West Liberty-Salem Ladies' Track and Field will kick off our Half Court Shot Contest. Thanks to the West Liberty-Salem Athletic Association and generous local businesses, the pot is already at $1,600 before they've even sold a single ticket. If you're ticket is drawn and you make a half court shot, you win half the pot. Come out and support our Tiger basketball programs, buy some tickets and win a chance at some big bucks! 💰 🏀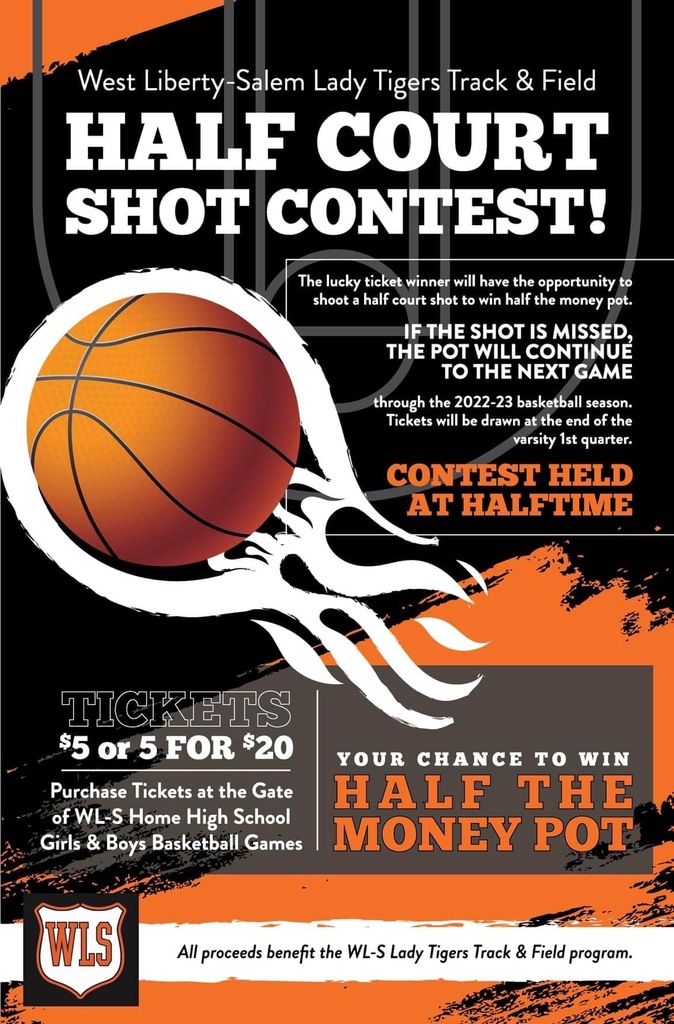 Did your elementary age students spend Thanksgiving break trying to stack all of your cups? Well, if so, it's because they couldn't get enough of the fun with Speed Stacking! Last week, our elementary students learned the various methods of speed stacking, or cup stacking, with variety of fun games with cups! They did everything from obstacle courses, stacking, and racing to catching and arranging! Speed Stacking is a unit that P.E. teachers in more than 55,000 schools have adopted to encourage fitness, agility, concentration and quickness. Our middle school students help with the event and do a great job of teaching and keeping things on track. Everyone had a great time!

Hillside Greenhouse is generously donating 15% of their total saleS on December 3rd, to the WL-S band! We are so thankful for their partnership and hope you will stop in, shop local, and support their fundraiser!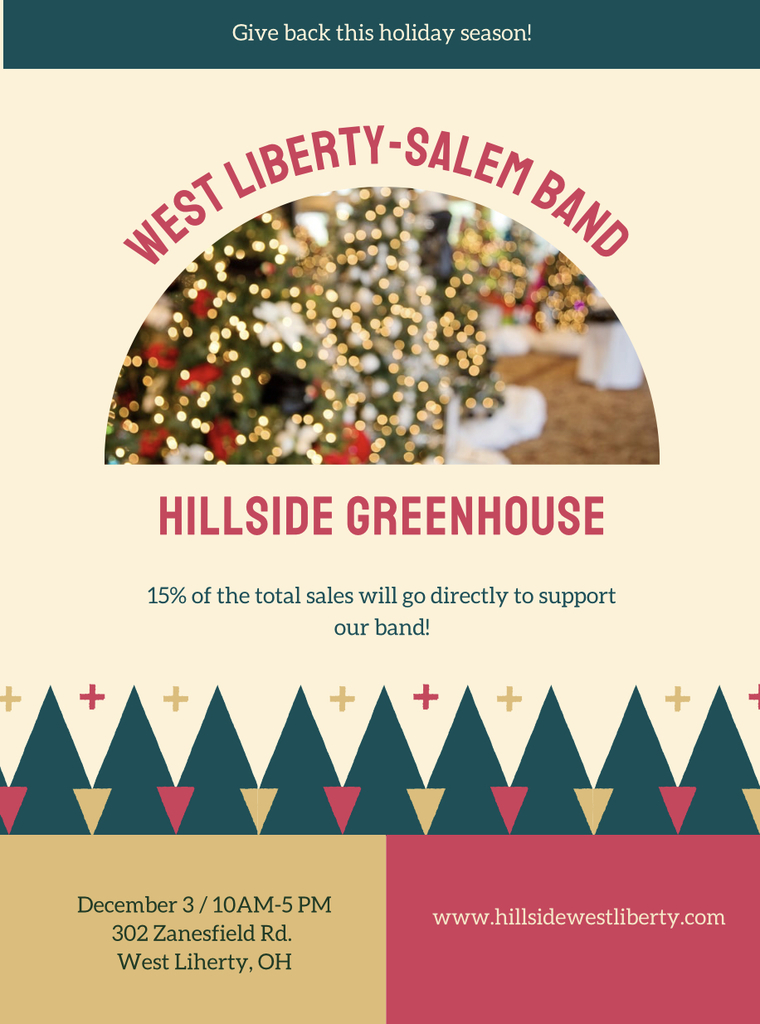 Help us congratulate Mrs. Brandie Roberts who is our Educator of the Week!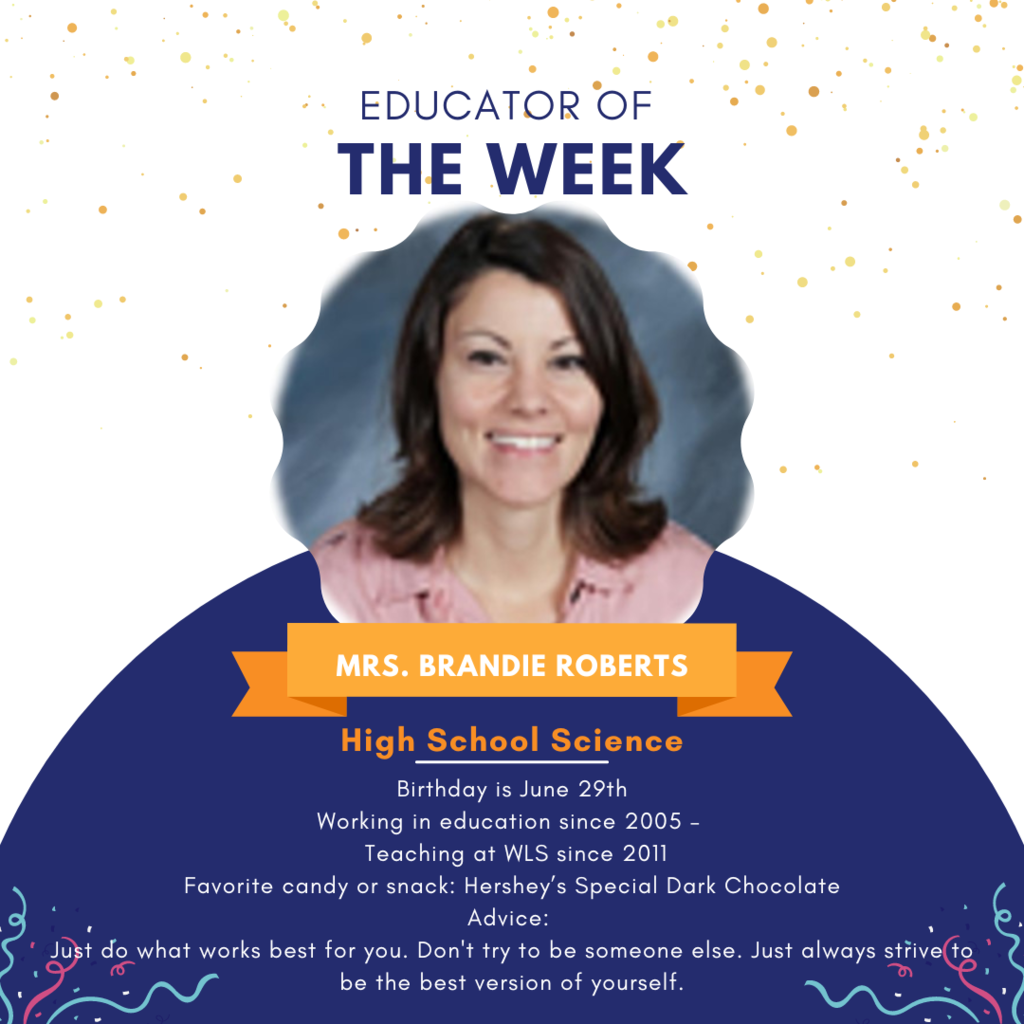 Week at a glance!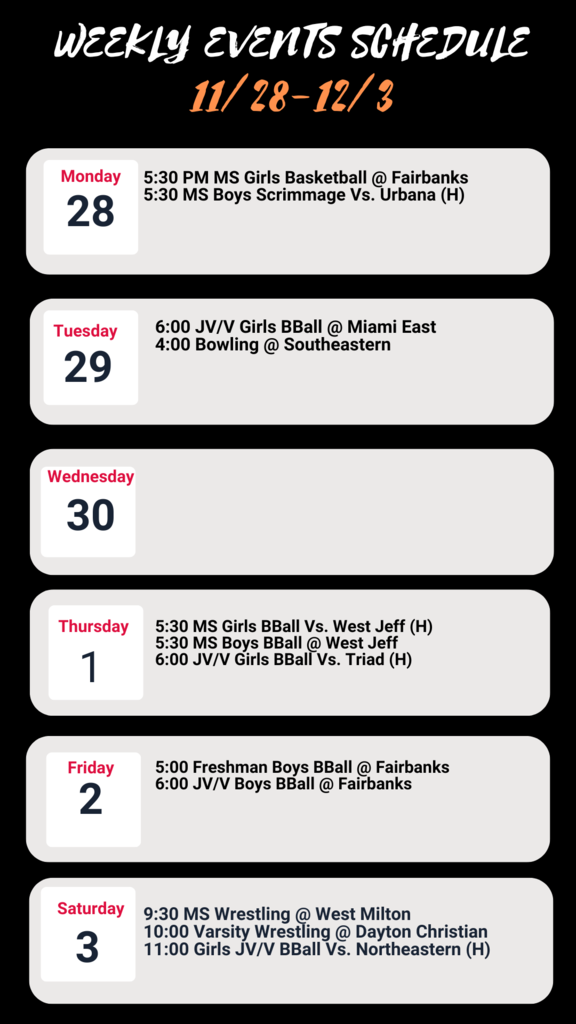 West Liberty-Salem was well represented in our community's Holiday festivities this weekend! The Marching Tiger band led the parade playing Christmas carols followed by a festive float by the WLSAA, Bella Meister, Logan County Fair Queen, student athlete/elves helping Santa and our own Jake Vitt, bus driver and former Athletic Director, was the Grand Marshall! Prior to the parade, several Big Orange athletes ran the Luminary 5K and our cheerleaders helped Santa enjoy Cookies and Cocoa on Saturday! Thank you to our many selfless volunteers who are willing to help make a difference in their community!

We were excited to tap our new National Honor Society inductees today! Many of the students selected juggle school, athletics, clubs and organizations, work, and do community service. They will be officially inducted on December 12th, 2022, in a formal ceremony. Congratulations to the following inductees: Seniors Whitney Ridenbaugh Rylie Schultz Juniors Mallory Bostick Kerrigan Burgel Ivy Cline Madeline Cole Abby Guest Megan Hollar Sari Kitchen Joey LaRoche Addison McAuley Abigail Miller Kenzie Phillips Bailey Poppe Makenzy Sandefur Lily Smith Carter Titus Chaley Wade Veronica Wall Lillian Weaver Olivia Wilcox Julia Wilson Isabelle Wygal Jaycee Yelton Ashley Yoder

Our first graders learned about the first Thanksgiving and then shared a feast with friends! This annual tradition is a fun way to get our students involved in the traditions of that first Thanksgiving meal by helping prep the meal and giving thanks with their friends and teachers. They enjoyed all the traditional foods that we like to enjoy and some treats too!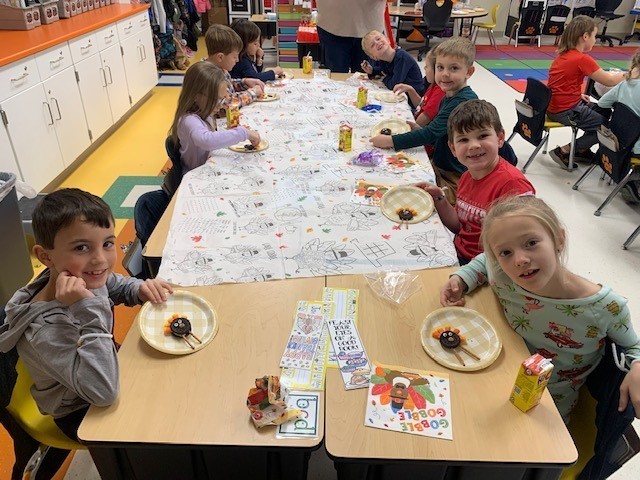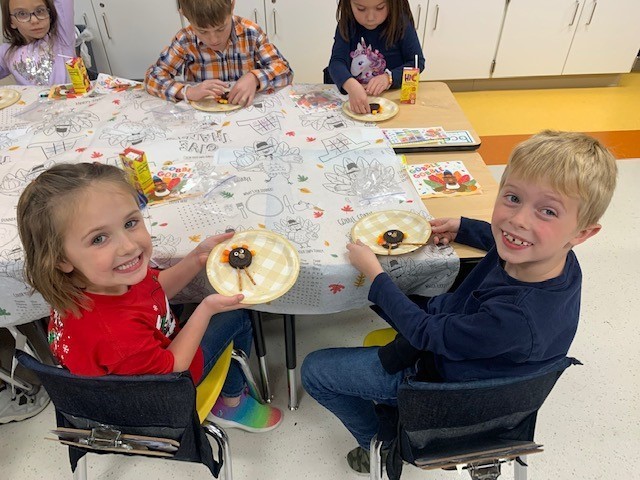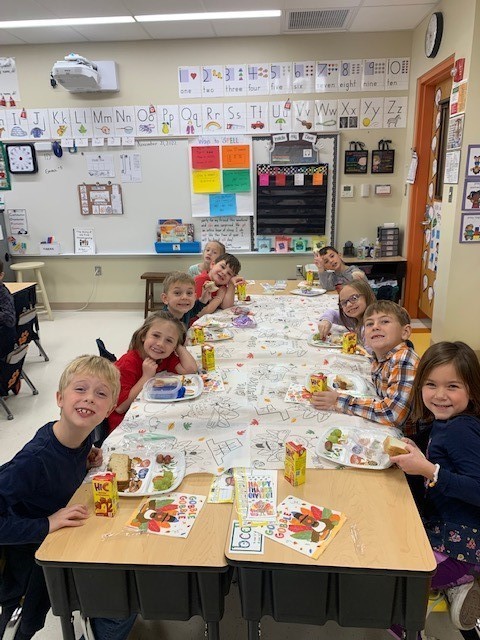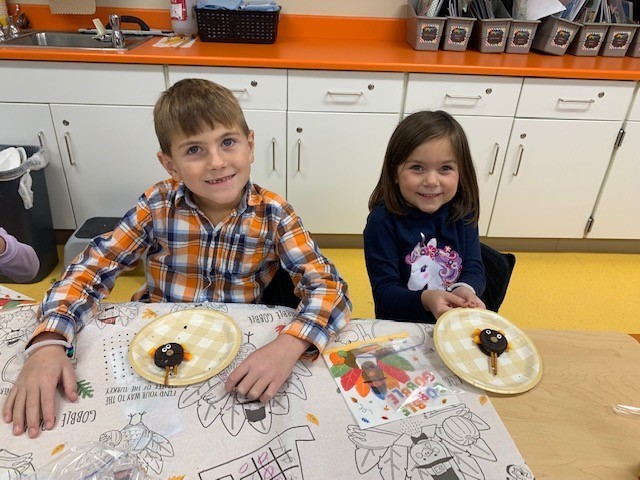 Families, You can now subscribe to your student athlete's schedule using the link below!
http://ical.8to18.com/
When you arrive on the 'Snap! Manage' website, select the school (best to type 'West' and it'll get you close). Then make sure 'Athletic' and 'Activity' are checked. Next filter the season and sport. Ensure Eastern time is selected. You can then download the calendar and/or copy the link and import to whatever calendar app or program you use.

The Cast List for this year's musical, The Addams Family, is announced! Congratulations to the following cast members, who will take the stage on March 10, 11, and 12th, 2023, in this fantastic production! Wednesday Addams - Ava Chamberlain Lucas Beineke - Dylan Glunt Gomez Addams - Andrew Kimball Morticia Addams - Izzy Wygal Pugsley Addams - Brady Kauffman Uncle Fester - Evan Cook Lurch - Phillip Marr, Tristan Burk, Kamden Hissong Mal Beineke - Jonny Stoner Alice Beineke - Allie Bolton Grandma Addams - Joy Hudson Ancestors: Lena Kauffman Gabbi Hudson Emma Kauffman Kiersten Hotvoigt Trinity Floyd Hailey Berry Arianna Chapman Rylie Schultz Ezekial Greene Michael Jones Maddie Cole Emily Asbury Alexandria Schmidt Lillian Weaver Jaelyn Smith Abigail Miller Anna Byrd Sari Kitchen Sophia Holland Aliana Irving Illa Kerns Jessa Beard Laney Craig Teagon Miller Raylea Henry Geneva Estep Emery Longaberger Gwenyth McCullough Alexis Hausler Alexa Cheetham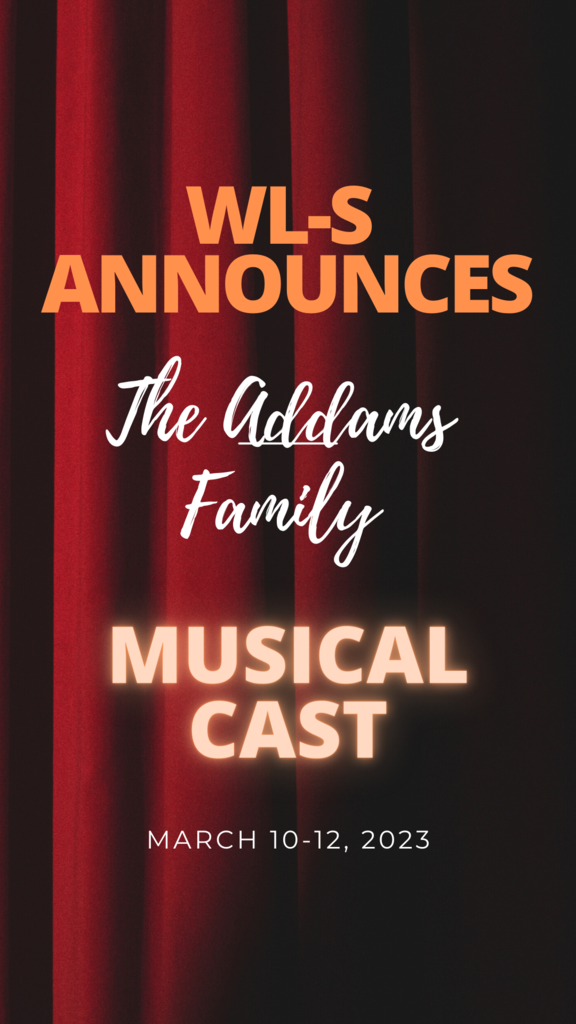 Our fifth graders went to THE Ohio State University on Friday to see the Best Band in the Land! The concert was held in the Mershon Auditorium where students heard pieces from the season's best halftime shows and traditional favorites. They also enjoyed a tour of the auditorium and photo opportunities on the field! What a great day!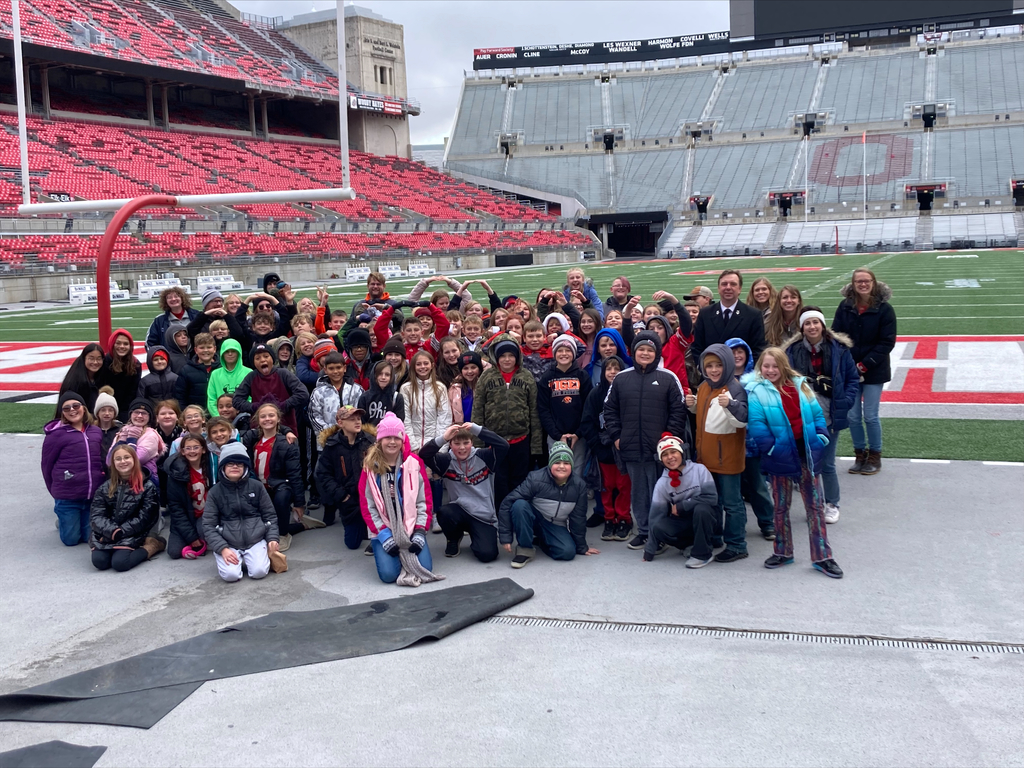 Zaydee Cox, a fourth grader, was selected as the Memorial Health 2022 Holiday Contest Card Winner! Fourth and fifth graders were invited to design a holiday greeting card, completed entirely by the student. Zaydee's card (pictured attached) will be sent to physicians, staff, vendors and reach hundreds of recipients to express Memorial Health's goodwill at the holidays, while showcasing Zaydee's talent. Zaydee received a $100 Amazon gift card on behalf of Memorial Health and her photo will be placed in our local media for recognition. Zaydee was joined by her parents, Kevin and Susan Cox, fourth grade teacher Mrs. Crystal Johnson, Art Teacher Mrs. Darlene Fredrick, Principal Aaron Hollar and her classmates to receive her award. Congratulations, Zaydee!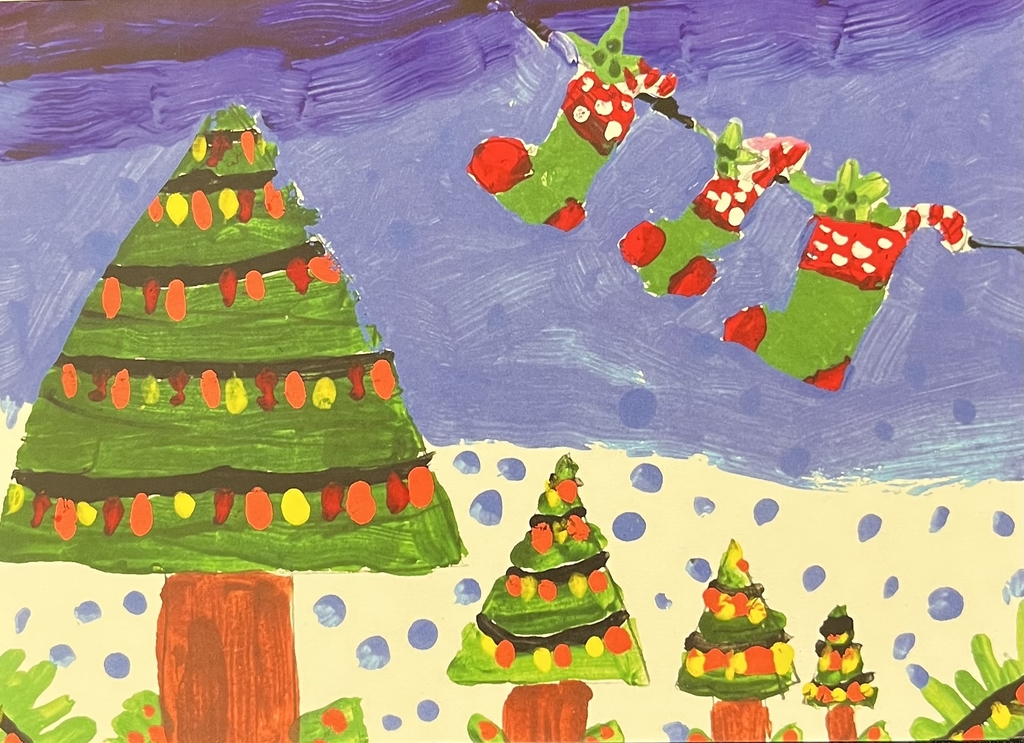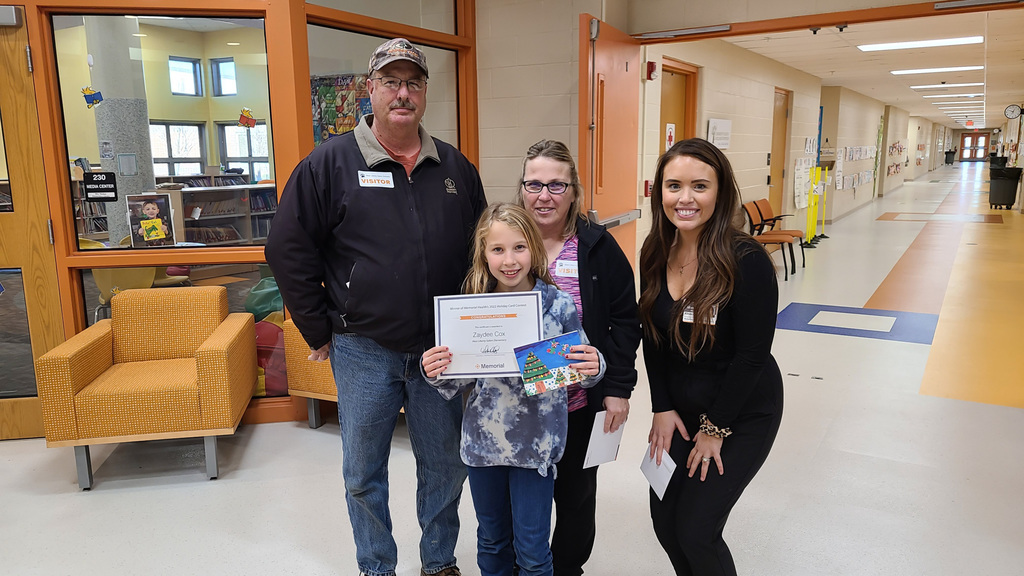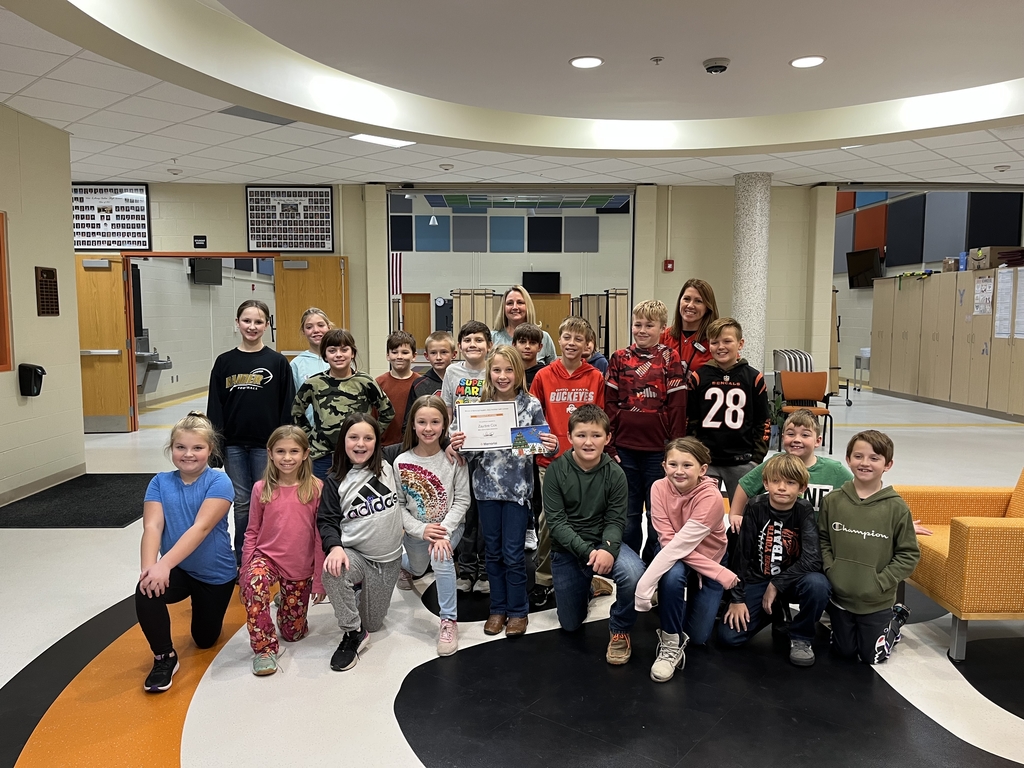 The anatomy class got creative with their concept maps! The following group was voted the best in show by the chemistry classes. The group includes front row: Zoie Vermillion, Tina Douthwaite. Back row: Addison McAuley, Jaelyn Smith, and Timothy Hobart. They are holding their "Big Fish'" prize from Marie's Candy.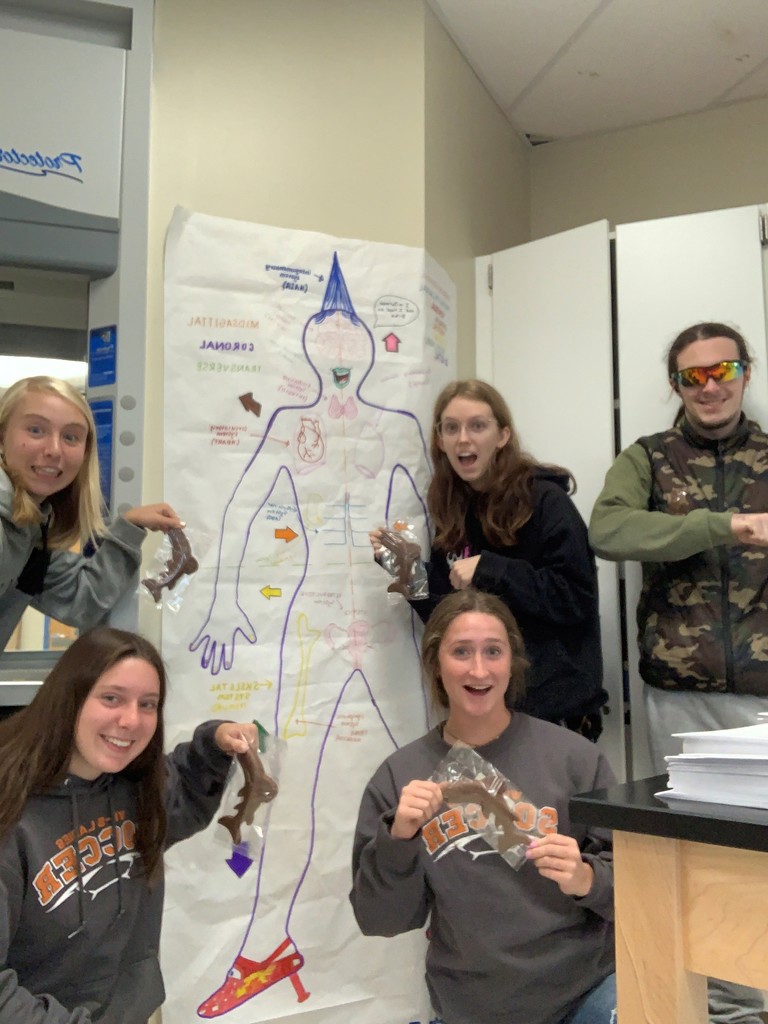 Thank you to the following contributors who make events like Parent/Teacher Conferences extra special for our educators. Their generous donations fund the meal for middle school staff on both conference evenings. We are THANKFUL for YOU!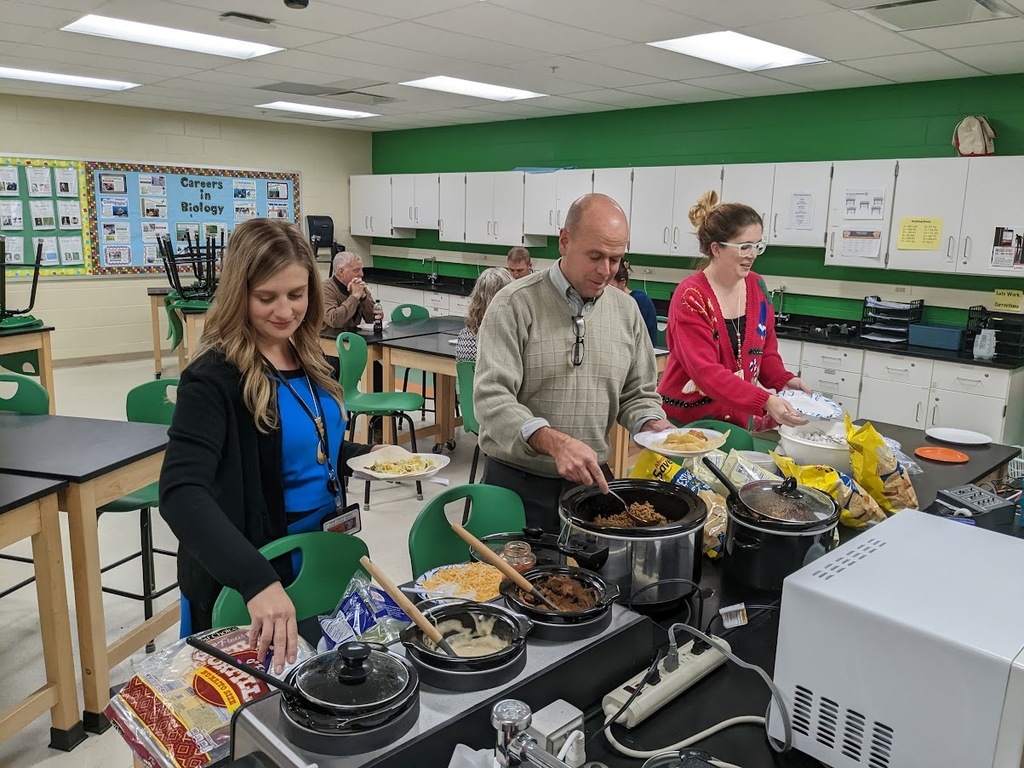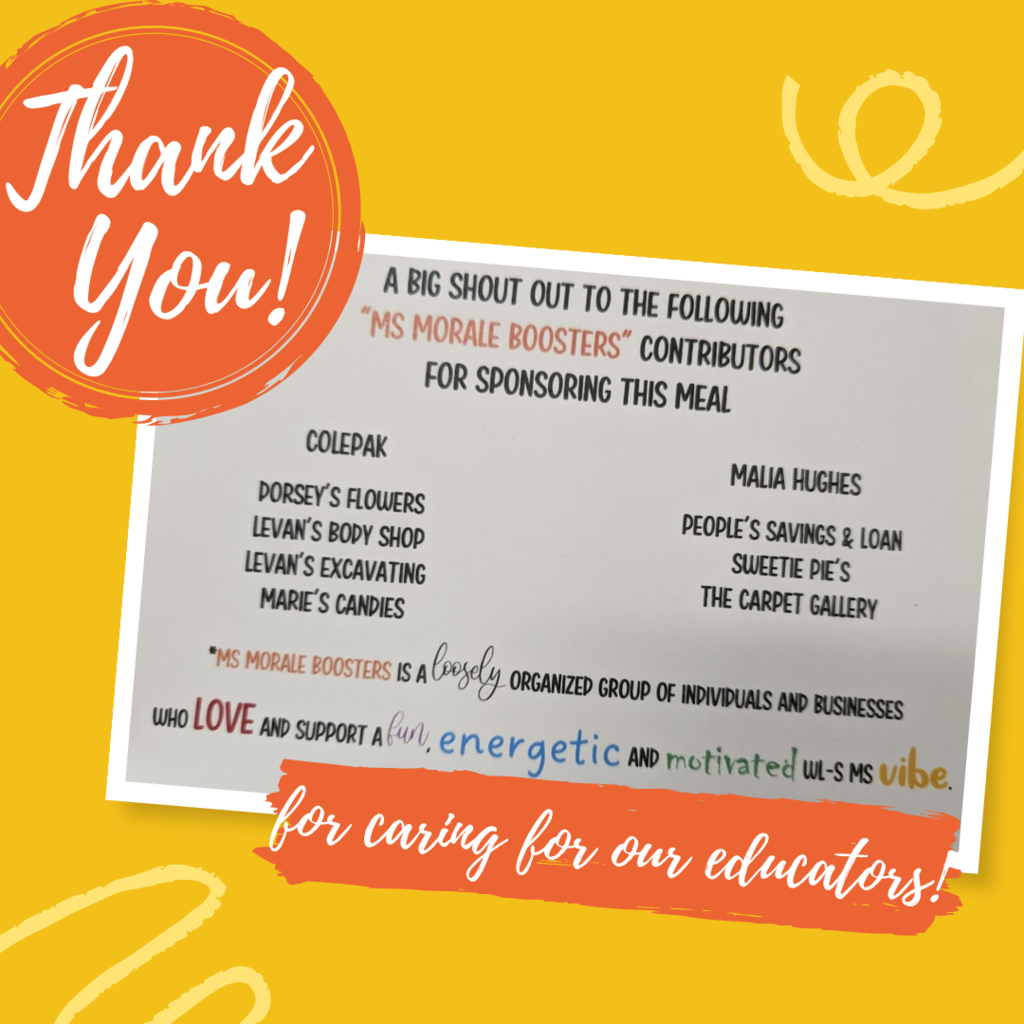 The West Liberty-Salem Band is partnering with Hillside Greenhouse for a fantastic and festive fundraiser! Visit Hillside Greenhouse on Saturday, December 3rd, from 10-3 PM to support shopping local and our band! 15% of their total sales for the day will be donated to us for things like music, instrument repair, and future events. Thank you in advance!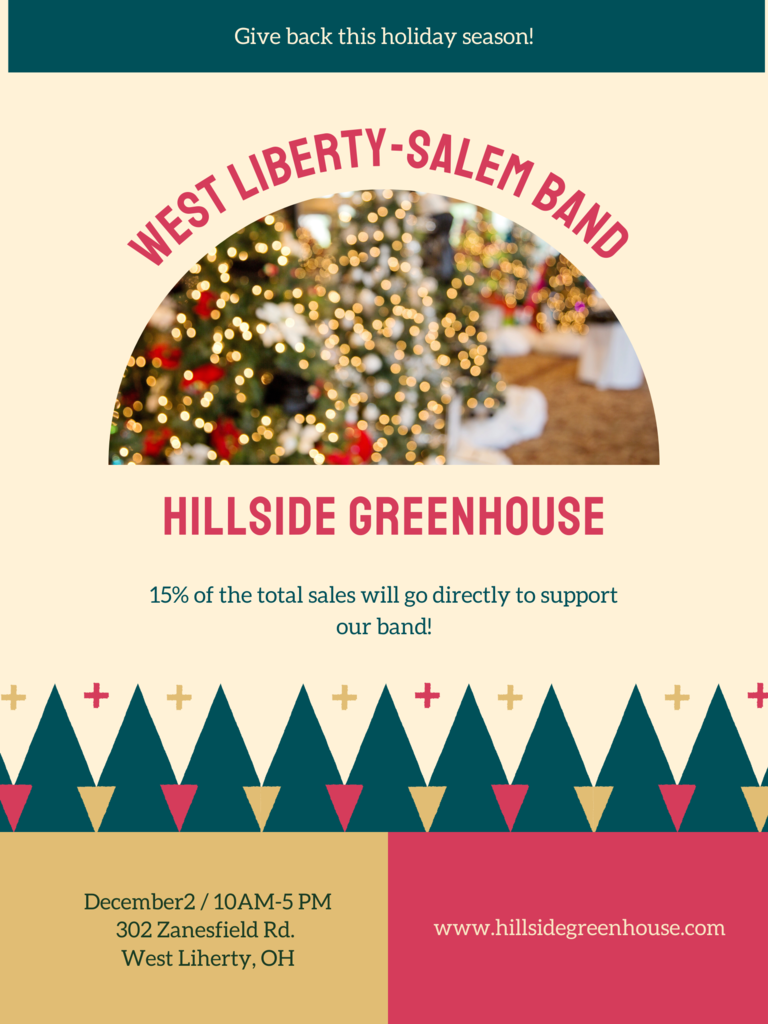 Tigers' week at a glance!