Hello, if you received an email from Julie Nieman with the subject line, "Modernize Account" regarding Evernote. Please delete this email immediately and do not open it. It is a fake email from an unknown source. Although we do not know what security risk it may hold, we want to make sure that you are aware that it is not a valid email from the district. See the sample image of the email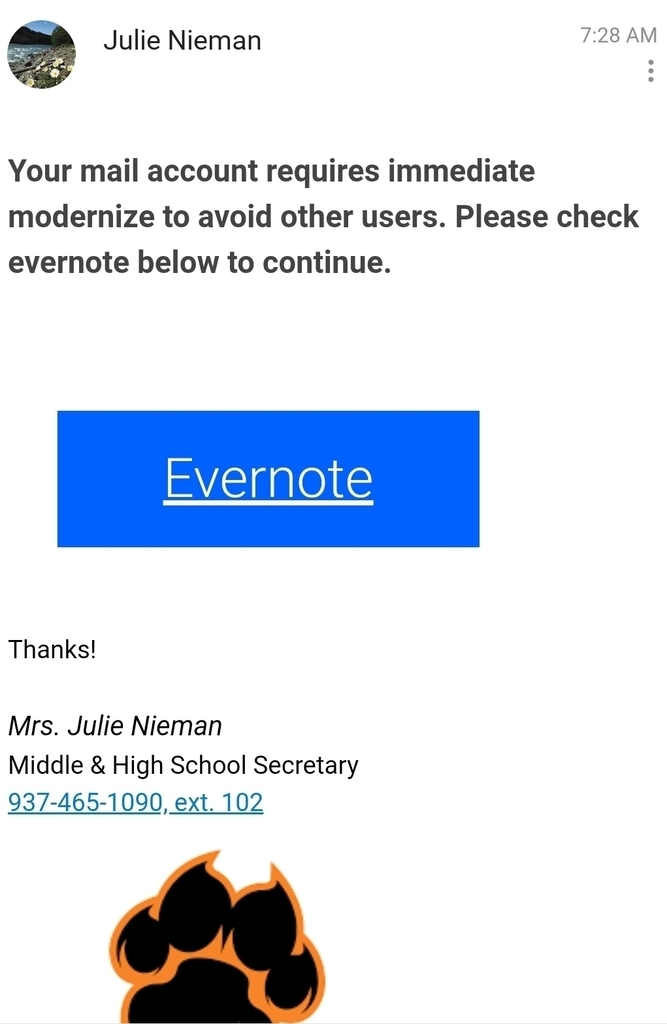 Last night in sports........ West Liberty Salem Varsity girls soccer lost tonight to Miami East 3-4. JV soccer also lost to Miami East 0-2. Boys Soccer tied Miami East 2-2. The WLS Volleyball team traveled to Cedarville tonight. The Tigers swept the Indians in 3 straight sets: 25-15, 25-11, 25-18. The Tigers are now 6-2 JV Tigers won in 2 sets: 25-17, 25-17 Freshman Volleyball played at Ben Logan won in 3 sets 21-25 Ben Logan 25-20 West Liberty-Salem 25-20 West Liberty-Salem West Liberty-Salem bounces back and defeats conference rival Mechanicsburg 191-197 on Tuesday, September 10 at Liberty Hills Golf Course. The Tigers played their most consistent and balanced match, with all players scoring within 11 strokes of each other. The Tigers have worked hard all year and it is finally paying off. For full sports coverage like our West Liberty-Salem Athletic Association page.

Hello, This is Kraig Hissong, Superintendent, with some quick announcements. First, Tomorrow, Wednesday, September 11, is our first 1-hour Delay Start Day for students. Please remember that school will start at 8:40 for MS/HS and 8:45 for Elementary. JVS and Mac-A-Cheek students will go at your normal times. Also, WLS is utilizing a system called FinalForms, which allows parents to quickly complete annual student forms online. About Sixty percent of our parents have completed forms for their students, and we thank you! If you have NOT completed these forms, it is imperative you do so as soon as possible since they contain important contact and emergency medical information. Please be advised, your student cannot attend field trips if forms are not completed. For parents with Middle School students, you will need to enter a student email address which is typically
firstname.lastname@wlstigers.net
. Middle School and High School students are also required to sign off on forms in FinalForms, and they will be given time at school to do so in the next week. If you have NOT received an email from FinalForms to set up an account, or if you have other questions about FinalForms, please contact the Office at 937-465-1060. Last, the morning student drop-off is going well and drivers are doing a great job pulling forward and utilizing more of the drop off lane. Remember to be cautious and have children prepared during morning drop off. Approximately 300 cars drop students off in the morning with most of those doing so in a 10 minute window of time. That is about one car dropping students off every two seconds. Expect traffic congestion if you drop of between 7:25 to 7:35 AM on normal start days. If you like a more relaxing start to your day, try to drop your child off before 7:25 AM. Traffic is much lighter before this time. Thank you and have a good evening.

Parents, this is a reminder that tomorrow, Wednesday, September 11, there is a one hour delay for West Liberty-Salem. MS/HS will begin at 8:40 and elementary will begin at 8:45. Thank you, and have a great rest of your day!

In sports West Liberty-Salem golf team wasn't able to get things going on Monday against Triad and dropped the match 218-185. It was an off day for everyone on the Tigers squad. The Tigers look to bounce back and get back at it against Mechanicsburg on Tuesday. Patrick Harr- 49 (+14) Kenny Harr-50 (+15) Garrett Payer- 64 (+29) Tucker Ridenbaugh- 55 (+20) The 7th grade volleyball team beat Greenon in 3 sets. 20-25, 20-25, 16-25. Top server was Ava Dixon. The 8th grade volleyball team defeated Greenon in two straight sets: 25-14, 25-13.

The PSAT/NMSQT (Preliminary SAT/National Merit Qualifying Test) will be administered to college-considering Juniors at West Liberty-Salem High School on Wednesday, October 16, 2019. Please see below for more details.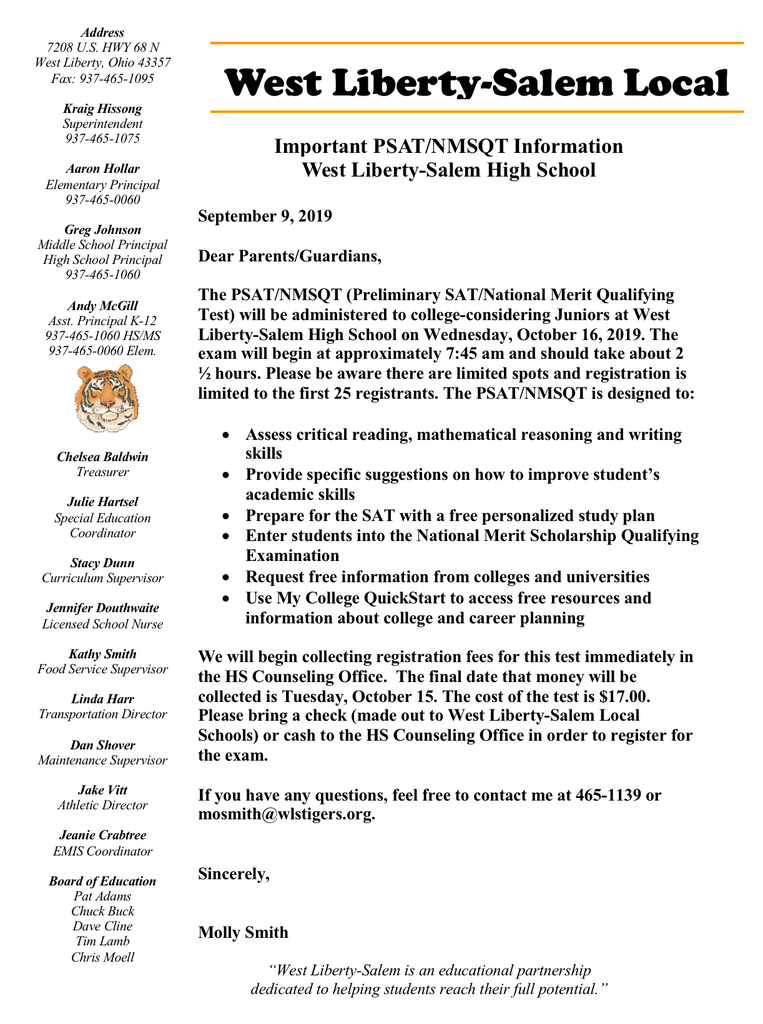 Have an elementary student interested in cheer? Sign up for Little Tiger Cheer Camp! This camp is open to all k-5 students! Click the photo for more information. Forms are due by FRIDAY, 9/13.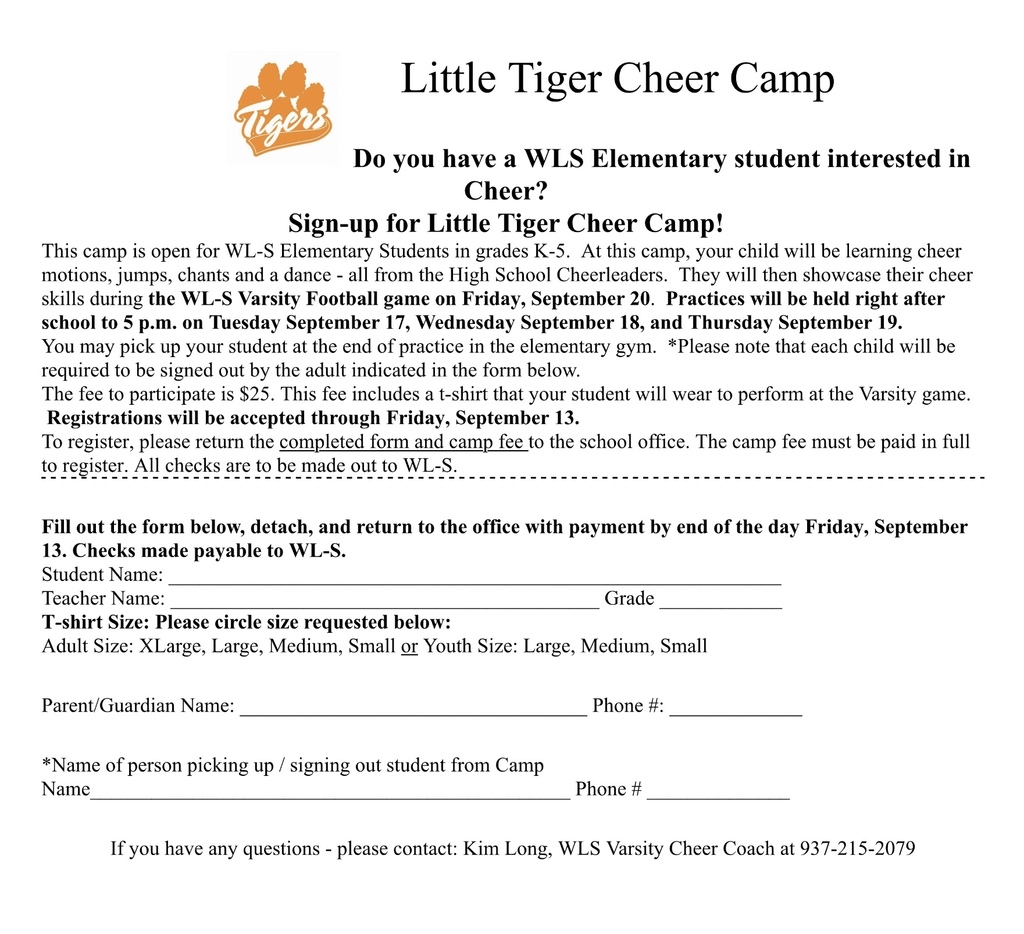 West Liberty-Salem welcomed the whole Class of 2032 on Friday! This was the first day that all students reported to school together after the staggered start to the school year. It was a busy day learning all about gym, library, music class, and discovering all about the lunch room and playground! Lots of new friends were made and excited faces returned on Monday for their very first class picture! The Elementary PTO donated special 'Class of 2032' t-shirts for them to keep. We are excited to watch this group learn and grow together! Best of luck Class of 2032!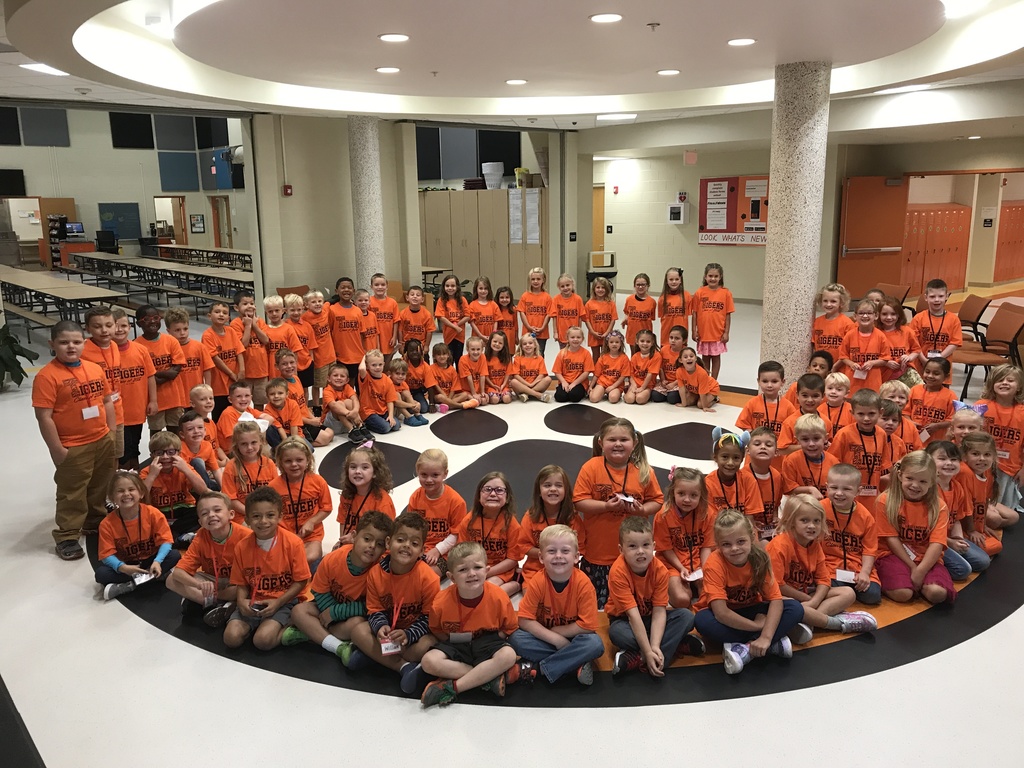 Make sure you are heading over to the App or Website and check out Middle School and High School Announcements. These are located in the documents section under 'MS & HS Announcements'. There is a lot of useful information here about tryouts, upcoming events, college prep info, and more.

See the flyer below for information regarding a fun college prep evening at Fifth Third Field!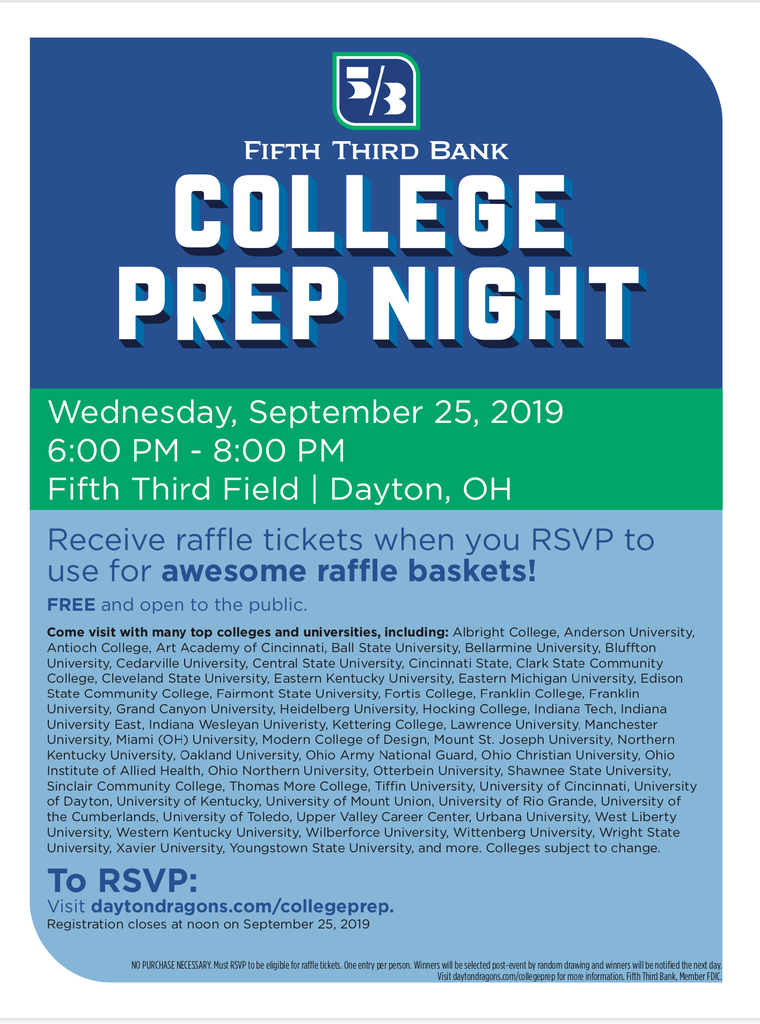 Do you have a student interested in LEGO's? The Champaign County Art's Council and Champaign County Libraries have a LEGO exhibit on display from 10/7-10/25 and a lego building contest on 10/21. See below for more details.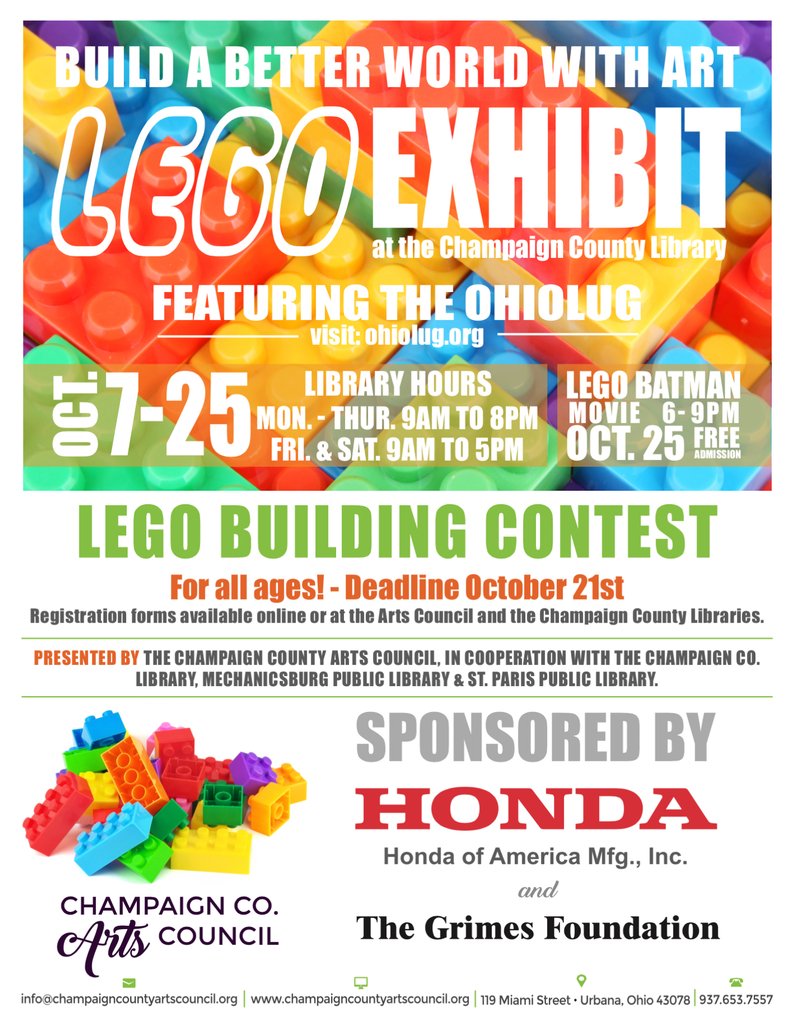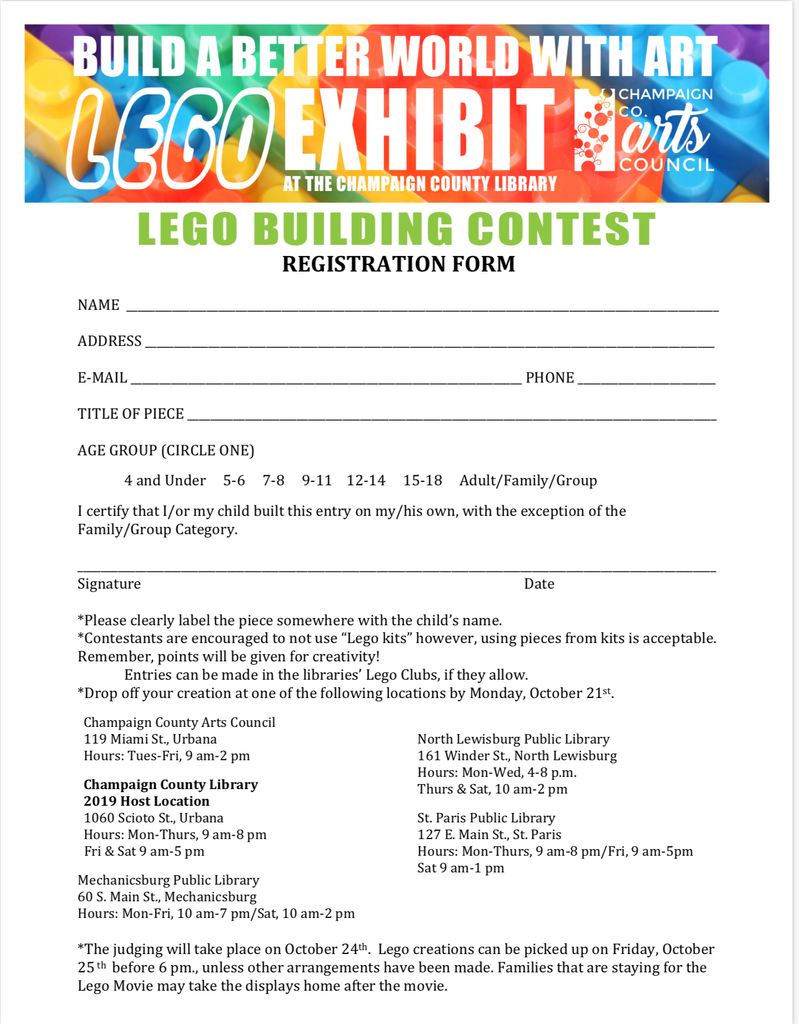 Many parents have asked for their students e-mail addresses to complete final forms. For sixth-ninth grade, it is their
firstname.lastname@wlstigers.net
. Highschool addresses vary slightly, but students should know them. Students will log in at school over the next week and complete their portion of the forms. Thank you!

How awesome are our volunteers? The drop off lane has been really smooth but please be reminded that drivers must stay in the car. If you need to retrieve something for your child, please use the parking lot to do so. Thank you for paying attention to our helpful volunteers!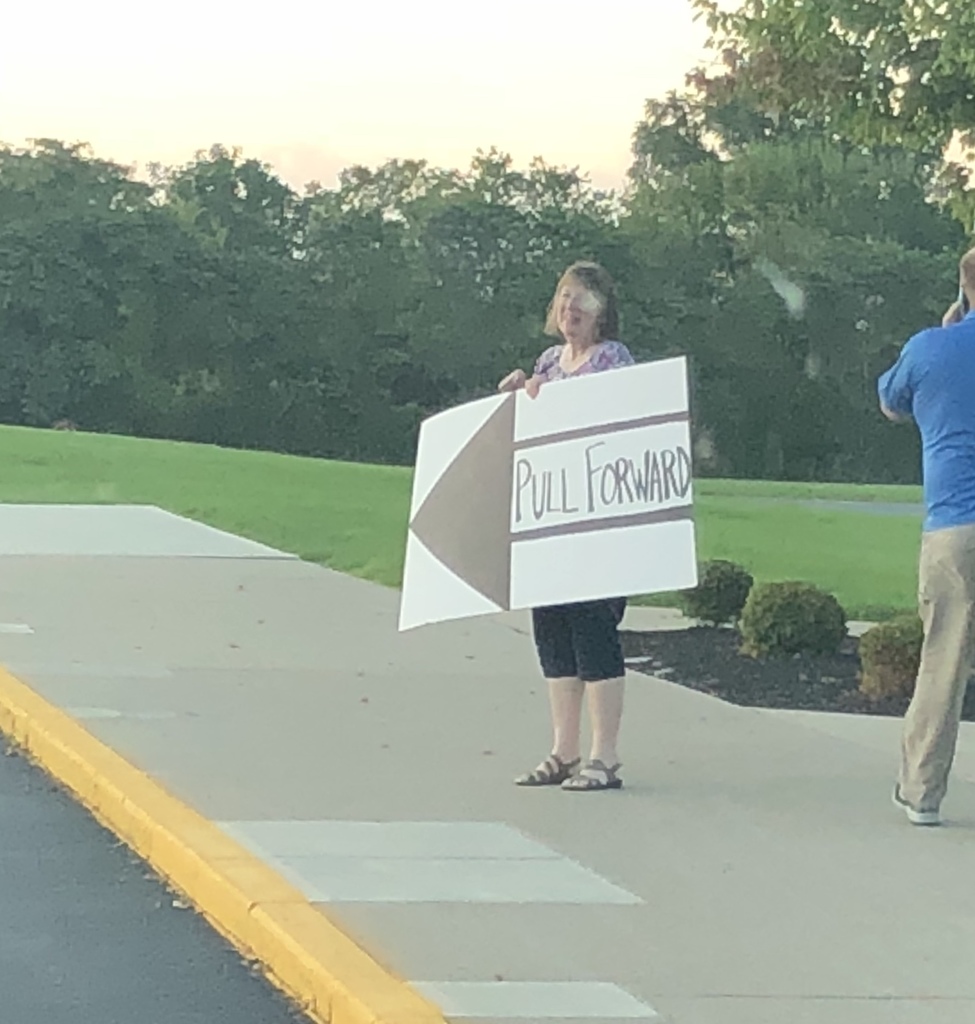 Girls Soccer Fundraiser: Don't have plans on Sunday, September 29? Watch the WLS girls soccer team play at Columbus Crew Stadium at noon. Stay for the Crew game at 5pm - tickets are available in the WLS office for $25. All proceeds go to the WLS girls soccer team.

The Athletic Association's fall spirit store is open online ONLY until September 8th! Be sure to head over and gear up! Orders will be delivered on 9/20.
https://wlsaafall19-2.itemorder.com

Welcome back, Tigers!! We hope you have a fun, safe, and productive school year! Families, remember to complete your Final Forms paperwork soon. If you did not receive an email about this, with a link to create your account, please reach out to the office for assistance!

Congratulations to Matthew Schuster for receiving his Eagle Scout Badge and recognition today. Matthew completed his Eagle Scout Project last spring by building friendship benches for the elementary playground. Thank you Mathew for your donation to our students and school and congratulations on your achievements!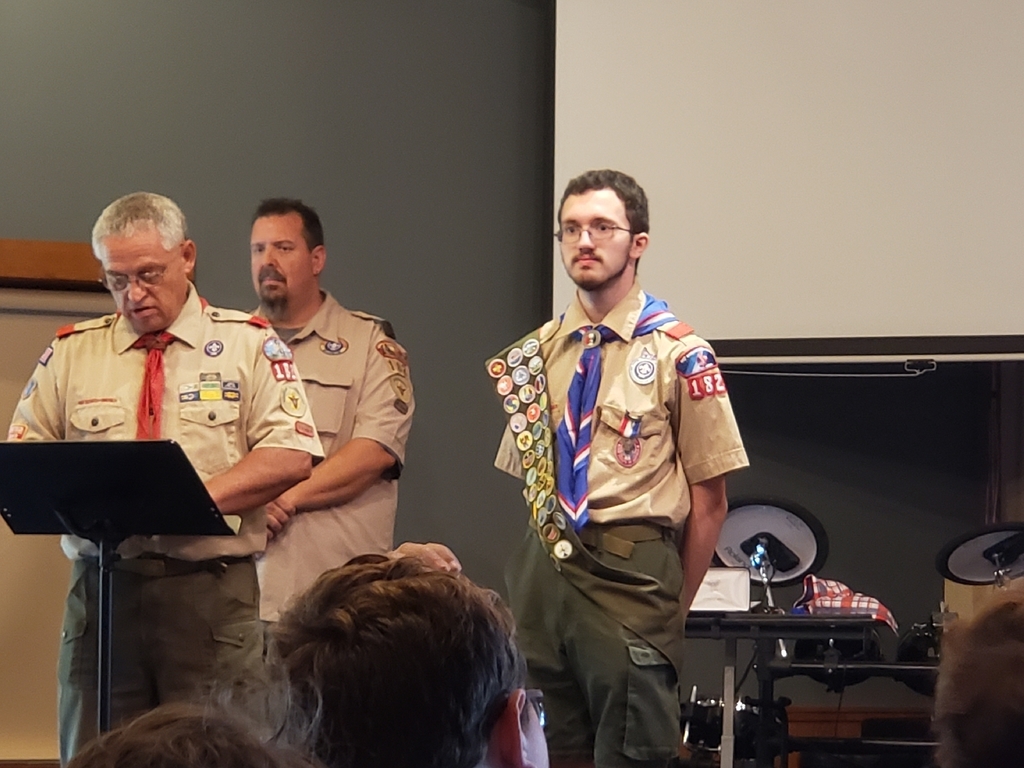 Hello, this is Superintendent, Kraig Hissong, welcoming all students' families back for the first day of school year. For MS/HS students the first day of school is Tues, Sept 3 from 7:40am -2:54 pm. Students in grades K-5 will be on a staggered start schedule for the first three days of the school year from 7:45 am-2:57 pm. With the staggered start, that means your elementary student will report to school only two days the first week of school. Elementary students with last names A-G will come Tuesday, Sept 3. Elementary students with last names H-M will come Wednesday, Sept 4. Elementary students with last names N-Z will come Thursday, Sept 5. ALL elementary students will report to school on Fri, Sept 6. Kindergarten students should follow the staggered start schedule mailed by Kindergarten teachers. If you have questions about your student's start date, please call the office. Also, to ensure that the school year gets off to a great start, I want to remind parents to check the website for procedures on "best practices" if you are bringing your students to school and using the parent drop off loop out front. First, please remember that if you are coming to the school from the south, from the Urbana direction, use the new south entrance to enter the school. Once you enter, turn right at the 4 way stop and then left to enter into the parent loop. If you are coming from the north, or from West Liberty, turn right into the north drive and then proceed to the right into the parent drop off loop. One you enter the parent drop off lanes, remember that the fire lane, as well as the curb lane south of the fire lane, towards the MS wing of the building is widely underutilized during morning drop off. This area, when the driver is NOT exiting the vehicle, is available when dropping your students off. Using this entire curb lane will allow more students to exit their vehicles at one time and create less congestion in the left lane and the entrances from Route 68. Per procedure, find a spot as far forward as possible and merge into the right lane (curb lane). After your student exits your vehicle merge back into left lane traffic. Sometimes, it is easier (especially when south of the fire lane) to merge back into the left lane closer to the stop sign when traffic flow allows. Often, parents are dropping their students off as far back as the playground and then merging back into the left lane when spaces are available farther forward. This is creating unnecessary congestion too early in the drop off process. We would, again, like to emphasize that the goal is to find a spot as far forward as possible. In closing, we would like to remind families that students should ALWAYS exit the passenger side of the vehicle in the curb lane only, and drivers are NEVER permitted to exit their vehicle in the drop off lane during drop off times. (Parking is permitted after drop off and during pick up). Should your child need assistance exiting the vehicle, please use the visitor parking lot, and walk your child to the building via the cross walk. We are very excited for this school year and to see all of you next week! Come to the football game tonight, see your friends, enjoy the marching band, and cheer on the Tiger's as they take on the Falcon's from Graham. Thank you!

Would you like to order spirit wear? The Athletic Association will offer their fall spirit store online 9/1-9/8. Items will be delivered on 9/20. Be sure to follow W L-S AA on facebook for more info. The link will be posted here and on their facebook page on 9/1 for all of your Tiger spirit needs!

Don't forget open house tonight from 4-6! Pay fees, get information about clubs, athletics, and find your new class rooms! We hope to see you there!