Hello, this is Superintendent, Kraig Hissong, welcoming all students' families back for the first day of school year. For MS/HS students the first day of school is Tues, Sept 3 from 7:40am -2:54 pm. Students in grades K-5 will be on a staggered start schedule for the first three days of the school year from 7:45 am-2:57 pm. With the staggered start, that means your elementary student will report to school only two days the first week of school. Elementary students with last names A-G will come Tuesday, Sept 3. Elementary students with last names H-M will come Wednesday, Sept 4. Elementary students with last names N-Z will come Thursday, Sept 5. ALL elementary students will report to school on Fri, Sept 6. Kindergarten students should follow the staggered start schedule mailed by Kindergarten teachers. If you have questions about your student's start date, please call the office. Also, to ensure that the school year gets off to a great start, I want to remind parents to check the website for procedures on "best practices" if you are bringing your students to school and using the parent drop off loop out front. First, please remember that if you are coming to the school from the south, from the Urbana direction, use the new south entrance to enter the school. Once you enter, turn right at the 4 way stop and then left to enter into the parent loop. If you are coming from the north, or from West Liberty, turn right into the north drive and then proceed to the right into the parent drop off loop. One you enter the parent drop off lanes, remember that the fire lane, as well as the curb lane south of the fire lane, towards the MS wing of the building is widely underutilized during morning drop off. This area, when the driver is NOT exiting the vehicle, is available when dropping your students off. Using this entire curb lane will allow more students to exit their vehicles at one time and create less congestion in the left lane and the entrances from Route 68. Per procedure, find a spot as far forward as possible and merge into the right lane (curb lane). After your student exits your vehicle merge back into left lane traffic. Sometimes, it is easier (especially when south of the fire lane) to merge back into the left lane closer to the stop sign when traffic flow allows. Often, parents are dropping their students off as far back as the playground and then merging back into the left lane when spaces are available farther forward. This is creating unnecessary congestion too early in the drop off process. We would, again, like to emphasize that the goal is to find a spot as far forward as possible. In closing, we would like to remind families that students should ALWAYS exit the passenger side of the vehicle in the curb lane only, and drivers are NEVER permitted to exit their vehicle in the drop off lane during drop off times. (Parking is permitted after drop off and during pick up). Should your child need assistance exiting the vehicle, please use the visitor parking lot, and walk your child to the building via the cross walk. We are very excited for this school year and to see all of you next week! Come to the football game tonight, see your friends, enjoy the marching band, and cheer on the Tiger's as they take on the Falcon's from Graham. Thank you!

Would you like to order spirit wear? The Athletic Association will offer their fall spirit store online 9/1-9/8. Items will be delivered on 9/20. Be sure to follow W L-S AA on facebook for more info. The link will be posted here and on their facebook page on 9/1 for all of your Tiger spirit needs!

Don't forget open house tonight from 4-6! Pay fees, get information about clubs, athletics, and find your new class rooms! We hope to see you there!

Check out a new article located in the 'News' section of your app or website with some important dress code reminders for the year ahead! Haven't downloaded the app yet? Head over to your smart phone's App Store and search West Liberty Salem Tigers and check it out!

This school year, WLS will utilize a system called FinalForms, which will allow parents to quickly complete student forms online. Within the next 24 hours, you should receive an email from FinalForms to set up your account. If you DO NOT receive an email, contact the Office.  

Join us for our Open House from 4-6 pm on Wednesday, August 28. Check out student classrooms, pay fees, and speak with Transportation and/or Cafeteria Directors.

First Day of School is Tuesday, September 3 for MS & HS students. Elementary students should follow the staggered start schedule (September 3-5) that will be shared in the next couple weeks.

Our 7th graders had a blast on their visit to Chicago!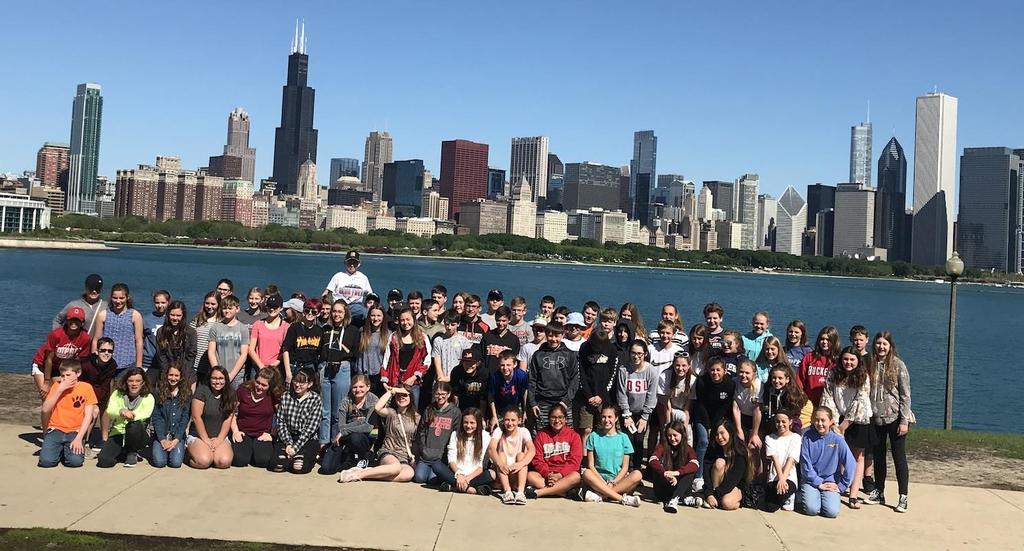 The Girls Track and Field team are now state champions! Be sure to congratulate them when you see them in the halls.