EDIT MAIN
WL-S Athletic Association
---
what is the WLSAA?
The West Liberty-Salem Athletic Association is a group of fans, parents, community members, or anyone interested in the advancement, encouragement, and financial assistance of all West Liberty-Salem school supported athletic activities. Any person 18 years of age or older who supports WLS athletics is eligible to become a member of the WLSAA. Just attend 8/10 meetings per year--meetings are held at the school on the second Wednesday of the month, 6pm, in the middle school wing (Mr. Clapp's room).
---
---
watch for a new Spirit Store link soon!
we will have an online store open to have items delivered in time for winter sports, and another in time for Christmas...
---
WLSAA meetings are held on the
2nd Wednesday of each month
at 6 pm at the school.
All are invited to attend and get involved!
---
FIELDHOUSE CORPORATE DONORS
Thank you, Mary Rutan Hospital!


Pictured L to R: Athletic Association Officer Jamie Harrison, Logan Cole, Athletic Director Jake Vitt, MRH Community Relations VP Tammy Allison, Superintendant Kraig Hissong, MRH Athletic Training Supervisor Ed Wisner, and WL-S Athletic Trainer Nicki Clark
Mary Rutan Hospital joins West Liberty-Salem's Athletic Association and Logan Cole in support of the Tiger Strong Field House for West Liberty Salem Schools. The Hospital contributed $30,000 to West Liberty Salem Schools for this worthy project.
"We are honored to join Logan in this Tiger Strong initiative for the construction of the Field House, and what the Room of Honor and this project represent for the School District and our community, said Tammy Allison, Vice President of community relations. As the sole provider of athletic training services for West Liberty-Salem student athletes, we understand the importance of this project and are committed to the safety and wellbeing of the student athletes. This field house has been a need for the school for quite some time. However now it means so much more and represents healing and honor for our community said, Mrs. Allison. The Schools Athletic Association took on the project after the Jan 20th incident at West Liberty-Salem as a way for the community to continue to come together to heal and honor the good that came from that day. "With this building, we hope to provide our student athletes a state of the art facility for conditioning, out of season work outs, public restrooms and outdoor locker room facilities, as well as an honor room to recognize and honor all of the heroes from Jan 20th while including past community heroes" said West Liberty-Salem Athletic Director Jake Vitt. "A lot of good came from what was meant to be a tragedy that day, and this is one more opportunity for us to recognize that. It is humbling to see how much the community has come together and backed this project, and Mary Rutan was one of the first to get on board. Their support and care of our school district and the students that attend here is remarkable, and very much appreciated, said Vitt."
Thank you, Parker Trutec!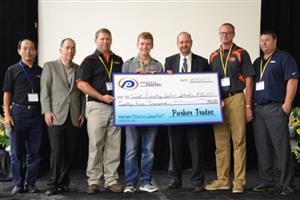 The West Liberty- Salem School District and the West Liberty-Salem Athletic Association would like to Thank Parker Trutec for their generous donation of $25,000.00 towards the Tiger Strong Field House fund.