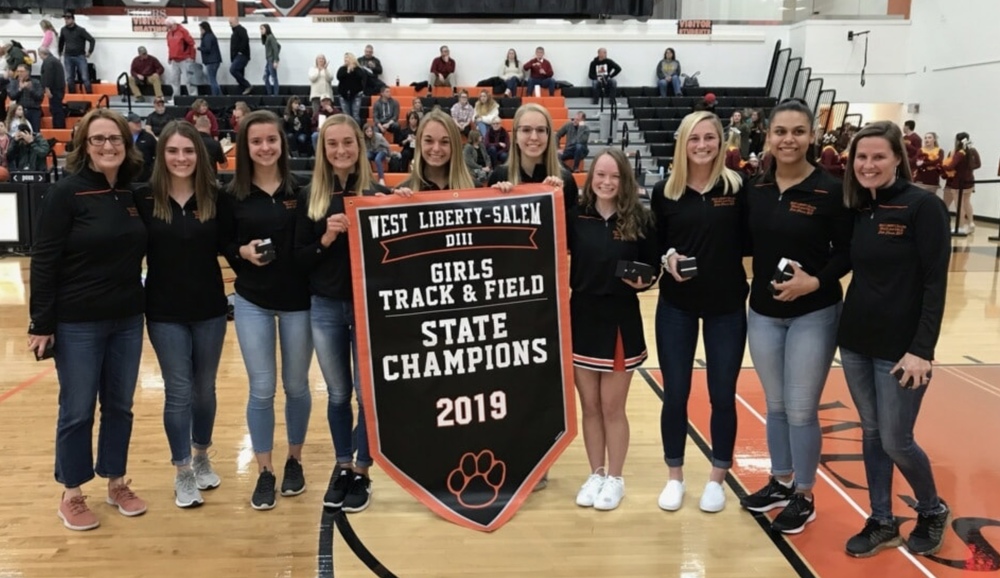 West Liberty-Salem and the WLSAA Host Lady Tigers State Championship Track and Field Team Ring Ceremony
Allison Wygal
Friday, December 06, 2019
West Liberty-Salem recognized our State Championship Lady Tigers Track and Field Friday evening where they were presented with their championship rings. This team's state championship marks the first state title for ladies sports in West Liberty-Salem history. This team raced to the championship title as Ohio heritage Conference Champions, DIII Southwest District Champions, DIII Southwest Regional Champions and set eight school records. At the DIII OHSAA State Championships, the Lady Tigers placed in seven events, had six Academic All-Ohioans, nine All-Ohioans and claimed state titles in the 4x800 and 4x200 relays. This level of success took a total team effort and these student athletes were just the ladies for the challenge.
The Lady Tiger Track and Field Team:
Addy Johnson, Gabby Hollar, Korrine King, Paige Shafer, Megan Dillon, Savannah Weaver, Hannah Bowman, Maria Henderson, Anna McGill, Riane Paine, Selena Weaver, Marissa Bailey, Macy Roth, Kaydence Waldron, Mandilyn Weaver

Our Lady Tiger State Meet Participants:
Grace Adams- 1st place 4x800 Relay, 12th place 3200 meter run
Megan Adams-1st place 4x800 relay, 2nd place 1600 meter run
Madison Bahan-1st place 4x800 Relay, 2nd place 4x400 relay
Alex Burton-1st place 4x200 Relay, 5th place 4x100 relay
Grace Estes-1st place 4x200 relay, 2nd place 4x400 relay, 5th place 4x100 relay
Emily Hollar-1st place 4x200 relay, 2nd place 4x200 relay, 4th place 400 meter dash, 11th place 200 meter dash
Kaylee LeVan-1st place 4x200 relay, 5th place 4x100 relay
Lydia Moell-4th place Pole Vault, 5th place 4x100 relay
Katelyn Stapleton-1st place 4x800 relay, 2nd place 4x400 relay, 10th place 800 meter run
The Lady Tigers were coached by Head Coach Ann Vogel who received State Coach of the Year honors from both the National Federation of State High School Associations and the United States Track and Field and Cross Country Coaches Associations. Assistant Coach's include Lauren Godwin, Hannah Ropp, Larry Steiner, and Mandy Lauck.
The Lady Tigers and their coaching staff would like to thank the West Liberty-Salem community for their support, Athletic Director Jake Vitt, WL-S Athletic Trainer Nicki Clark, boys team coaches Joe Taylor and Mike Louden, middle school coaches Aaron Lauck and Tom and Cyndi Eickoff, and the WLSAA for their generosity.