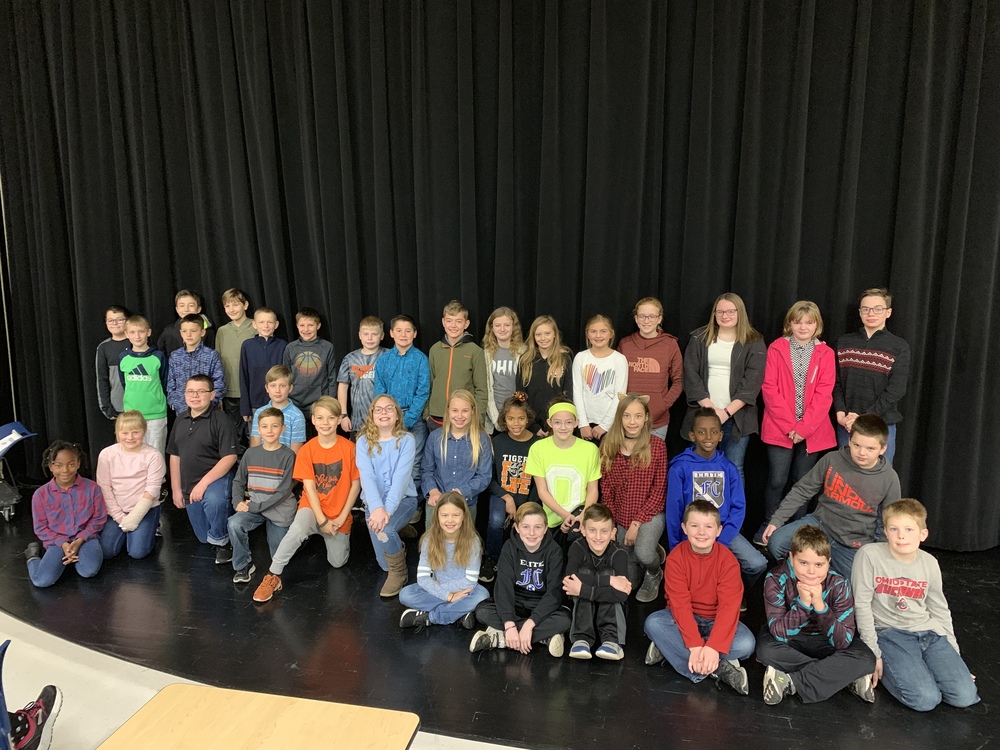 Elementary Students Honored at Breakfast of Champions
Allison Wygal
Thursday, December 05, 2019
West Liberty-Salem Elementary honored 36 students in fourth and fifth grades during Breakfast of Champions this morning. Students were selected for the ceremony based on their first quarter grades that must include all A's and no more than one B or B+. Each student and their families were served a delicious breakfast and listened to a message delivered by guest speaker Cade Clerico.
Clerico, a senior at West Liberty-Salem, has been involved in a number of activities during his high school career. Cross Country, Key Club, Link Crew, Mock Trial, Quick Recall, Pages, and National Honor Society are a just a few items that will fill his college resume. He placed in the top 5% of students in the country who took the PSAT's, and was named a Commended Student in the 2020 National Merit Scholarship Program. Principal Aaron Hollar introduced Clerico and challenged the Champions to really listen to his message and work hard to build the foundation for lifelong success.
Clerico recounted his first Breakfast of Champions and knew then he wanted to be a guest speaker someday! His speech was relatable and allowed students to understand the importance of goal setting. He emphasized how kindness, generosity, and passion are key characteristics of great people. With passion to work hard in good times and bad, generosity to help those around you through your gifts, and kindness to make someone's day better, Clerico said, "you open the door to opportunities in the future, improve other's lives and improve yours as well."
Many of our Breakfast of Champions recipients are already making choices to get involved at school and in their community. They are members of student council, 4H, athletes, volunteers, and Girl and Boy Scouts to name a few. WL-S is excited to watch each student grow and develop their academic path, and we hope to see many more students at our second quarter Breakfast of Champions!
Pictured above, left to right:
Top Row:
Blaine Hughes, Casey Boyer, Thaddeus Kitchen
Third Row:
Connor Leichty, Troy Christison, Noah Sarver, Braydon Hershberger, Patrick Brooks, Levi Yelton, Kash LeVan, Sophia Landon, Audriana Evilsizor, Claire Ling, Belle Sarver, Zoe Carter, Jill Fullenkamp, and Zack Carter
Second Row:
Alauna Kinchen, Kathy Roehm, Carter Henderson, Bennet Sutherin, David Roberts, Josiah Thomas, Ashlyn Taylor, Ellery Wygal, Arianna Weaver, Emma Schmelzer, Alanee Horsley, Asher Cole, and Carson Spencer
First Row:
Rachel Stanford, Brayan Gullett, Logan Zanifrov, Jerome Cordrey, Derek Wall, Reagan McCullough