EDIT MAIN
Piqua Regional Tournament
March 16, 2019
5th Place State Qualifier
Congratulations to West Liberty-Salem's Middle School Science Olympiad team for great performance at the Piqua Regional tournament on Saturday. Fourteen team members won awards in nine different events. By finishing fifth in our region, our school has qualified for the State Science Olympiad tournament for the fourteenth year in a row. The State tournament will be held at The Ohio State University campus on Saturday, April 27th.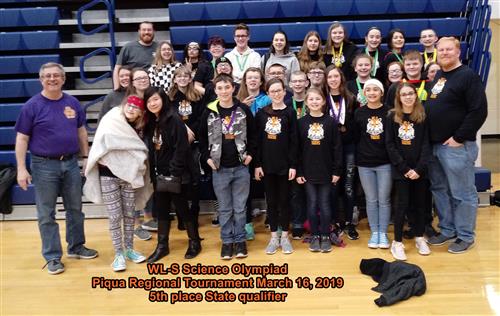 Piqua Regional Saturday, March 16.
We are peaking and finally hitting our stride at the perfect time. Our last two tournaments have shown how much potential we have, and how good we can be. We are not done yet! We have worked very hard for five months just to get ready for this moment. This is your day to show how hard you have worked all year long. Don't let up! Remember to keep a positive vibe throughout the day even if everything doesn't go perfect. Stay happy and have fun. Let's have our best day of the season!
Roster packets will be out on Monday March 11. Be at here WL-S Middle School wing before 5:45AM; load bus and leave at 6:00AM or EARLIER if you show up on time! DON'T BE LATE! we cannot wait on you; arrive at Piqua HS at 7:00. When we arrive, quickly find our tables in the High School cafeteria. Everybody help out and unload the bus and cars. Assemble as a team at 7:25 in the High School gym for the opening ceremony. We have assigned seats.
Regional and State tournaments are much stricter than invitationals. Once you check into your event, you may not to talk to any adult.If your parents or other adults talk to you when you are waiting, this would be considered coaching and would get the team disqualified in this event.
Students MUST know their team numbers and write it on all tests/identify devices, etc.
"Be sure to follow event rules– INCLUDING any specifications for personal protective equipment including lab coats, long, pants, safety glasses, and rules on hair being tied back, etc. Failure to follow the rules as written, could result in penalties including disqualification"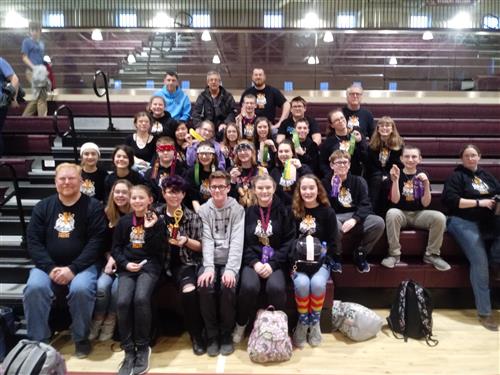 6th place New Albany Invitational Feb 23, 2019